ACI Motors and Yamaha Motorcycles became partner in 2016. It has been a long journey for them together for 6 years. Recently they organized a celebration event at ACI head-office. This event was all about ACI and YAMAHA. All the officials were also there and the event had so many fun activities along with some live performance and DJ show.
ACI Motors is was launched in 2007. With a vision to propagate a systemic change in the agricultural sector through increased mechanization of the agricultural process. To achieve the goal they are striving to provide complete farm mechanization solution. Currently they are offering a wide range of agriculture machineries such as Tractor, Power tiller, Reaper, Mini Combine Harvester, Rice Transplanter etc which covers the full cycle from land preparation and cultivation to crop preservation. in 2014 they introduced CASE Construction Equipment and entered the Construction Equipment Industry of Bangladesh. ACI Motors has created industry benchmark in quality product & guaranteed after sales service. ACI Motors became the distributor of world famous YAMAHA Motorcycles in Bangladesh in 2016.
Yamaha is one of the most popular and reputed motorcycle manufacturing company worldwide. They are widely know for their premium bikes. they are a Japanese multinational manufacturer of motorcycles, marine products such as boats and outboard motors, and other motorized products. They produce higher to lower segment bikes and provides a proper sales after service. Yamaha motorcycles are widely celebrated for its build quality and excellence. They are also doing great business here in Bangladesh. As ACI Motors is the sole authorized distributor of Yamaha in Bangladesh. They brings the best of YAMAHA, meeting the demand of the people.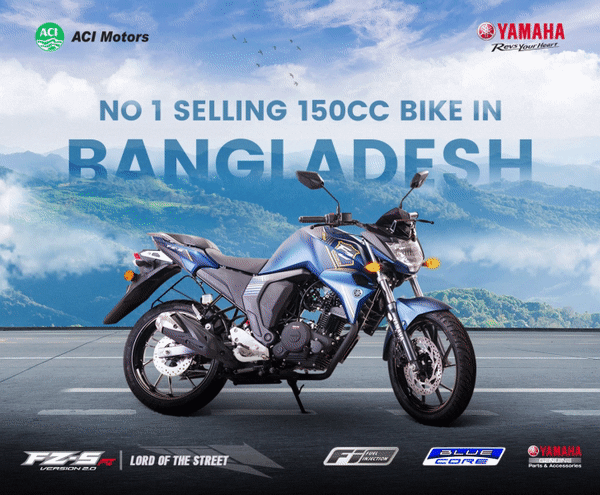 This 2 giants are working together for 6 years and plans to take this journey further more. They are delighted to serve the best riders of Bangladesh. We also hope that they work together and bring joy to the riders.