Just when H Power CRZ 165 first time launch in Bangladesh it's make a little bit confusion that does this is a copy version of GPX Demon GR150. But actually not and this is the same bike with same configuration but in different name.
When a Completely Build Up (CBU) bike imported from other countries, it has to pay a highly Tax Rate. On the other hand there is a lower Tax Rate for CKD importers in Bangladesh.
Previously GPX Demon GR150 was imported from a Thailand base company. It was a CBU bike when imported. That's why its price was more high and having almost 3 lakh taka. When it was first launch in Bangladesh, it's look make excitement among motorcyclist. It's front end is just look like Ducati Panigale. It's wheel base, seat height and over all dimension is slightly lower and fit for the rider with less then 5'8″.
This same bike launch again in Bangladesh but with different name. H Power co. Ltd launched this bike in Bangladeshi market with a different name CRZ 165. And it's estimated price is 180K taka only. After break out the price range, many people things this is the copy version of GPX Demon 150 or low performance bike. But this is not like that at all. GP motor (Thailand) and H Power (Bangladesh) both are import this motorcycle parts (CKD) from one of the famous China motor brand Loncin and assemble in their own country. And that's why H Power can make the price less then 2 lakh.
GPX Demon GR150 and CRZ 165 both have the same configurations. But there is a little bit change in engine where GPX Demon was a 150cc engine but CRZ 165 have a 165cc engine. Both engine is sourcing from Loncin. H Power CRZ 165 have a air cool engine which contains 14.1 bhp max power and 13.5 Nm torque. Have the same features like speedometer, odometer, tachometer, fuel gauge, gear indicator, trip meter, clock and many more. It's also contain a USB port for Mobile charging. Though it's fuel tank looks small but it can hold 10.5 litter fuel. It looks solid and strong from outside.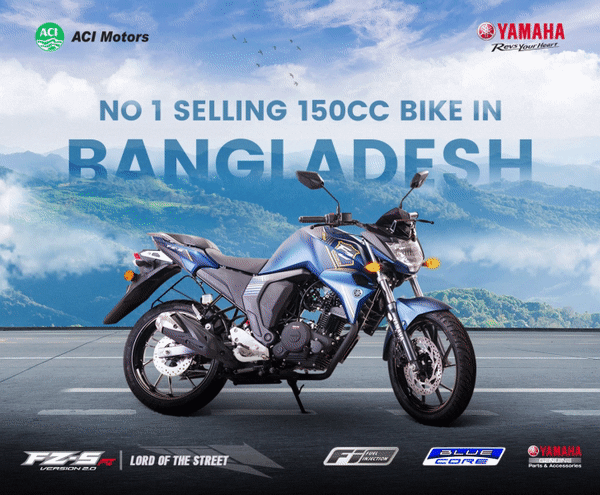 Both have the same sit height of 780 mm and the tyre rim size is 14 inch. In front of this sports bike 120/70 section tyres used and it's back have a 140/70 size tyre. For the purpose of braking double disc brake used on it.
As it's price reduced and over all it's a good quality motorcycle so we can hope a large amount of this bike will sale in Bangladesh.