Motorcycle industry in Bangladesh has experienced significant growth in recent years, with the market being dominated by Japanese manufacturers such as Honda, Yamaha, and Suzuki. Indian companies like TVS and Hero also dominate the market. This growth can be attributed to various factors, including the increase in buying ability of the middle class, the improvement in road infrastructure, and the rise of ride-sharing services like Uber and Pathao. Motorcycles are popular in Bangladesh due to their affordability, fuel efficiency, and ability to navigate through congested city streets. The industry has also created many job and business opportunities in areas such as manufacturing, sales, maintenance, reselling, training so on.
However, there are also challenges facing the industry, such as the lack of proper safety regulations, but there are multiple businesses probability related to the industry. In the content below so many business ideas are pointed out.
Motorcycle Dealership
Intending to increase sales and network, the famous motorcycle brands offer dealerships in divisional and district cities. People always rely on authorized dealership points to buy a new bike, because of some issues. If someone buys a bike from an authorized dealership then he/she doesn't face any hassle rather he/she gets some facilities. So, you can start a motorcycle dealership business of any well-known brand such as Yamaha, Honda, Suzuki, TVS, Hero, Bajaj, Runner and others, among all classes of people these branded motorcycles have high demand. There are some advantages also like all offers and discounts you can provide to your costumes without any promotion and advertising because the company is responsible for advertising. Sometimes company provides manpower and staff to the dealer points. So, investing a motorcycle dealership won't be a lost project.
Find latest dealership circular from the reputed motorcycle brands at dealersbd.com.
Buy & Sell Used Motorcycle
Motorcycle is a convenient vehicle, all want to have a bike but indeed all can't buy a new bike due to insufficient budget. On this issue, bike re-sell market has grown up, people who want to buy used bike always seek their desired bike at a reasonable price. In this case here are business opportunities, you can buy a bike and after slight modification or improvement you can sell it at good piece. On the other hand, Yamaha and other brands collect used bikes by exchange offers you can be a dealer of the used bike and re-sell it with profit. But you must ensure the proper papers and documents of bikes. You can also collect used bikes from your personal lobbying by maintaining communication with local bikers and motorcycle mechanics.
Motorcycle Parts Shop
Motorcycle consists of a few parts and machines that needed to change or repair frequently. But most of the parts are rare in the local market, on this ground you can grow your business. You have to collect rare parts from different sources and open a shop in your area you will get a good response. Bangshal, Bangal Motor, Mirpur 10, and Jashore are famous for bike and car parts so frequently visit there and collect your necessary parts at wholesale price and sell them with maximum profit. When mechanics suggest changing any parts then a biker changes it because most of the bikers are unaware of the parts. So be connected with local mechanics because they will forward customers to you.
Motorcycle Accessories Shop
Motorcycle needs multiple accessories such as helmets, hand gloves, riding jackets, hand sleeves, windbreaker, windshield, GPS trackers, disc lock, chain brush, chain lube engine oil, ocean booster, tires, tires gel etc. By opening a shop you can meet the demand of motorcycle accessories in your local area. It would be a profitable business because these types of shop are hardly seen in rural areas but there is huge demand for motorcycle accessories. Many papular motorcycle accessories brands are operating business in Bangladesh for a long time, contact them to buy their products at wholesale price. These companies will positively respond you to start shop in your area. By proper marketing and planning, you can get more profit from your shop.
Motorcycle Service Center
Motorcycle servicing has been growing steadily in recent years due to the increasing popularity of motorcycles as a primary mode of transportation. Many motorcycle manufacturers have also set up their servicing centers to provide customers with convenient and reliable after-sales services. But in rural area motorcycle servicing center is a profitable businesses. With some skilled technicians, you can open a service center in the excellent decoration of your shop. Your service center will provide oil changes, engine tune-ups, brake inspections, tire replacements, and electrical system repairs. Additionally, you may offer customization services to cater to the growing demand for modified motorcycles.
Motorcycle Rent Service
Motorcycle rent would be a profitable business if you tactically operate your business. In cities, you must be boarded on Pathao or Uber riding service. You can rent one or more bikes in different contracts to the riders who don't have their bikes. But be conscious about the security of divers that he has necessary papers like driving license and others. On the other hand, if tourism areas this business is more profitable because tourists need bikes to move on their own. In Cox's Bazar some motorcycles rental services are available but you can start in a large shape. First of all, you have to collect some bikes in a reasonable price with proper documents and having permission from the local authority you may open a motorcycle rental service. These bikes are your initial investment and after a few days, you have to service bikes properly.
Dealership or Wholesale of Products Needed for Motorcycle
You can be a dealer of any well-known product or brand that has high demand in your area. It may be engine oil, Helmet, and other accessories. Reputed brands require some rules and regulations for dealerships but if you collect products in some alternate ways then you can easily wholesale to local retailers. Suppose you collect parts in large quantities from the distributors who import products then you can sell them to the local market. In dealership or wholesale business, you have to be more conscious of the ups and downs of market and sincere to both your distributor and customers. With sufficient manpower marketing your products properly, you will profit soon.
To find all latest circular from various companies, keep following DealersBD.
Motorcycle Modification or Decoration
Motorcycle modification is a popular trend in Bangladesh, where many riders seek to personalize their bikes to enhance their appearance, performance, and comfort. The modifications can range from cosmetic changes, such as custom paint jobs and others to performance upgrades like exhaust system modifications and engine tuning. Many riders find satisfaction in creating unique and personalized bikes that reflect their personalities and preferences. With some essential equipment and skilled technician you can start a motorcycle modification center or you may restore an old-fashioned bike to a new modified one and sell it at a good price.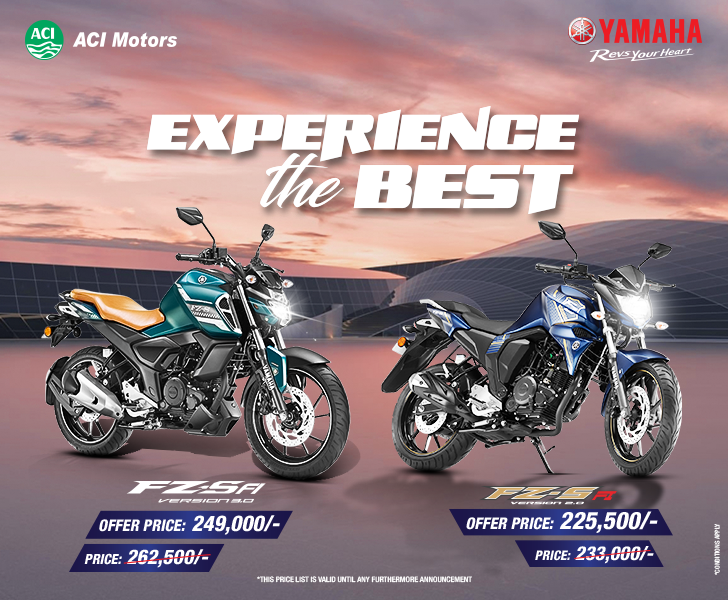 E-commarce or Online Shop
Online shop is not a new thing in Bangladesh but during COVID 19 it increased broadly, and customers of online not a little. Bangladeshi people spend much time online so they become interested in online shopping. By digital marketing, sellers reach advertise products on customers' social media like Facebook, Instagram, YouTube etc. You can start an E-commerce business by simply creating a Facebook page or website but you have to deliver authentic products on time. Daraz, Romokari.com, Pandamart, Priyoshop, Robishop, Ajkerdeal are popular online shop but online shops based on motorcycle accessories are rare, so you can grab the chance.
Motorcycle Raiding Training Academy
Motorcycle is an affordable vehicle meanwhile it is not merely a driving vehicle. Through proper training one can be expert to riding a motorcycle. In Bangladesh, so many car-driving academies are seen these are operating by different institutes but motorcycle-raiding academy hardly seen. Though BMTC, MAB, BARTS, BHL, YRC are training people to ride, these are insufficient. You can become a trainer or found a training academy in your area, after training if you help to get driving license then people will rely on you.
Stunt Academy
Bike stunting is a very exciting and popular sports show in Bangladesh. Many young bikers are interested in stunting, but lack of proper training they can't learn. Motorcycle stunts typically involve a wide range of tricks and maneuvers that require advanced riding skills, such as wheelies, stoppies, burnouts, and drifting. Stunt riders often use modified motorcycles with specific performance enhancements and safety features, such as reinforced frames, stunt cages, and crash protection. There are some well-known stunt rider groups in Bangladesh they train sometimes but you can train locally which would be a source of earning.
Moto Vlogger
Moto vlogging has become increasingly popular in recent years, with many vloggers using platforms like YouTube, Instagram, and Facebook to share their road experiences and natural beauty. Some vloggers focus on bike reviews they highlight the pros and cons of a bike in their videos. Sometimes they get sponsorship from bike companies. Other vloggers aware of their audience on road safety and multiple guidelines. Moto vlogging is the best option to express your passion for bike and at the same time, it is a source of earning online. With some necessary equipment, you can be a Moto vlogger. It is essential to ensure that any camera or mount equipment doesn't interfere with your ability to ride safely, it just focuses road ahead.
Motorcycle Website
Motorcycle website consists of information about motorcycles, all updated information is given in the website. Viewers frequently visits motorcycle websites to read various articles, reviews, and others. Here many bike and accessories companies publish their advertisement and it is the main source of earnings. If you have a website and keep it updated then you can earn money. Having proper IT knowledge you can create your website or you can buy the website as you want. It is said that you have to always update it and fix it soon if any trouble is faced.
Import or Manufacture Riding Gears
Motorcycle riding gears are crucial for comfort and riding safety. It is essential to invest in quality riding gear that meets your standard of safety and provides adequate protection. Riding gear such as helmets, riding jackets, highly visible windbreakers, and antidust visors provide riders with weather and traffic protection. Riding gears are the most demandable product in the Bangladesh market. You can import branded riding gears and sell them in the local market with maximum profit. You also manufacture some specific quality gears which will ensure riders' propers safety. It will be very easier to ensure a position in the marketplace.
Import or Manufacture Parts
Importing motorcycle parts in Bangladesh is a complex process but with some important requirements and regulations of both export/ import countries, you can do it. It is essential to work with a trusted and experienced export/import agency, customs, or broker which meets all your requirements. In every city or sub town motorcycle parts are desired products. If you properly distribute your imported parts to the customers then you can profit. Another business idea would be the production of these parts, with some skilled and trained technicians you can open a production house, but locally manufactured parts are less popular than imported parts.
Import Consultant
Consulting agency is a trending business because providing information to clients this consulting agency charge a handsome fee. In Dhaka there are so many consulting agencies such as visa agency, tourist agency, medical agency, the export agency so on. You can be a consultant of products related to motorcycles. For instance, if someone wants to import bike parts from abroad but he ha lack of knowledge then you can provide him with essential information and help him the entire process here you can charge him. On the other hand, if a foreign brand wants to enter in Bangladesh for business purposes you can provide them with guidelines demanding a percentage of profit.
Conclusion: In a word, as the motorcycle industry has expanded so many business opportunities have been opened related to motorcycles. We have sorted out sixteen business ideas based on motorcycles, you can choose one of them which seems more comfortable to you. Hopefully, this ideas will help to start a business.