The world famous French helmet manufacturing brand Shark recently launched in Bangladesh. Dewan motors Ltd is their sole distributor and after sale service provider. Started their journey back in 1986 with the hand of two brother to produce safest and excellent quality products for the bikers. After 30 years of experience, Shark became one of the trustable and safest helmet manufacturing brand in the world.
Shark Race R Pro GP is the latest addition of Shark race track helmet. This new Race R Pro GP previously used by the retired MotoGP rider Jorge Lorenzo. This helmet is recognizable by the striking aerodynamic spoiler which ensures that the helmet remains utmost stable at extremely high speeds. The outer shell made by the materials consists of a (COVA = Carbon On View & Aramid) carbon fiber and aramid Structure. This new structure, 100% carbon-aramid has greater abrasion and compression resistance, as well as an enhanced anti-lamination result. With a clear display of optic class 1 with variable densities (2.8 mm at the edges and 4.25 mm in the center), offers perfect optical quality. With exterior anti-scratch treatment, internal anti-fog treatment and brackets for tear-off.
Shark Race-R Pro GP Key Specifications

| | |
| --- | --- |
| Category | Specification |
| Type | Full-face |
| Shell | Carbon Cova RS (carbon/aramid mix) |
| Certifications | ECE 22.05, FIM Racing Homologation |
| Weight | ± 1210 gr |
| Price | 95,500 BDT |
The Shark Race-R Pro GP  is a dream come true for Racer, Highspeed and GP fans. This full-face helmet is part of the scenery at race tracks around the world. It is after all homologated for FIM Racing. It carries the certification hologram sticker with integrated QR code. The racing helmet is traceable and carries an official identification. This helmet satisfies the racing requirements and approvals that apply round the world in every respect.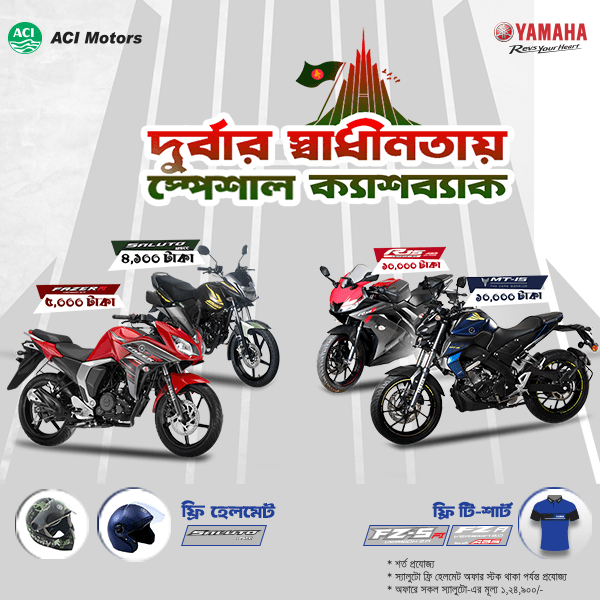 Features
Shell:
A shell built with a COVA (Carbon On View & Aramid) structure: lightweight, resistance to both abrasion and compression, effective at preventing delamination, shock absorption.
Multi-density, EPS(Expanded Polystyrene) shell: optimal damping at each impact zone.
Ventilation optimized via CFD technology (Computational Fluid Dynamics).
Unique Aerodynamic shell. It can cut through in high speed.
Dual-density, EPU (Expanded Polyurethane) chin guard: Material designed above all to absorb shocks reverberating around the chin guard.
Aerodynamic spoiler: the Race-R Pro GP has been equipped with a spoiler designed to optimize aerodynamic performance when traveling at very high speed.
Quick Spoiler Safety System: Allows ejecting the spoiler in the event of a fall to limit the effects of secondary shocks and thereby guarantee the rider's optimal safety.
Visor:
High-strength visor comes with an Optical Class 1 rating and variable thickness (ranging from 4.2 mm to 2.8 mm) without introducing any visual distortion.
Treated to prevent scratches and fogging.
System installed to enable quick visor disassembly.
anti-fog breath guard with added functionalities: a fixed piece + a Snap-On removable piece.
Adapt to all types of weather conditions (cold, wind, etc.).
Interior:
Two-tone, high-tech 'Alveotech' lining fabric featuring the Sanitized label.
This Sanitized treatment ensures antimicrobial efficiency to prevent the propagation of bacteria when perspiring. It guarantees a cool contact over long periods for extra comfort during a strenuous ride.
Wrap-around and breathable neck protection Specially designed for optimal acoustic insulation.
Chin guard fitted with a removable, variable airflow anti-pollution filter.
Shape memory ear pads that serve to muffle noise due to acoustic vibrations.
New technology used to cut out '3D morph' cheek contours Providing maximum comfort and support.
Certifications:
ECE R-22.05(EU) approved safety standard.
New holographic certification label with an embedded QR Code: Helmet traceability with official identification by the Race Marshal before entering the track.
Safety:
Block out background noise.
Minimize turbulence.
Double-D ring closure in anodized titanium. Chin strap with push button ensures a perfect fit.
Shark Race-R Pro GP Rating
Brand value -

9/10

Availability -

7/10

Certification -

9.5/10

Value of money -

8/10

Design -

8.5/10

Graphics -

8.5/10

Padding -

9/10

Safety -

9/10
Summary
The world famous French helmet manufacturing brand Shark recently launched in Bangladesh. Dewan motors Ltd is their sole distributor and after sale service provider. Shark Race-R pro GP is one of the premium and top rated helmet. This helmet was used by the MotoGP rider Jorge Lorenzo, Zarco and Redding with their specific requirements are taken into account when developing this helmet. The outer shell made with a COVA (Carbon On View & Aramid) structure and also have ECE 22.05 and HIM Homologation certifications.