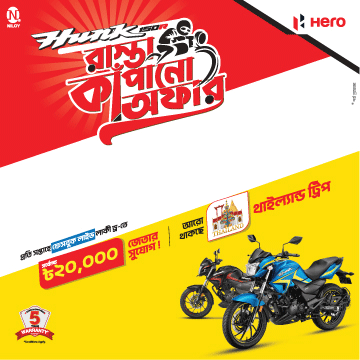 BIZOL is a reputed German's largest oil company, with manufacturing and sales facilities throughout the world. All BIZOL products are developed with the best raw materials and take advantage of German engineering skills. BIZOL Moto 10W-30 is a Synthetic motorcycle lubricant recommended for four-stroke engines. This engine oil has a unique formulation with Synthetic composition that provides adequate wear protection and high thermal stress resistance. BIZOL Moto 10W-30 can be used with engines with wet clutches according to JASO MA, API SN. BIZOL Moto 10W-30 Synthetic Specifications & Price



| | |
| --- | --- |
| BRAND | BIZOL |
| Origin | Germany |
| Model | Moto 10W-30 |
| Engine oil type | Synthetic |
| Viscosity | 10W-30 |
| What's in the Box | 1x BIZOL Moto 10W-30 |
| API | SN |
| JASO | MA2 |
| Volume | 1 Liter |
| Price in Bangladesh | 800 BDT |
| Last Update | 20 May 2023 |
---
Technology:
Formulated with Synthetic composition.
Engineered with COMB LubriBoost technology.
The formulation ensures optimal wet clutch compatibility.
BIZOL W-guard technology is to control wear and contributes to more fuel economy.
Performance and Benefits:
Ensures good corrosion protection properties.
Exceptional wear protection at start-up and effectively lubricates under high temperature.
Allows precise and smooth gear changing.
Prevents the formation of sludge.
Offers significant reduction in CO2 emissions.
Main Application:
Recommended for all types of four-stroke motorcycle engines requiring JASO MA2 or MA, API SN lubricants
---
***Note – Always consult your owner's manual to check recommended viscosity grade and specifications for your particular vehicle.