The awareness of wearing a helmet is increasing in Bangladesh. A few years ago, we could hardly find international helmet brands in our country. But the time has changed now. Many Asian and European front-line brands are now coming to Bangladesh with their quality products and the helmet market also getting bigger and bigger. Among them, the Spanish brand MT (Manufacturing Thomas) has already created popularity with their products. They have standard to premium segment helmets with dual-certification. Raida Trade International is their sole distributor in Bangladesh and you can buy original MT helmets in their authorized showrooms.
Along with their quality products, Raida Trade International will launch two brand new products in Bangladesh, are MT Kre+ and MT Targo Pro. Kre and Targo are one of the best-selling helmet series of MT. To improve better safety and graphics, they are going to launch these two new products and will be available in Bangladesh very soon.
MT Kre+:
MT Kre+ is a new affiliation of MT's Kre series. This very same helmet used by Moto2 rider Hector Garzo, Xavi Vierge and Moto3 rider Sergio Garcia and Pedro Acosta. The outer shell of this helmet made of lightweight but durable Carbon Fiber materials and also protected by inner EPS. It will available in three different graphics, these are Carbon Brush A5 Gloss Pearl Red, Carbon Ruvi C6 Gloss Fluor Green and Carbon Projectile D7 Gloss Pearl Blue.
Key Specification:
Outer shell made of carbon fiber for greater lightness and also for optimal resistance and absorption of impacts.
It has 3 sizes of the shell for a better fit to each size.
The aerodynamic spoiler helps the helmet to be more stable.
100% Max Vision transparent exterior screen prepared to incorporate tear-off and Pinlock anti-fog lens (included).
Tear Off Ready Visor. You can use Tear Off insert and Pinlock70 insert at the same time.
Completely removable interior and made with highly breathable and antibacterial materials; It offers excellent heat evacuation and quick drying.
The materials used for the interiors of MT HELMETS helmets are made with flame-retardant fibers to ensure optimum safety.
ECE R-22.05(EU) & DOT (US) approved safety standard.
FIM Racing Homologation certified.
Closure system with double "D".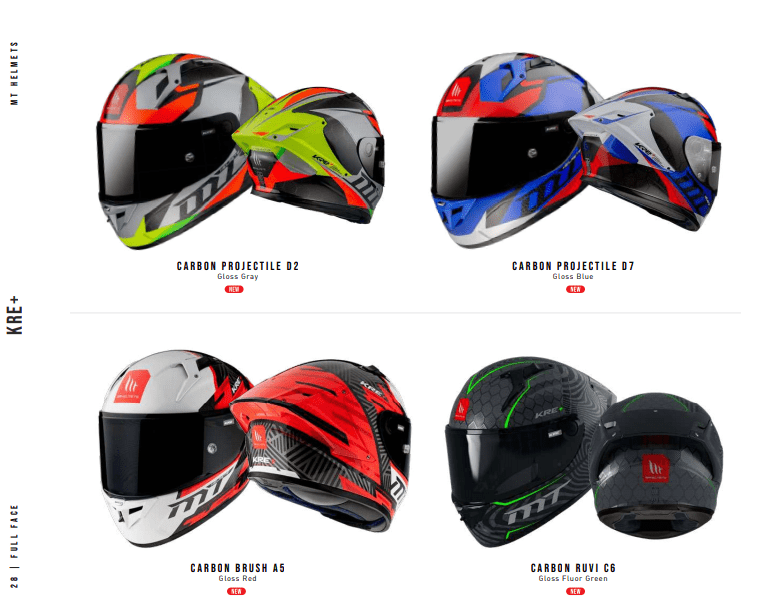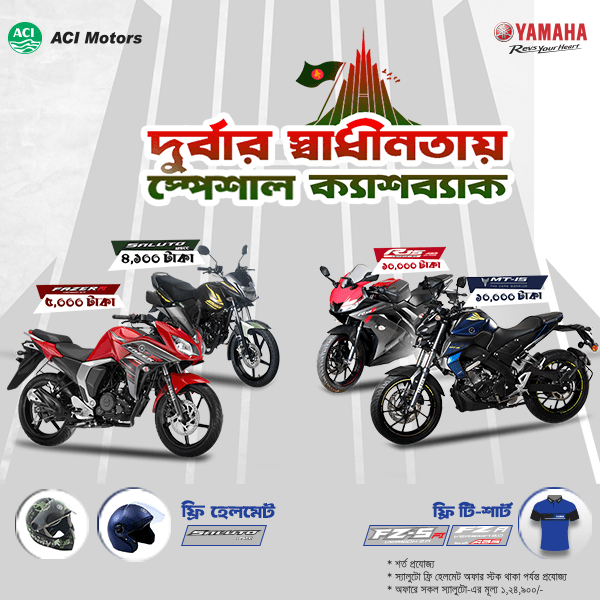 MT Targo Pro:
MT Targo is one of the reliable and cost-effective helmet series of MT. This one is the lowest budgeted helmet which consists of ECE 22.05, DOT and a SHARP 3-Star rating. MT updated this helmet with some features and new graphics. These are Sound A5 Gloss Fluor Red, Sound A2 Glossy Gray, Sound A3 Gloss Fluor Yellow, Sound C6 Gloss Pearl Green and Sound D3 Gloss Yellow.
Key Specification:
HIRP ( High Impact Resistant Polymer ) Material is formulated by a polymer injected into very precise blocks for better lightness and impact resistance properties.
Multi-ventilation system with optimized airflow to help the rider feel comfy during extreme heat.
Pinlock Ready Max Vision Visor equipped to attach/detach Anti-fog inserts. For a clear edge-to-edge vision even in foggy weather conditions.
MT's Quick Release System (QRS) helps in removing and replacing the visor effortlessly.
Anti-allergic and wicking internal fabrics – absorbs and dissipates perspiration from the skin.
Multiple internal tissues.
ECE R 22.05 (EU) and DOT US approved.
Micrometric metal closure.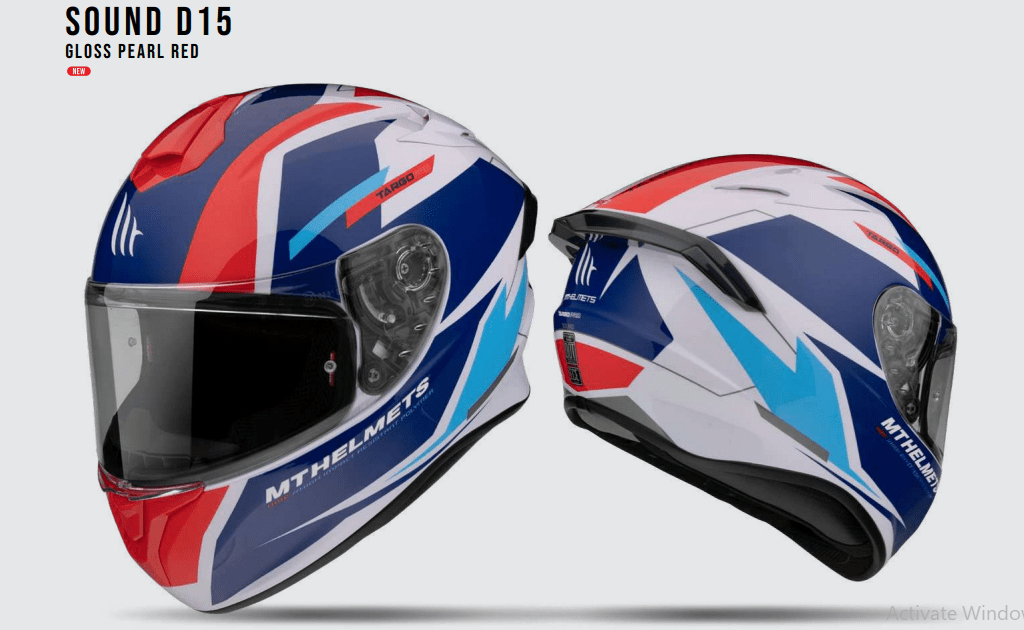 MT Revenge 2 is an all-rounder helmet in the budget. This helmet called the Ventilation King for it 3 seconds Active Air Ventilation System (5air intake vents & 6 air exhaust vent). Revenge 2 available with two graphics, these are RS Gloss Pearl Black and Baye Gloss Pearl Fluor Green. This helmet only costs 8500 BDT.