ABS is now getting more available in almost every premium and sports bike in Bangladesh. If we look at 2019, we can see a few numbers of ABS motorcycle in Bangladesh. But the time has change now, almost every motorcycle companies in Bangladesh is now installing ABS braking system on their premium products. Suzuki was the first company in Bangladesh who were introduced ABS braking system on Suzuki Intruder 155. A few months ago, they also installed a dual-channel ABS braking system on their most premium products Suzuki GSXR 150. And now, they have finally launched the ABS version of Suzuki Bandit 150 in Bangladesh.
The demand of ABS installed motorcycle is increasing rapidly because of the safety. ABS is a useful feature for the braking. It enhances the braking ability and prevent from any unnecessary skid of wheels. ABS works to prevent a motorcycle's wheel, or wheels, from locking during braking. ABS uses speed sensors on both wheels to accurately determine wheel speed as well as sensors to determine when a wheel is about to lock. ABS adjusts the braking pressure accordingly to prevent the wheel from locking and assists with maintaining the stability of the motorcycle. In many circumstances, ABS has been shown to reduce braking distance.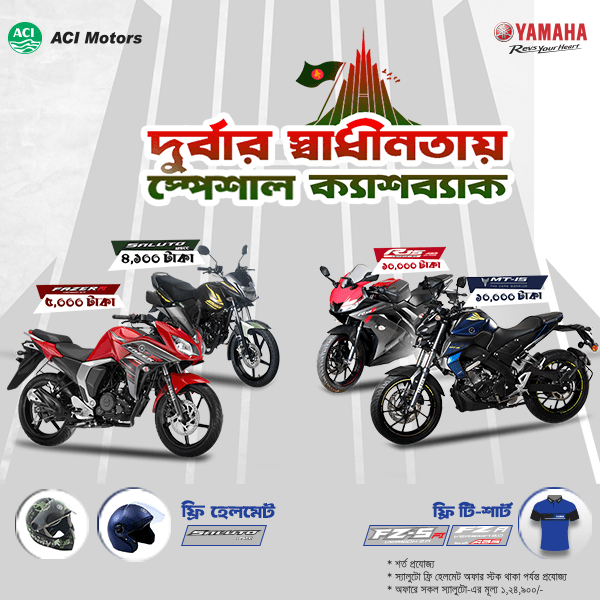 Suzuki launched this Bandit 150 in the middle of 2020. This motorcycle gets the same engine like the speed monster Suzuki GSXR 150. It equipped with a Single-cylinder, water-cooled, fuel injection, DOHC, 4-Stroke, 147.3 cc engine that can produce 19 Bhp maximum power at 10,500 rpm and 14 Nm of torque at 9000 rpm. After installing the dual-channel ABS braking system, the performance will increase. Here we showing you some key specifications of Suzuki Bandit 150 FI ABS.
Key Features:
Trapezoidal LED headlamp unit with Robo-shape.
Sculpted fuel tank with front extension kit.
Fuel Injection and Liquid cooled powerful engine.
Dual-channel ABS braking system.
Up-raised handlebar and long seating position dedicated to comfortable street commuting.
The regular version of this motorcycle cost BDT 329,950 and the Dual-channel ABS version is cost 349,950 BDT only.