Shell is the number one global lubricant supplier, delivering market-leading lubricants to consumers in over 100 countries. Shell Lubricants brings world-class technological insights to its products, offering you the best formulations for your vehicle. This Royal-Dutch company started their business in 1907 at 1907 and headquartered at the Hague, the Netherlands. according to Kline & Company's 18th edition global lubricants industry: market analysis and assessment: 2020 Report, Shell retains leadership of global lubricants market for 14th consecutive year.
According to the report, Shell grew its leading global market share in 2019 relative to the year prior, while other IOC competitors saw declines. Shell's total volumes sold were approximately 4,500 kilotons of finished lubricants, equivalent to approximately 5 billion liters. These sales were split almost evenly between three segments: consumer automotive (30%), industrial (36%) and commercial automotive (34%).
Now the global shell have 80 Macro-Distributors and 1200 Distributors all over the world and they spread their business over 100 countries. In many countries Shell became No.1 preferred lubricants brand. Many leading four-wheeler companies as BMW, Hyundai, Volkswagen, Mahindra mentioned Shell as their recommended engine oil.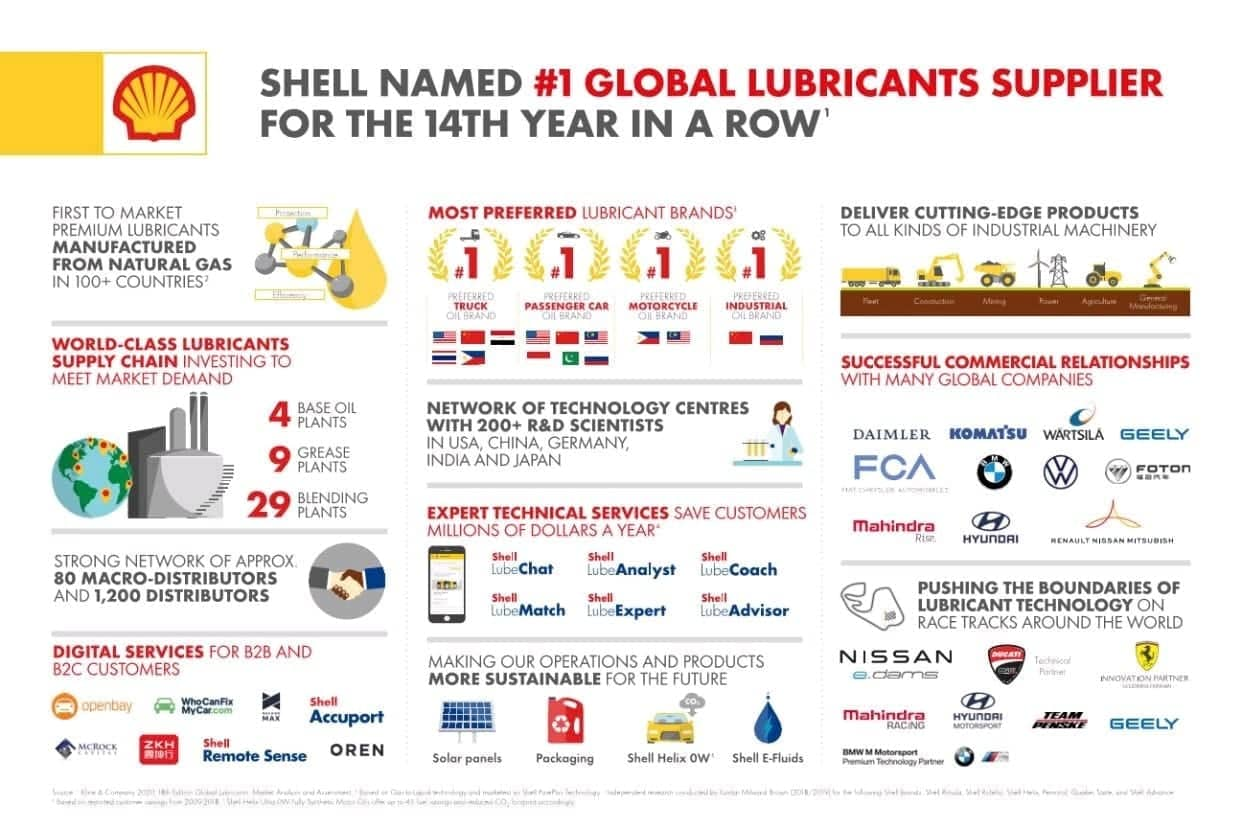 Why Use Shell Lubricant:
Shell's Pure Plus Technology and suite of premium low-viscosity synthetic lubricants offer consumers improved engine performance with up to 4% fuel savings and reduced CO2 footprint accordingly.
Shell has developed a line of fluids engineered specifically for the high-tech powertrains of hybrids and electric vehicles (EVs). These have been designed both from Shell's own laboratories, as well as by working in close technical partnership with OEMs and component manufacturers for more than 20 years. Shell E-Fluids portfolio includes: E-Transmission Fluids, E-Thermal Fluids, E-Greases and Shell Helix Hybrid.
Seven of the world's 10 largest car manufacturers choose Shell as their main lubricants supplier. Shell has built successful commercial relationships with key global original equipment manufacturers (OEMs) including BMW, Volkswagen, FAW Group, John Deere, Daimler, Mahindra, Renault-Nissan, Wartsila, Geely, Hyundai, Komatsu, Fiat Chrysler Automobiles (FCA) Group, Siemens, Atlas Copco and others.
Shell has one of the largest lubricants supply chains in the world that manufactures and buys several base oil grades and blends them with additives at Shell-owned or joint venture blending plants to create a range of branded products with unique specifications.
Shell has over 200 scientists and engineers working in specialized technical centers for lubricants in the US, China, Germany and India, dedicated to research and development into lubricants and oils.
Shell has had longstanding motorsport technical partnerships with Ferrari (F1), Team Penske (NASCAR and IndyCar), Ducati (MotoGP), BMW Motorsport (DTM, endurance racing) and Hyundai Motorsport (World Rally Championship). Shell Helix Ultra with PurePlus Technology is the only motor oil that Ferrari F1, BMW Motorsport DTM and Hyundai i20 WRC cars use. Team Penske uses only 'off-the-shelf' Pennzoil Ultra Platinum full synthetic 0W-40 motor oil in all of its Indy cars and cutting edge PurePlus Technology under the hood of its NASCAR cars.
Recently Ranks Petroleum Ltd the Sole Distributor of Shell in Bangladesh launched two new and advanced products, these are Shell Advance 10W30 Fuel Save and Shell Advance 10W40 Long Ride. Here we showing you the full product list and price of Shell lubricants for two-wheelers in Bangladesh.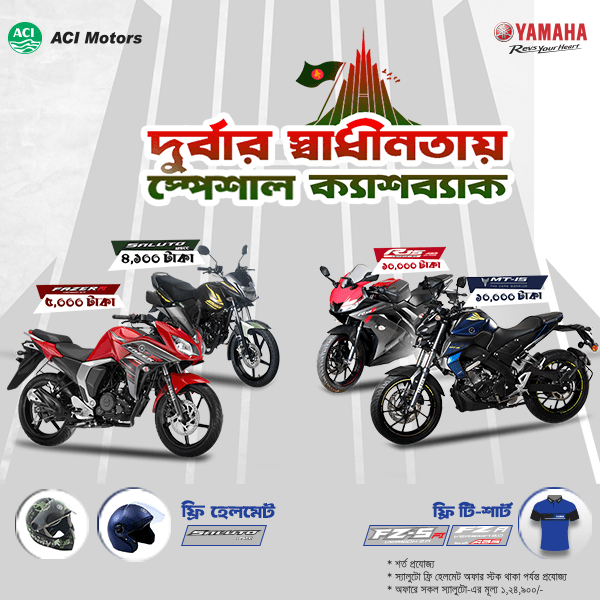 Shell Engine Oil List For Two Wheelers

| | | |
| --- | --- | --- |
| Product Name | Fuel Type | Market Price |
| Shell Advance Ultra 4T 10W40 Limited Edition | Synthetic | 1100/- |
| Shell Advance 4T AX5 20W40 Limited Edition | Mineral | 425/- |
| Shell Advance 4T AX5 20W50 Limited Edition | Mineral | 425/- |
| Shell Advance 4T AX5 20W30 Scooter Oil | Mineral | 400/- |
| Shell Advance 4T AX5 20W30 | Mineral | 425/- |
| Shell Advance 4T AXStar 20W40 (1L) | Mineral | 400/- |
| Shell Advance 4T AXStar 20W40 (900 ml) | Mineral | 370/- |
| Shell Advance 4T Long Ride 10W40 | Synthetic | 750/- |
| Shell Advance 4T Fuel Save 10W30 | Synthetic | 750/- |