Yamaha Riders Club (YRC) is one of the prominent and popular motorcycle community and group of Bangladesh. This motorcycle group forms with the help and support of Yamaha motorcycle Bangladesh and their sole distributor in Bangladesh ACI Motors Ltd. Along with motorcycle activities, they have also participated in many social services. After a long year, YRC Bangladesh arranges Barisal Riding Fiesta 2021 for their Yamaha riders of the Barisal division. To participate in this event you have to register first at this link – https://forms.gle/ofQQwh1gJrx5KN566
Barisal Riding Fiesta 2021 going to be the biggest motorcycle event after the Covid-19 pandemic. For the last one year, people were scared because of this deadly virus and the situation was spooky. To get out of this situation, YRC arranging this program. But this program won't be as large as the Cox's Bazar Riding fiesta or Dhaka Riding Fiesta. This event is arranging for the only YRC members of the Barisal division. But some of the selected YRC members from Dhaka will also participate in this mega event of this year. This program is also open to all bikers of the Barisal division. Here we showing you some details about Barisal Riding Fiesta 2021.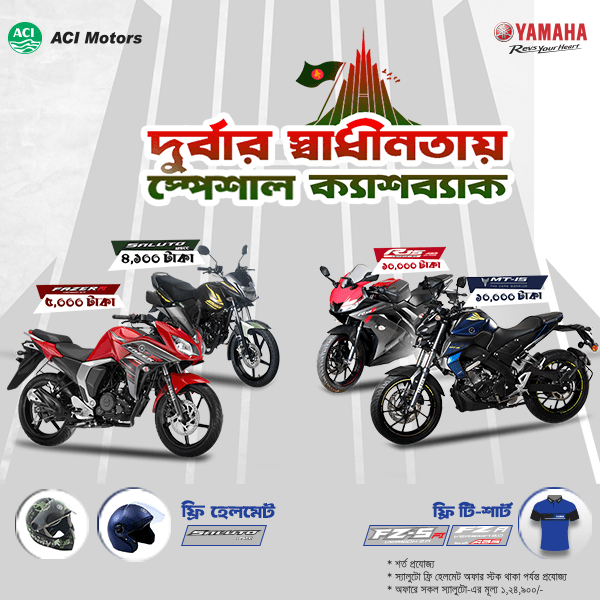 This program will be held on 12 March of 2021.
At Bangobondhu Uddan (Bell's Park).
Starts from 11 am to 9 pm.
Photo Booth
Yamaha XSR 155 Test Ride
Gymkhana Ride.
Cultural event.
After successfully organizing this event, they also have plans to do more events like this in every big city in Bangladesh. They basically organizing this event to increase the safety and cultural relationship between the bikers.
YRC not organizing this kind of event for the first time. They had already successfully organized Dhaka Riding Fiesta, Khulna Riding Fiesta and The biggest event of the motorcycle in Bangladesh Cox's Bazar Riding Fiesta 2019. They also participated in many social works like mask distribution during the Covid-19 situation, blanket distribution among the helpless in winter, helps the float affected people in Rangpur, Gaibanda, Bogura, Kurigram etc.