Yamaha always comes with exciting offers in almost every months for their customers. To honor the month of our Independence, they are giving exclusive cashback offer for some specific models. Their FZs V3 ABS and FZs v2 models were unavailable due to the Covid-19 pandemic. But now these motorcycles are available in their all authorized showrooms. We recently hear that, this is the last shipment of Yamaha FZs v2 and Fazer V2 in Bangladesh. They brought this last shipment for the demand of these motorcycles.
This offer is applicable for Yamaha R15 V3, Yamaha MT-15, Yamaha Fazer V2 and Yamaha Saluto 125. They also giving a exclusive Yamaha helmet with Yamaha Saluto 125 and Yamaha T-shirt with Yamaha FZs V3 and FZs V2. So let's check out how much cashback Yamaha offering.
| | | |
| --- | --- | --- |
| Products | Regular Price | Offer Price |
| Yamaha R15 V3 | 485,000/- | 475,000/- |
| Yamaha MT-15 | 410,000/- | 400,000/- |
| Yamaha Fazer V2 | 271,000/- | 266,000/- |
| Yamaha Saluto 125 | 129,000/- | 124,900/- |
| Yamaha FZS V3 | 255,000/- | Free T-shirt |
| Yamaha FZs V2 | 230,000/- | Free T-shirt |
This offer will be continued till 31st March 2021 and the helmet offer will continued till stock out. 
Yamaha R15 V3 and MT-15 are known as one of the powerful full-faired and naked sports bike in Bangladesh. As you know that MT-15 is the naked version of Yamaha R15 V3 and carries some features like R13 V3. Such as the engine, Dashboard, Chassis, Suspension settings etc. Yamaha R15 V3 is ruling the sports segment in Bangladesh from the very beginning because of the aggressive look, cutting edge design, powerful BlueCore engine with VVA technology and also the dual-channel ABS braking system.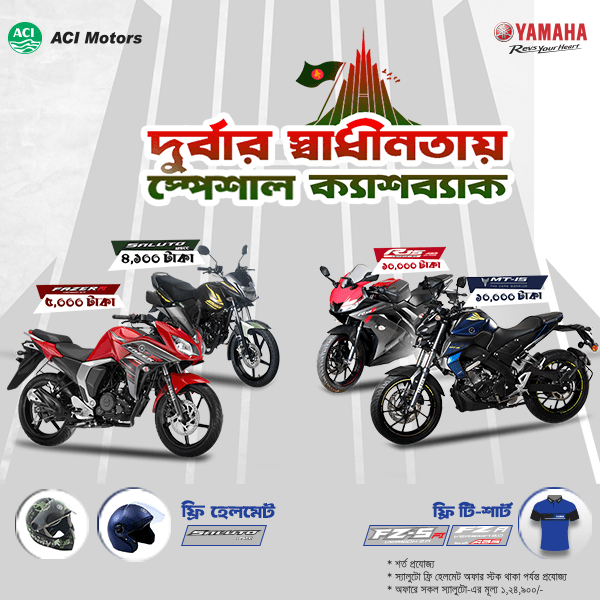 If you consider the top commuter motorcycle in Bangladesh, then Yamaha Saluto will definitely hit the list. This motorcycle has one of the best braking and controlling system in 125cc segment. It also has the famous Blue Core engine and comfortable riding position. Under this offer, you can get a free Yamaha helmet but purchasing this bike.
Recently ACI motors Ltd launched a new product Yamaha XSR 155 in Bangladesh. This motorcycle gets a modern retro design and the powerful BlueCore engine of R15 V3. The design concept of this motorcycle sourced from the classic 'XS' series which was available during 1969 to 1979 time period. Wide up-raised handlebar, pan shape classic LED headlight, large and premium seat, 140 section fatty dual purpose rear tyre make this bike appealing. The market price of this motorcycle is 545,000 BDT and you can get 5,000 BDT cashback by pre-booking.