Rancon Motorbikes Ltd. has introduced 'Suzuki Day' for bikers on 1st April 2022. The event took place in Provati Secondary School, Khulna. The main attraction of this all-day event was Mega Free Service Camp, Suzuki Genuine Parts Selling Booth and Suzuki Bike Selling Booth. Moreover, on 'Suzuki Day 2022' event, there was the availability of Suzuki Riding School for amateur bikers to learn riding, Test Ride for taking riding experience and Bike Stunt Show. There were a lot of individuals, particularly, bikers were present in the event. This can be one of the massive initiation by Suzuki Bangladesh.
The particular event was initiated with the presence of Mr. Shoeb Ahmed (Suzuki Bangladesh Divisional Director), A.K.M. Tauhidur Rahman (Head of Sales), Shaikh Md. Noman Ibna Haq (Head of Service) and Mohammad Shams Uddin (Head of Marketing). The occasion was Inaugurated by Suzuki Bangladesh Divisional Director Shoeb Ahmed.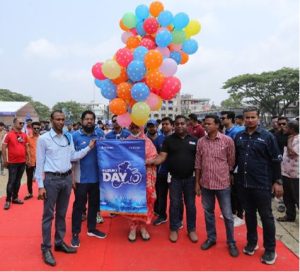 Suzuki is considered one of the two leading motorcycle manufacturers in Japan as well as one of the best manufacturers in the world. Their products are currently available in most countries and they are popular for their built-in quality. The demand for Suzuki bikes in Bangladesh are heavy. Rancon Motorbikes Ltd. is the sole distributor of Suzuki motorbikes in Bangladesh. Suzuki has products for all types of people. Their sports bike, standard commuter and scooter categories are highly demanded.