Good News for Creative Peoples! TVS come up with an excellent contest. You can win prize money of 50,000 TK by designing the gate of TVS Auto Bangladesh's new factory.
TVS is a very popular motorcycle brand in Bangladesh. TVS always bring some variety of events for bikers and the general peoples of Bangladesh. This time TVS Bangladesh brought a different kind of competition on the occasion of building their new factory. In this competition, you have to design a gate for a new factory of TVS Auto Bangladesh. The prize will be given to the person whose design will be selected at the end of the competition.
Designs must be sent by 31st January 2022. Design sending address: raisul@tvsab.com.bd
Rules for participating in the competition:
Gate design size: 36 feet wide 20 feet high.
There are 10 * 7 feet security rooms at the gate or side, which should include in the design.
Anyone who is associated with TVS can not participate in this contest.
Any decision regarding the contest is borne by the TVS authority.
The winner will be announced by the TVS jury panel.
TVS reserve the right to change augment or modify the contest at any time.
Keep an eye on TVS's official Facebook page for more details.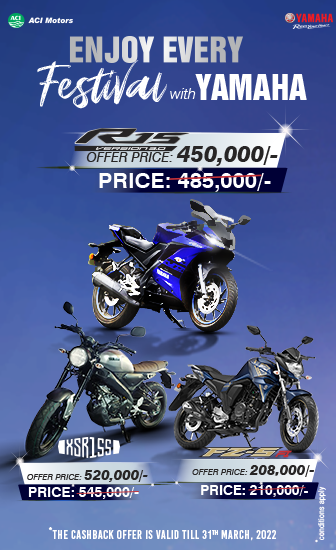 TVS email address: customercare@tvsab.com.bd
You can communicate with TVS on Viber, Whatsapp at this number: 01919189111, 01919194222
TVS is an Indian motorcycle brand. They started their journey in the year of 1962. In the beginning, they used to manufacture only different parts of motorcycles. But in 1989, they first started marketing the entire motorcycle commercially. Right now they manufacture motorcycles, scooters, and three wheelers also. They are one of the most popular motorcycles brand in the world for their commuter motorcycle. TVS is the third largest motorcycle company in India. In Bangladesh, also TVS has a great fan base for their bikes. They have some quality commuter motorcycles in Bangladesh two wheeler market. Because of it, they have held the 2nd highest motorcycle market share in Bangladesh.