Yamaha Test Riding Campaign will be started very soon throughout Bangladesh. This campaign offers you to experience Yamaha's most wanted bike Yamaha FZ-X and MT 15 V 2.0. After launching these two models Yamaha has received uncountable text and emails from different parts of the country regards these models. Though in metropolitan cities like Dhaka and Chattogram Yamaha arranged test rides several times but its turns for all over Bangladesh. Registration now to participate in the campaign, here is the registration link https://forms.gle/yrzwhUn7rbP1yKd28
Yamaha MT 15 is pretty much similar to the Yamaha R15 but Yamaha assembles its body parts in different approaches. It's a little bit shorter than the Yamaha R15. MT 15 gets a sporty streetfighter design and look with a compact headlamp unit. The headlamp looks always angry and aggressive whenever you see it. The high-rise muscular fuel tank is surrounded with tank shrouds and radiator fins which makes it look bulky. Stubby tail and split seat enhance its sporty look. the well-made exhaust is covered with carbon fiber muffler which looks stunning. The neatly designed rear grab rail is perfectly fitted with the pillion sitting position. The instrumental panel is fully digital and it's easy to read and also has decent visibility.
Yamaha FZ-X comes with a powerful 149cc FI-Blue core air-cooled 4-stroke SOHC, 2-Valve, Single-cylinder fuel-injected engine which produces 12.4 PS @ 7250 rpm maximum power and 13.3 Nm @ 5500 rpm maximum torque. Due to its powerful engine and better acceleration, the Yamaha engines are in a league of their own.
Find out your nearby Yamaha authorized dealer point from the list below and contact them for more information.
Route 1
Jom Jom Motors, Narsingdi
Date: 15-02-23
Sumon Sokar (Manager)
Phone Number: 01719833884
Ayesha Lais Motors, Sylhet
Date: 15-02-23
Sagor (Manager)
Phone Number: 01719300267
Shatata Motors, Brahmanbaria
Date: 18-02-23
Pranto (Manager)
Phone Number: 01773666690
Biker's Gallery, Comilla
Date: 19-02-23
Shipon (Manager)
Phone Number: 01819607086
Modina Motors, Feni
Date: 20-02-23
Nazrul (Manager)
Phone Number: 01903746702
Motorcycle Gallery, Chattrogram
Date: 22-02-23
Mamun (Manager)
Phone Number: 01819625297
Ovi Motors, Khagrachari
Date: 23-02-23
Imran (Manager)
Phone Number: 01820745656
Nabil Motors, Cox's Bazar
Date: 20-02-23
Mahfuz (Manager)
Phone Number: 01842134507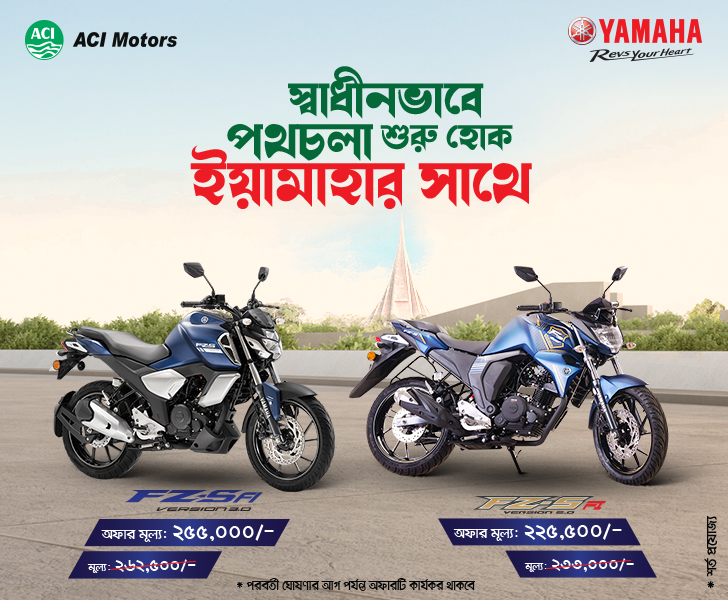 Route 2
M/S Goura Motors, Madaripur
Date: 15-02-23
Tanvir Hossen ( Manager)
Phone Number: 01883-150788
M/S Jannat Motors, Faridpur
Date: 16-02-23
Shariful ( Manager)
Phone Number: 01757472777
Sakib Enterprise, Gopalganj
Date: 18-02-23
Ibrahim (Manager)
Date: 01733388444
M/S Ratul Autos, Barishal
Date: 19-02-23
MD Wahidul
Phone Number: 01907-091688
RINS Consortia, Khulna
Date: 20-02-23
Sajib khan
Phone Number: 1910066050
Prestige Motors, Shatkhira
Date: 22-02-23
Shahin (Manager)
Phone Number: 01818326235
SR Orion Motors, Jessore
Date: 23-02-23
Fahim (Manager)
Phone Number: 01407159663
A.S Motors, Khustia
Date: 25-02-23
Ovi Bhai (Owner)
Phone Number: 01670272891