Happy Valentine Day! As you know Yahama is always forward-thinking and every occasion, Yamaha shares happiness with bikers. ACI Motor Ltd. starts  special 'Yamaha Valentine Campaign' This campaign offers 10% discount on spares, parts and Yamalubes & free 10-point checkup. 14 dealers will provide the service on 12 and 13 February from 10.00 am to 05:00 pm.
Following 14 dealers will host 'Yamaha Valentine Campaign' throughout the country.
1. Yamaha Flagship Centre-Tejgaon
37, Haque Center, Shaheed Tajuddin Ahmed Ave, Dhaka 1208. Mobile: 01704114528
2. Crescent Enterprise- Mirpur
3/8, Uttar Pirerbag, 60fit Main Road, Mirpur-2, Dhaka 1216. Mobile: 01712951933, 01762877793
3. Green Motors- Uttara
H#10, R#6/C, Sector#12, Uttara, Dhaka. Mobile: 01894822333
4. Cresent Enterprise(South)- Palton
37/2 Purana Palton (Culvert Road) Dhaka-1000. Mobile: 01732873603
5. M/S Bike Shop- Malibagh
99/B, Malibagh Chowdhury Para, Khilgaon, Dhaka. Mobile: 01985653112
6. M/S Amin Enterprise- Mymensingh
16, Congres Jubilee Road. Mobile: 01718990962
7. Motorcycle Gallery Ctg- Choumohuni
74/B, Sk Mujib Road, Chowmuhoni, Agrabad. Mobile: 01819625297
8. Meem Motors Ctg- Muradpur
445, CDA Avenue, Sholo Sohor Railway Station. Mobile: 01786348647, 01786348634
9. Modina Motors- Feni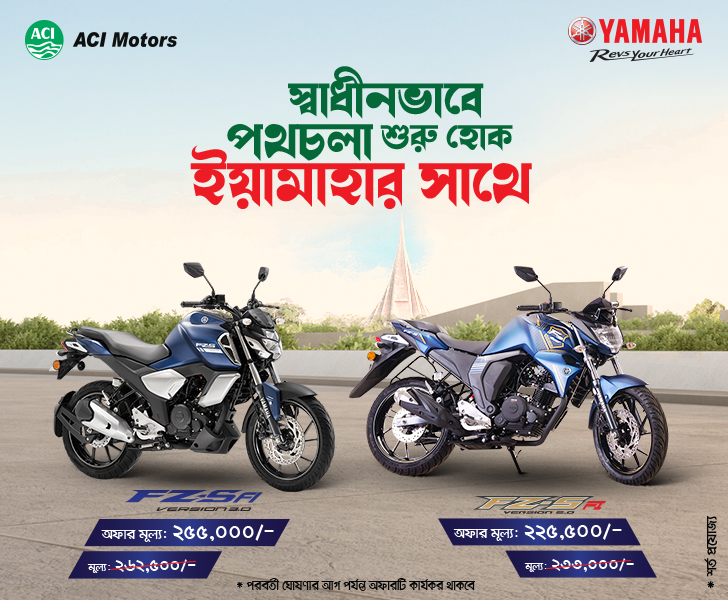 Khajuaria, Feni Sadar Feni (Town). Mobile: 01915737942
10. Ayesha Lais Motors-Sylhet
Rasos 47, Roynagar, Sonar Para, Tamabil Road. Mobile: 01979800387
11. Ghost Riderz Station- Rajshahi
176 Sapura, Airport Road, Rajshahi- 6203
Opposite of Rajshahi Polytechnic. Mobile: 01916670942
12. Neon Auto-Rangpur
Chartola Mor, College Road, Rangpur. Mobile: 01737836312, 01712224663
13. RINS Consortia- Khulna
39, M A Bari Sarak, Sonadanga. Mobile: 01923117711
14. SR Orion Motors- Jashore
Rail road, Char khambar mor, Rasel chottor, Jessore. Mobile: 01709532356
Yamaha hopes this campaign helps to make your valentine day more special. Visit your nearby dealer point out of the list above and make your day perfect.
Yamaha has made a revolutionary in Bangladesh automobile sector, they constantly adopt updated technology on their vehicles. Already we have witnessed so many technical outputs on different category bikes. the sporty FAZER FI, YZF R15 and FZS FI, designed with excellent ergonomics for the adventurous with comfortable riding position and seat ensuring the rider can enjoy a weekend getaway or head off on a touring holiday; the befitting family bikes SALUTO Disc and SALUTO Drum, designed with a priority on fuel economy and practicality; and SZ-RR for the 'Powerful and Stylish Commuter' ACI's Mission is to enrich the quality of life of the people through responsible application of knowledge, technology and skills. ACI is committed to the pursuit of excellence through world-class products, innovative processes and empowered employees, to provide the highest level of satisfaction to our customers. Yahama also concerns about accessories that essential to keep the bike smooth. All spears parts and lubricants are available at every authorized dealer point. From the very beginning of 2016, Yamaha has been arranging events one after another. Yamaha shares happiness with Yamaha Riders on every occasion 'Yamaha Valentine Campaign' is one of them.
For more updates visit Yamaha's official facebook page and website.
ACI Centre 245, Tejgaon Industrial Area, Dhaka, Bangladesh
Hotline: 16533
Email: info@acimotors-bd.com