Many motorcycle specialists recommended that, After motorcycle, your helmet should be the highest priced riding kit. Nowadays, the motorcycle does not remain the transportation only, it becomes a passion for every biker. There are many motorcycle helmet brands are available in Bangladesh. But there are a few who provide better quality, safety and also best helmet testing certificates. MT helmet is one of them. MT is a Spanish origin helmet brand and with a short time they able to get the trust of many bikers.
The tagline of MT Helmets is actually mean their quality and standard. Yes, Safety means MT. This Spanish helmets brand is officially available in most of the country. MT is worldwide famous because of providing the highest safety features. Raida Trade International is the official distributor of MT Helmets in Bangladesh and they are importing all model helmet. They are the only official and trusted importer of MT Helmets in Bangladesh. Here we are showing you the MT Helmet products and their expected prices.
MT Helmets Price in Bangladesh

Models
Price
Stinger
4,999/-
Stinger SE (Special Edition)
5,499/-
Targo
5,999/-
Targo SE (Special Edition)
6,499/-
Thunder 3 SV
7,999/-
Atom SV
9,999/-
Atom SV SE
10,999/-
Kre SV
11,999/-
Kre Sanake Carbon 2.0
19,999/-
Kre Snake Carbon GR
20,999/-
Rapido Pro Carbon
23,999/-

This list is the latest update of MT Helmets price in Bangladesh
MT Stinger: This one is the cheapest MT helmet available in Bangladesh. This one has two versions. One is regular and another one is Special Edition and they have price differences too. Here are some key specifications of MT Stinger.
Only 1450 gram weight.
Made with advanced polycarbonate.
Weight distribution system.
100% max vision visor with pinlock70 install facility.
Removable padding.
High Impact Resistance.
DOT, ECE Certified.
MT Targo: This is the lowest priced helmet that gets a SHARP 3-star rating on it. Targo also has the ECE 22.05 and DOT Certifications. It's also available with 2 editions.
High  Impact Resistant Polymer (HIRP) Shell.
Aerodynamic shape.
Weight is only 1450 grams.
Optical Polycarbonate Anti-scratch visor.
Anti-allergic removable visor.
Complex Ventilation system.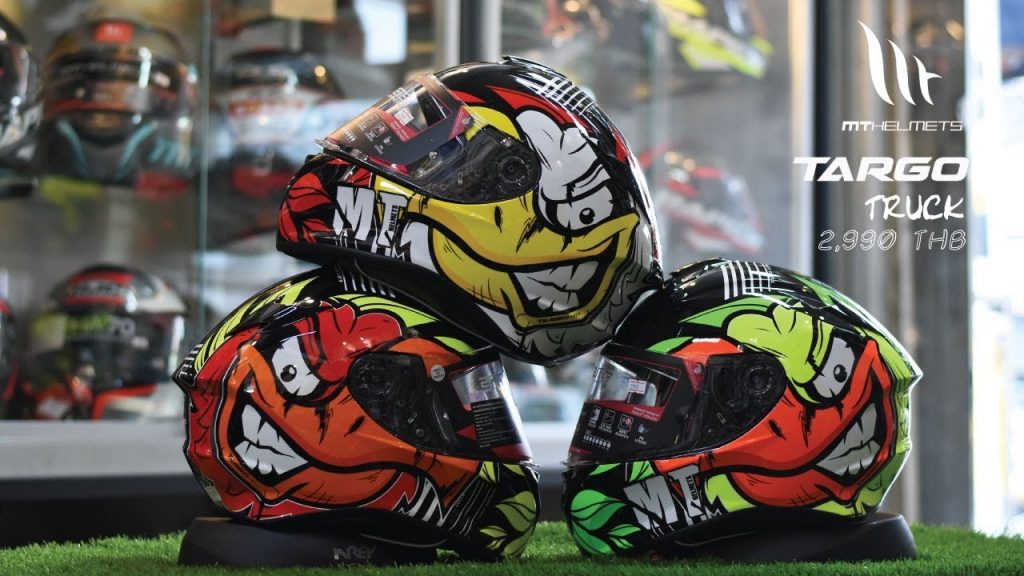 Thunder 3 SV: This helmet gets some advanced safety features like Fire Retardant Fabric Lining, Shock Absorption, and Built-in Speaker Pockets. Those are very useful features during a ride. It also Dot and ECE certified along with SHARP 4-star rating.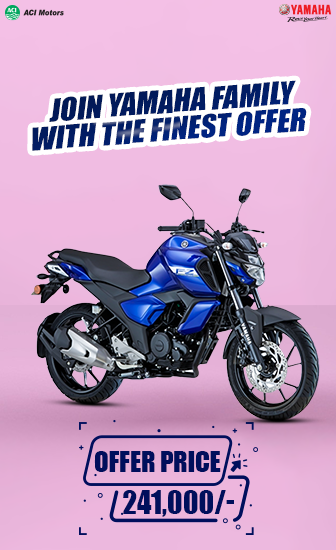 Only 1550 grams of weight.
Polycarbonate Shell.
Aerodynamic shape.
Anti-Scratch visor and ready pinlock.
Removable and Anti-allergic padding.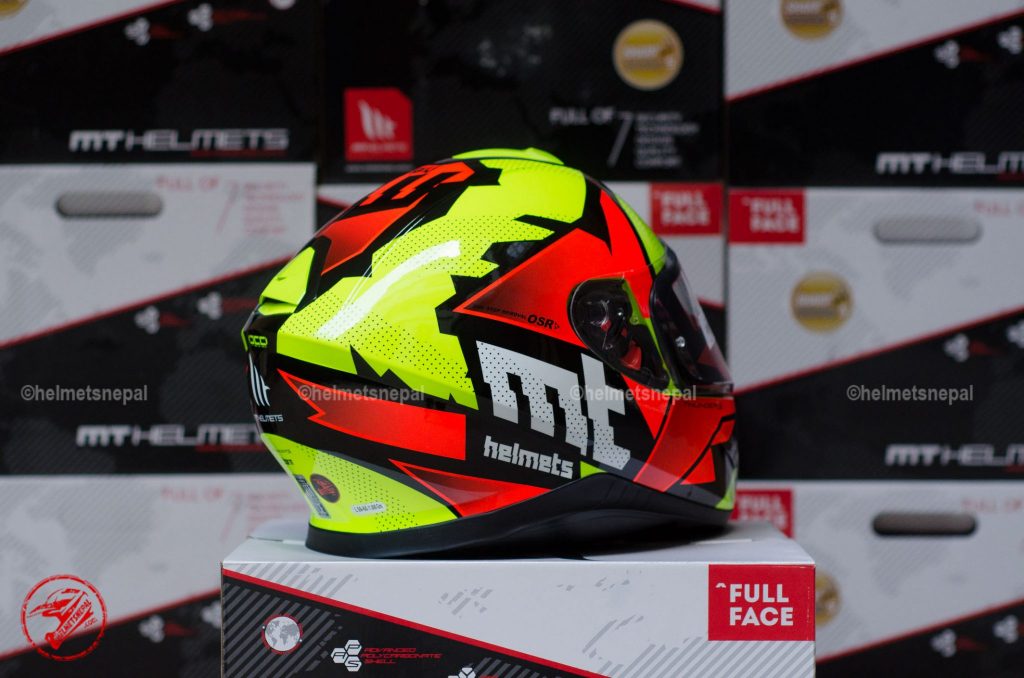 Atom SV: This one is the only modular helmet from MT. You can use it as full-face and also half-face. This helmet is made with a polycarbonate shell which made it super strong and also gives the ability to absorb the shock.
Two-size outer shell.
only 1500 grams.
Anti-scratch visor and ready pinlock.
Inner sun visor.
Removable and washable padding.
DOT, ECE 22.05 certified.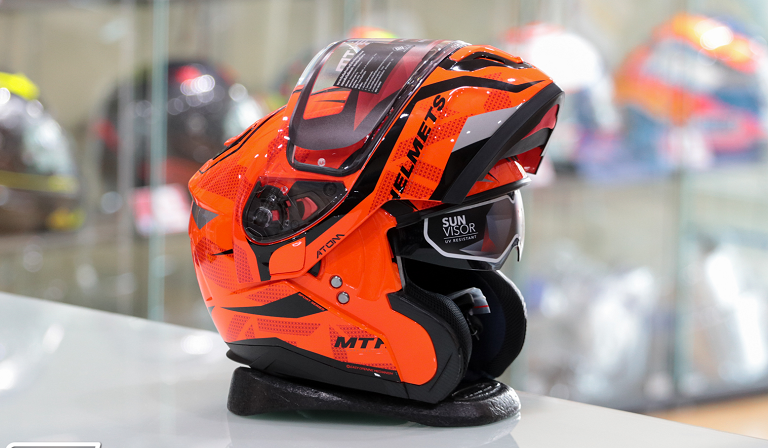 Kre Sv: This helmet is one of the best in the Middle range budget. This one passed wind tunnel tests and made a polycarbonate shell. This helmet has DOT, ECE certified and also 3-star SHARP rating.
1450 grams of weight.
Tri-composite Shell
Aerodynamic Shape
Drop Down Sun Visor
Anti Scratch Visor with ready pinlock
Shock Absorption
Built-in Speaker Pockets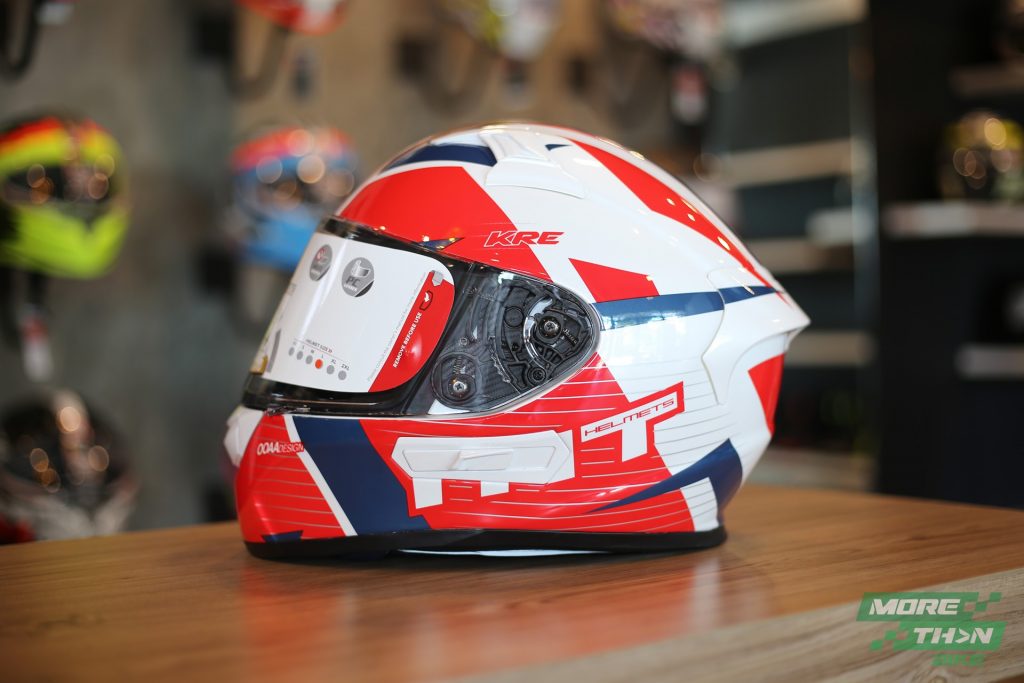 Kre Snake Carbon 2.0: MT Snake Carbon is one of their full-face helmets and it's finally available in Bangladesh. Its lightweight makes it different from another helmet, actually MT made it with very eye-catchy graphics and hardness which makes it unique. MT Snake Carbon is also made with Tear-Off strips and this is the special feature of this helmet. This feature gives it a specialty.
Made with carbon fiber which makes it lightweight and strong.
Aerodynamic and wind tunnel tested.
100% max vision visor with ready.
The removable and washable pads make their life longevity.
Inner shell with hi-impact absorption.
Fire Retardant Fabric Lining.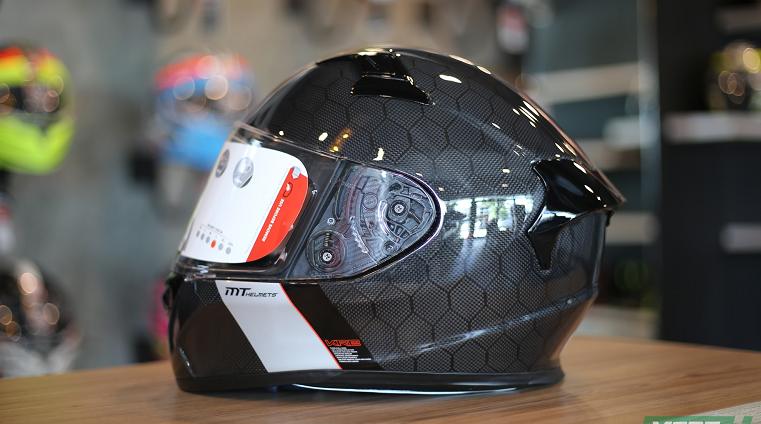 Rapido Pro Carbon: This one is the highest and most advanced helmet from MT in Bangladesh. Whether ripping through the track or threading through the highway, make no compromises with the Rapide Pro. Built for sports tourers and track day enthusiasts who demand unparalleled performance, the Rapide Pro never ceases to deliver.
FIM certified.
Carbon Fiber Structure & Lightweight.
Multi-density inner EPS designed for better impact absorption.
Unique Aerodynamic shell. Wind Tunnel tested.
Dual Certification – ECE R-22.05 (EU) & DOT (US).
Robust Chin Strap with D-Ring fasteners.
Anti-scratch visor with ready pinlock.
Anti-allergic and wicking internal fabrics.
Easily removable and washable interiors.
At a weight of 1300 (+/-50) grams.
Embedded speaker pockets for Bluetooth communication systems.