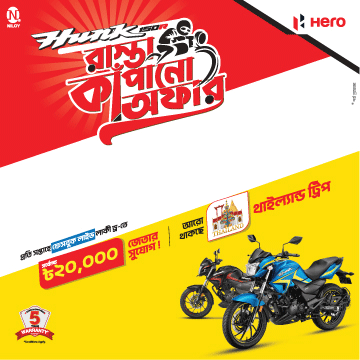 Hero Bangladesh newest offer is designed to make your dream all in one. With every purchase of Hero Hunk 150R you will get instant 13,500 taka cashback, if you are lucky one then you have a chance to win Thailand trip and 20,000 taka price money.
Hero Bangladesh offers 13,500 taka instant cashback on Hero Hunk 150R, among the customers lucky three winners will get 20,000 taka in every week. Winners name will be announced on Hero Bangladesh official Facebook page in every weekend. Additionally two lucky customers will be selected for Thailand Trip in every month, they also will be selected through Bumper Lucky Draw.
| | | |
| --- | --- | --- |
| Model | Regular Price | Offer Price |
| Hunk 150R DD | 193,500 | 180,000 |
| Hunk 150R ABS | 204,500 | 191,000 |
Winner Selection Process : After purchasing Hero Hunk 150R, the customer will receive a confirmation SMS with a coupon number, with this number the winner will be selected through a lucky draw. Similarly bumper lucky draw will be announced at the end of the month.
So, don't be late visit your nearby Hero Bangladesh showrooms before the end of this offer and make a trip to the mesmerising land of Thailand | | | |
| --- | --- | --- |
| Dealer Name | Thana | District |
| Niloy Hero -Signature Showroom | Tejgaon | Dhaka |
| Shantinagar Own Showroom | Ramna | Dhaka |
| E N  Motors | Jatrabari | Dhaka |
| AB Auto Traders-2 | Rampura | Dhaka |
| AB Auto Traders-3 | Mirpur | Dhaka |
| Good Luck Automobile | Sadar | Manikganj |
| Parsha Motors | Singair | Manikganj |
| Aarham Motors Museum | Sreepur | Gazipur |
| Halim Motors | Bongshal | Dhaka |
| Royal Auto | Uttara | Dhaka |
| Murad Automobiles | Nawabganj | Dhaka |
| Bike Collection | Ashulia | Dhaka |
| Sagor Motors | Shibaloy | Manikganj |
| Malala Motors | Sadar | Munshiganj |
| Al-Araf Motors | Joydebpur | Gazipur |
| Monno And Sons Automobiles | Dhamrai | Dhaka |
| M/S Bike Riders | Mohammadpur | Dhaka |
| Adit Motorcycle Galerry | Sadar | Noakhali |
| Fair Look | Sadar | Khagrachari |
| New M/S Akbar Motorcycle Works | Fotikchari | Chittagong |
| City Motors | Sadar | Lakshmipur |
| Chittagong Own Showroom | Panchlaish | Chittagong |
| M/S Bike Museum | Panchlaish | Chittagong |
| Hera Motors | Chowmohoni | Noakhali |
| Zinan Motors | Sadar | Cox's bazar |
| New M/S  Akbar Motor Cycle Works | Hathazari | Chittagong |
| Cosmic Electronics & Motors | Raipur | Lakshmipur |
| Bike Gallery | Chokoria | Cox's bazar |
| M/S New Chowdhury & Brothers | Sadar | Feni |
| Z. Islam Motors | Pahartali | Chittagong |
| M/S Bismillah Motors | Ramganj | Laxmipur |
| M/S Salma Traders | Sadar | Bhola |
| M/S Abrar Motors | Sadar | Madaripur |
| M/S Zannat Motors | Sadar | Gopalganj |
| M/S Jamila Traders | Lalmohon | Bhola |
| M/S Aayan Motors | Sadar | Barguna |
| M/S Janani Motors | Charfassion | Bhola |
| M/S Bondhujon Motors | Sadar | Patuakhali |
| M/S Nijum And Thamid Autos | Sadar | Barisal |
| Gournadi Bike Gallery | Gournadi | Barisal |
| M/S Ma Motors | Swarupkhati | Pirojpur |
| M/S Tamanna Motors | Zajira | Shariatpur |
| Rifat Motors | Sadar | Pirojpur |
| M/S Momo Motors | Sadar | Shariatpur |
| Nadira Motors | Sadar | Patuakhali |
| M/S Salman Enterprise | Patnitola | Naogaon |
| Rashid Enterprise | Shapahar | Naogaon |
| M/S Nishan Motors | Niamotpur | Naogaon |
| Rajshahi Own Showroom | Boalia | Rajshahi |
| Bogra Own Showroom | Sadar | Bogura |
| Rabbe Motors | Santhia | Pabna |
| Joint Auto | Rohonpur | Chapainowabganj |
| M/S Ishwardi Motors | Ishwardi | Pabna |
| New Alam Motors | Sadar | Natore |
| M/S New Shuvo Enterprise | Mohadebpur | Naogaon |
| Maruf Enterprise | Mohonpur | Rajshahi |
| Palli Enterprise | Sadar | Naogaon |
| Fahim Motors | Sadar | Joypurhat |
| Shafikul Enterprise | Baneshwar | Rajshahi |
| Dalim Enterprise | Manda | Naogaon |
| M/S Rifa Motors | Kalai | Joypurhat |
| Bhai Bhai Motors | Dupchanchia | Bogura |
| Desh Motors | Nozipur | Naogaon |
| Happy Motors | Raiganj | Sirajganj |
| Barendra Enterprise | Tanore | Rajshahi |
| Rezeya Electronics & Motors | Lalpur | Natore |
| New Real Motors | Baghmara | Rajshahi |
| M/S Sujon Enterprise | Shibganj | Chapainowabganj |
| H R Motors | Sadar | Pabna |
| Megha Enterprise | Manda | Naogaon |
| Paradise Motors | Paba | Rajshahi |
| M/S Jamuna Motors (Sirajganj Sadar) | Sadar | Sirajganj |
| M/S Mamim Enterprise | Sadar | Jamalpur |
| Madina Motors | Sadar | Narsingdi |
| Mymensingh Own Showroom | Sadar | Mymensingh |
| Tangail Own Showroom | Sadar | Tangail |
| Chowdhury Motors | Hossainpur | Kishorganj |
| M/S Sadia Motors | Roumari | Kurigram |
| M/S B.K.M Enterprise | Ghatail | Tangail |
| M/S Atik Motors | Phulpur | Mymensingh |
| Mahadi Motors | Modhupur | Tangail |
| Talukdar Motors | Bhaluka | Mymensingh |
| M/S South Enterprise | Dikpait | Jamalpur |
| M/S Mustafa Motors | Fulbaria | Mymensingh |
| Taha Motors | Gafargaon | Mymensingh |
| Sonoth Motors | Madarganj | Jamalpur |
| Techno Park Enterprise | Bajitpur | Kishorganj |
| Genuine Motors | Sadar | Kishorganj |
| Taj Motors | Sadar | Netrakona |
| M/S Probashi  Motors | Dhanbari | Tangail |
| M/S Faria Motors | Sadar | Sherpur |
| Azaan Motors | Pakundia | Kishoreganj |
| M/S Toha Motors (Monohardi) | Monohordi | Narsingdi |
| Ak Motors | Sadar | Meherpur |
| M/S Kashem Motors | Sadar | Satkhira |
| Janani Autos | Sadar | Jhenaidah |
| Molla Motors | Sadar | Chuadanga |
| New Moheshpur Auto | Mohespur | Jhenaidah |
| S M Motors | Dumuria | Khulna |
| M/S. Japan Auto | Sadar | Rajbari |
| Laboni Motors | Sadar | Magura |
| Kushtia Own Showroom | Sadar | Kushtia |
| New Motor Cycle Mart | Sadar | Khulna |
| New R.N. Trading Corporation | Kolaroa | Satkhira |
| New Motorcycle Center | Sadar | Jashore |
| New Motorcycle Mart | Sadar | Satkhira |
| Promila Motors | Paikgacha | Khulna |
| Jibannagar Auto | Jibonnagar | Chuadanga |
| A.R. Enterprise | Sadar | Kushtia |
| Axion Motors | Sadar | Narail |
| Green Sun Motors | Sadar | Khulna |
| New Green Auto | Kaliganj | Jhenaidah |
| M/S Shahid Motors | Sadarpur | Faridpur |
| M/S A. R Motors (Pangsha) | Pangsha | Rajbari |
| Axion Motors (Jashore Sadar) | Sadar | Jashore |
| M/S NS Motors | Sadar | Faridpur |
| Vai Vai Auto | Daulatpur | Kushtia |
| HS Trading Corporation | Dumuria | Khulna |
| Yell Autos | Bheramara | Kushtia |
| M/S Nabil Enterprise | Sharsha | Jashore |
| New Royal Auto | Kushtia Sadar | Kushtia |
| Motorcycle Gallery (Faridpur Sadar) | Sadar | Faridpur |
| M/S Nitta Motors | Boalmari | Faridpur |
| New Molla Motors (Alamdanga) | Alamdanga | Chuadanga |
| Shapla Auto | Gangni | Meherpur |
| Kd Motors | Pirganj | Thakurgaon |
| M/S Samit Auto | Sothibari | Rangpur |
| M/S Kamlesh Traders(Atowari) | Atwari | Panchagarh |
| M/S Kamlesh Traders(Sadar Branch) | Sadar | Panchagarh |
| Asha Enterprize | Boda | Panchagarh |
| Milon Bazar | Sadar | Rangpur |
| Elin Motors | Sadar | Dinajpur |
| M/S Jamuna Motors | Sadar | Gaibandha |
| Heru Palace | Gobindaganj | Gaibandha |
| S B Motors | Sadar | Lalmonirhat |
| S.M Traders | Sadar | Nilphamari |
| S.D Enterprise | Domar | Nilphamari |
| Prime Motors | Sadar | Kurigram |
| M/S Ayman Enterprise | Ranisankail | Thakurgaon |
| M/S. Khokon Traders | Nageshwari | Kurigram |
| Zarif Motors | Chirirbondor | Dinajpur |
| Asia Motors | Pirganj | Rangpur |
| Elin Motors, Phulbari | Phulbari | Dinajpur |
| Al Modina Motors | Taraganj | Rangpur |
| Samin Motors | Chirirbondor | Dinajpur |
| Kashbon Motors | Sundarganj | Gaibandha |
| Mintu Motors | Badarganj | Rangpur |
| Huda Motors | Parbotipur | Dinajpur |
| R R Enterprise | Sadar | Nilphamari |
| Rahman Motors | Patgram | Lalmonirhat |
| M/S Akib Motors | Nageswari | Kurigram |
| S.D. Enterprise (Thakurgaon Sadar) | Sadar | Thakurgaon |
| Sarika Motors | Khansama | Dinajpur |
| Elin Motors (Setabganj) | Bochaganj | Dinajpur |
| Samin Motors (Birganj) | Birganj | Dinajpur |
| Shahin Bike Gallery | Dimla | Nilphamari |
| Suruj Motors | Sadar | Rangpur |
| Shrea Motors | Nawabganj | Dinajpur |
| Chittagong Bike Center | Sadar | Thakurgaon |
| M/S Khokon Trading | Saidpur | Nilphamari |
| M/S Hiron Motors | Hatibandha | Lalmonirhat |
| Bike Bazar | Gangachara | Rangpur |
| M/S Muhib Enterprise | Joldhaka | Nilphamari |
| Somobay Motors | Rajarhat | Kurigram |
| M/S Sarkar Motors | Birampur | Dinajpur |
| Ifty Motors | Sadar | Chandpur |
| Sylhet Owm Showroom | Sadar | Sylhet |
| Comilla Own Showroom | Sadar | Comilla |
| Popular Auto Works | Sadar | Sylhet |
| Boshundhara Motors | Sadar | Sylhet |
| Alisha Motors | Beanibazar | Sylhet |
| Cumilla Motorcycle Gallery | Sadar Dakshin | Comilla |
| Titas Motors | Sadar | B-Baria |
| M/S Shima Auto Motors | Bijoynagar | B-Baria |
| Manik Motors | Kamalganj | Moulvibazar |
| Aalif Motors | South Surma | Sylhet |
| Shah Motors | Sadar | Sunamganj |
| M/S Mamun Enterprise | Sadar | Comilla |
| M/S Sonargaon Motorcycle Gallery | Adarsha Sadar | Cumilla |
| Shawli Motors | Sreemangal | Moulvibazar |
| Khayer Motors | Sayestaganj | Habiganj |
| Faith Motors | Sadar | Moulvibazar |
| Nishan Motors (Habiganj Sadar) | Sadar | Habiganj |