Every biker knows just how important the helmet is. A helmet is mandatory if you want to ride motorcycles. Helmets are worn by motorcyclists to protect the head from injuries. To protect the head and other sensitive parts the head protection is needed to ride confidently. In the past, there were no helmets so there were so many riders with head injuries. So after research, the idea of helmets came up.
Even now, each year thousands of road casualties occur because of the absence of adequately constructed helmets. Just to save some money many riders uses low-priced low-quality helmet just to avoid the traffic rules. But they don't know that this little money he saved could cost his life. For your own safety and confidence in riding, you must get a certified helmet. There are many motorcycle helmets brands are available. From low budget to higher, you can find every segment of helmets.
Nowadays the demand for helmets is increasing. Riders also search for budget-friendly helmets. So here is a list of the best helmets under the 6000 TK Budget.
LIST OF HELMETS
| | |
| --- | --- |
| Product Name | Price |
| MT Stinger | 5,500/- |
| Origine Dinamo | 5,700/- |
| Axis Eagle Jaguar | 5,000/- |
| SMK Helmet MA253 | 6,000/- |
| SMK Twister | 5,800/- |
| Axor Apex | 6,000/- |
---
MT Stinger
MT is a popular brand because of its excellent quality helmets. The Stinger is the cheapest MT helmet available in Bangladesh. It also has many color variations and graphics. The Special Edition price is slightly different from the regular ones. This helmet can give you all kinds of basic features that every world-class helmet has. The current price of the regular stinger is 5,500 TK and the special edition is 6,000 TK. Here are some key specifications of MT Stinger.
Only 1450 gram weight.

Made with advanced polycarbonate.

Weight distribution system.

100% max vision visor with pinlock70 install facility.

Anti-allergic and wicking internal fabrics- absorbs and dissipates perspiration from the skin.

Removable padding.

High Impact Resistance.

Anti Allergic Padding.

Fire Retardant Fabrics.

Complex Ventilation System.

High Impact Resistant.

Quick Release Strap.

Quick Release Micro-metric Buckle.

Multiple Density Inner Polystyrene.

DOT, ECE Certified.
---
Origine Dinamo
If you are looking for a lightweight and stylish helmet within budget then Origine Dinamo could be the right choice for you. The thermoplastic resin is used like other premium helmets which material is lightweight and at the same time durable just to ensure your safety. There are some color variants Gloss-Fluo-Red-Black. The current price of the Dinamo is 5,700 BDT. Here are some key specifications of Origine Dinamo.
Thermoplastic Resin Shell

UV Coating

Lightweight

Anti Fog & Anti Scratch Visor

Washable, Removable Cool Max Inner ® Comfort Padding

Superior Air Ventilation System

Micrometric Retention System

ECE 22-05 & DOT Certified

Weight:1400±50gm

Pins Ready for PINLOCK
---
Axxis Eagle Jaguar
The Spanish-born motorcycle helmet brand Axxis Helmets is very much focused on the common rider's needs. With their quality and budget-friendly products, they became famous throughout the world. They offer competitive features, attractive design and standard safety homologations. They are here in Bangladesh for a couple of years. The Jaguar's current price is 4500 BDT. Some key specifications are given bellow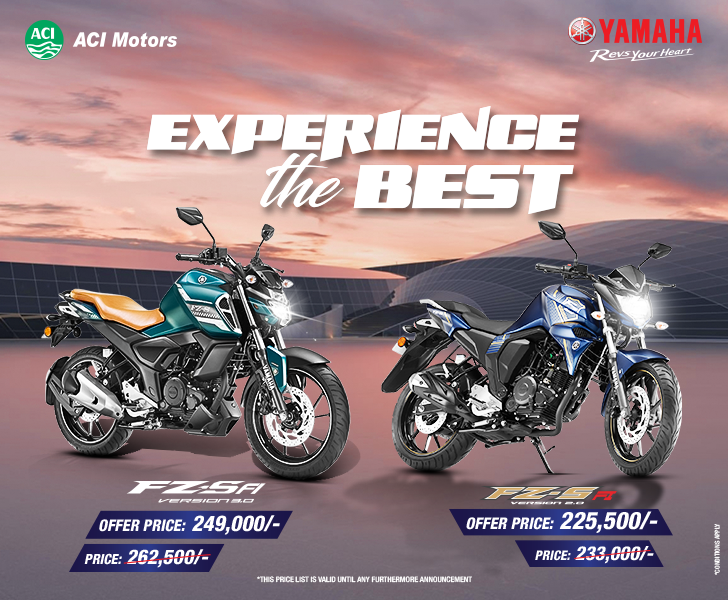 Injected thermoplastic shell

Anti Allergic fabric

Optical polycarbonate anti-scratch visor

Optimum visor closing 2.2mm thickness visor

100% max vision Pinlock ready

Fast and easy removing visor

Nose deflector included

Chin curtain included

Removable and washable lining

Ear pocket Inner ventilation

Sun visor

Weight: 1.6grams
---
SMK Helmet MA253
Equipped with the latest generation materials and dual-shell design for maximum safety and style, The SMK is also one of the popular and budget-friendly helmets. With a strong aggressive design and lightweight give riders great comfort even during extended durations of use. It has an efficient ventilation system to provide maximum comfort even on long journeys and under all weather conditions. The current price of this helmet is 4.500 BDT. Check out some key specifications below.
Aerodynamic external shell with EIRT

Homologation ECE 22-05

Multiple Density EPS

Quick Release Visor Mechanism

Embedded speaker pockets for communication systems.

Antistatic Moisture Controlled Fabric

Breathable, hypoallergenic liners

Weight: 1450 grams approximately

Pinlock Ready scratch-resistant wide Vision
---
SMK Twister
SMK provides colorful and reliable helmets for bikers and their one of the best model is SMK Twister which is currently available in Bangladesh. SMK Twister is a best quality helmet for full face user and its also offering best protect. It has also breath deflector which help for regular breathing and also sully air inside. Its ventilation system is also good and it has multiple vent for ventilation. The visor is one of the important thing and its visor is pin lock and Max vision which gives edge to edge view. It visor is anti fog and fast removable. SMK Twister Visor is also scratch resistance and for this it will always gives you clean view. It has ECE certification which confirmed it has best safety option. SMK Twister is also available in Bangladesh and its price is 5800 BDT. Check out some key specifications below.
SMK Twister has 2 shells which make its shell strong and gives best safety.
For regular breathing it has breath deflector and it is helping to process regular breathing.
Its Channeled Exhausts which made it comfy.
For air circulation it has multiple vents and it gives best air ventilation.
SMK Twister is also certified by ECE R 22.05
Its visor is fully wind protector and it cut wind in the riding time.
It has hot air exhaust.
It has hypoallergenic liner.
 It has also multi density EPS.
It has neck roll with give comfort in the neck.
SMK Twister has quick releasing visor system.
Reinforce strap give you security.
Its removable and washable liner makes it easy to clean.
Its visor is scratch resistance.
It has top air vent.
---
Axor Apex
AXOR helmets are built under strict supervision and European R&D measures to deliver you the best-in-class product. The Axor Apex series meets the safety standards like DOT, ECE 22.05, and IS giving you sure safety and confidence in riding. The Axor Apex comes with unique designs, features, and an extensive range of color schemes. See the key specification below.
Double D-ring for a secure fit

Weighs 1500±50 gms

ABS material is used for High-Protection.

Homologation – ECE R-22.05 DOT FMVSS NO. 218

Helmet Safety Standards and ISI certified.

Penetration resistance

Chin strap structural integrity

Integrated Spoiler for Streamlined Presentation & Stability at High Speed.

Tough Polycarbonate Material

Optically correct visor

Quick and toolless visor change mechanism

Equipped with pin lock system