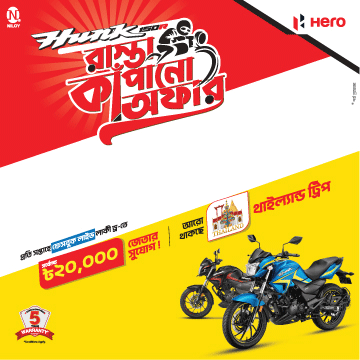 The importance of helmets is increasing among bikers day by day. A few years earlier, There were no qualified and well-known brands are available in Bangladesh. But now some international helmet brands are doing great business with their quality products by introducing carbon fiber helmets. The Spanish brand MT and the Thai brand Bilmola already created a huge market. But some other helmet brands like KYT, Caberg, SMK also trying to have their spot in the helmet market. Recently worldwide popular brand Shark launched their products in Bangladesh.
There is a huge collection of helmets available in Bangladesh now. From low budget to high, you can have any kind of helmet. Some international brands like MT, Bilmola, Caberg, KYT, Shark have some Carbon helmets in Bangladesh. These brand's helmets are available in the market at the hand of some sole distributors.
Best 7 Carbon Fiber Helmets in Bangladesh

| | |
| --- | --- |
| Product Name | Market Price |
| MT KRE Snake Carbon | 24,000/- BDT |
| MT Rapid Pro Carbon | 28,000/- BDT |
| Bilmola Zilla ST | 17,000/- BDT |
| KYT NX Race Carbon | 29,000/- BDT |
| Caberg Drift Evo Carbon Pro | 31,990/- BDT |
| Shark Spartan GT | 42,000/- BDT |
MT KRE Snake Carbon
This one is the first Carbon helmet of MT helmets in Bangladesh. Looks, graphics, Padding all the things are just world-class. There is also a special edition of this helmet available in Bangladesh called KRE Snake Carbon GR. Its aerodynamic design and the rear spoiler will help to cut through the wind during the ride. The carbon Fiber Structure making it lightweight but yet extremely strong. The EXO-lining padding will make your head steady and safe.
Carbon Fiber Structure making it lightweight yet extremely strong.
Aerodynamically designed shell. Wind tunnel tested.
Multiple vents for efficient ventilation.
Dual certified – ECE R22.05 & DOT.
Dual certified – ECE R22.05 & DOT.
Washable and anti-allergic padding.
Embedded speaker pockets for the communication system.
Double "D" Ring. Multiple density inner polystyrenes.
Weighted only 1300g.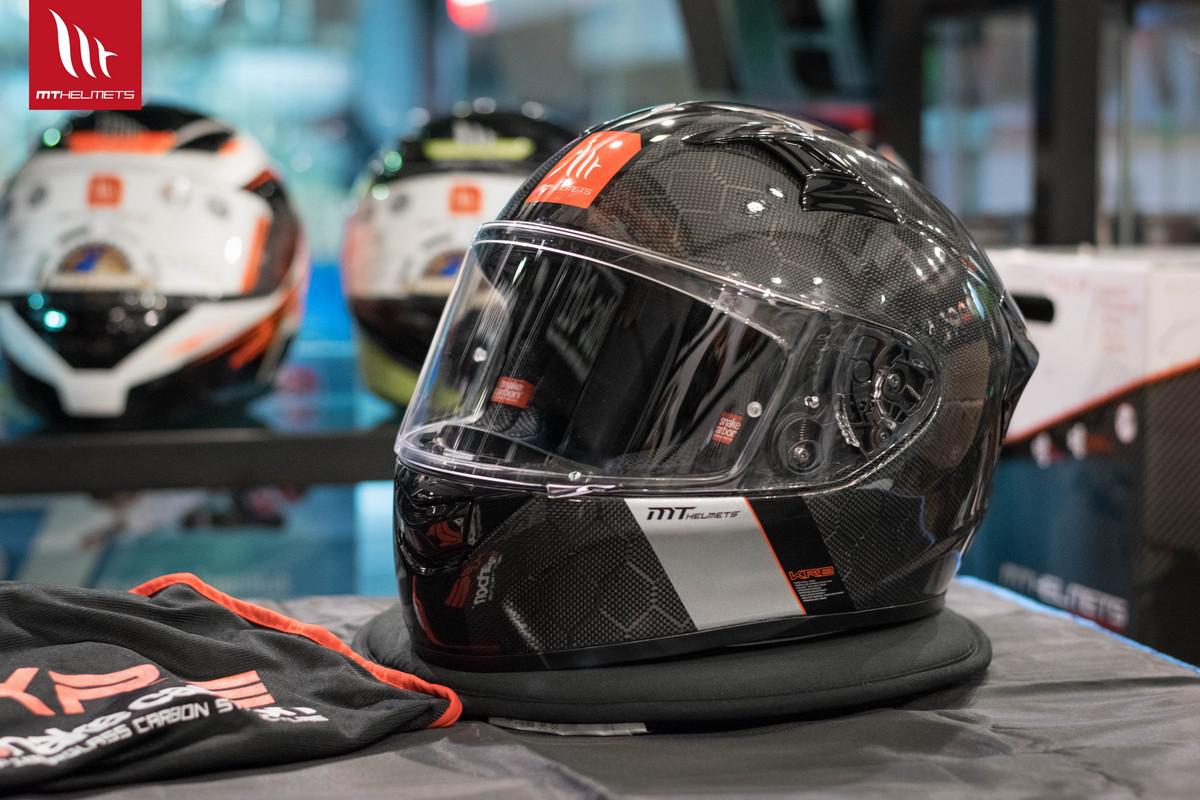 ---
MT Rapide Pro Carbon
This helmet was introduced at the beginning of the year 2020. This one is the highest-priced helmets of MT in Bangladesh but one of the lowest Carbon helmets available. Whether ripping through the track or threading through the highway, make no compromises with the Rapide Pro. Built for sports tourers and track day enthusiasts who demand unparalleled performance, the Rapide Pro never ceases to deliver. Its lightweight Carbon fiber construction helps you stay agile and sharp on the track and also keeps your head toll-free on those long runs.
100% Carbon Structure Shell which is used in MotoGP and SBK competitions.
3 outer shells.
high-tech air-permeable fabrics inside the high-end helmet.
The extractor facilitates the creation of airflow through the hull so that heat can be evacuated from inside it.
made with flame retardant fibers to ensure optimum safety.
Closure system with double "D".
The internal shell of high impact shock absorption.
The flexibility and resistance of poly-carbonate guarantee optimum safety and the optical factor allow higher levels of light transmission.
DOT and ECE 22.05 Certified.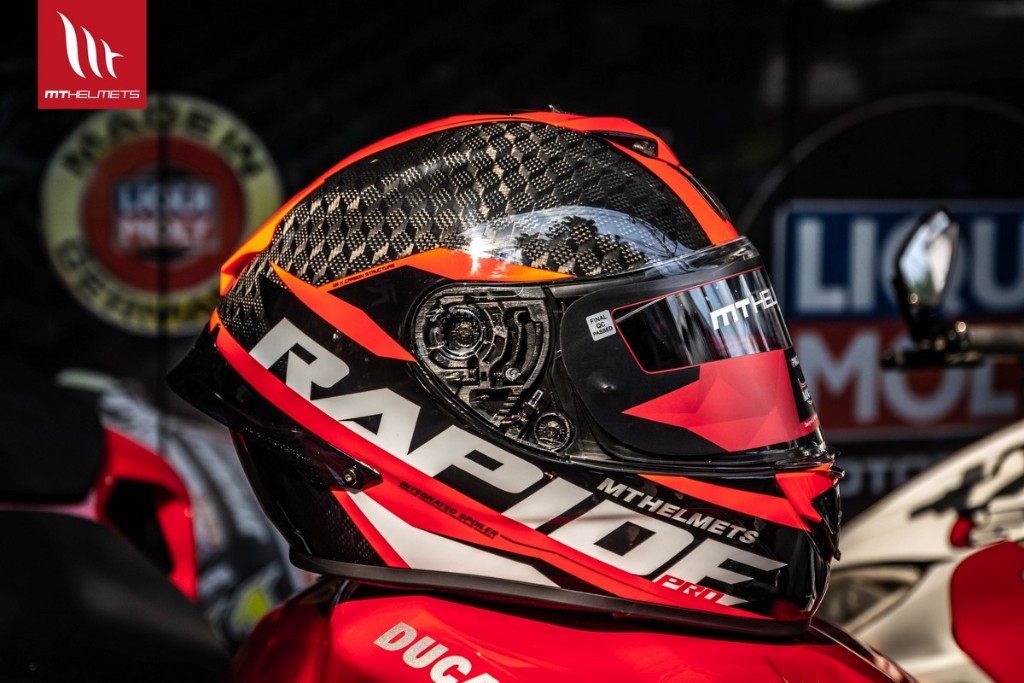 ---
Bilmola Zilla ST
One of the most advanced helmets by Bilmola, formed from carbon fiber, which is lighter and has tougher impact resistance than other materials. Its sleek, contemporary styling combines with everyday practicality, including built-in sunglasses, to make the Zilla ST the perfect helmet for sun, rain, wind, or snow. High-Tech 3k carbon fiber Shell Structure.
Expanded Polystyrene cushion materials.
Aegis Microbe Shield interior lining.
Polycarbonate with anti-scratch visor and sun-visor.
Ready pinlock 3.0
Double D Ring Retention system.
Removable and washable padding system.
ECE R22.05 & TIS 369-2557 certified.
Weighted only 1300±50 g.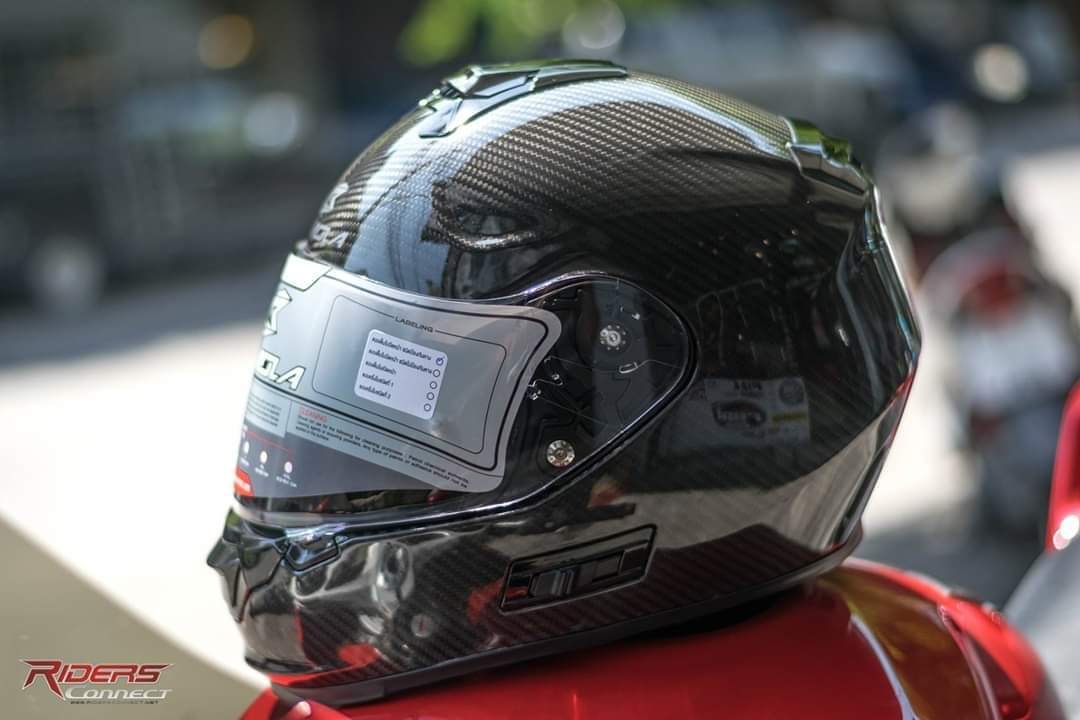 ---
KYT NX Race Carbon
It firmly gains the top of the range and leaves no room for interpretation about its strong racing soul, it's the brand new NX-Race. A full-face helmet with high performance, the result of the perfect synthesis between the most advanced technologies and the knowledge gained working with the MotoGP World Championship riders. Enviable aerodynamic and aeration performances were obtained from in-depth wind tunnel tests, to which are added essential details such as the D-Ring retention system and the Optical Class 1 visor.
Made of Tri-Fiber-Composite material (carbon, Kevlar, Fiberglass) with high resistance to crashes
Titanium Tear Off post is available.
Optic class 1 visor, fast and easy to change (without tools).
Wind-tunnel tested.
Double-D retention system.
Removable and washable lining.
Max-vision pinlock included.
Aerodynamic Spoiler and rear top extractor.
Photo-chromic Visor.
ECE 22.05 Certified.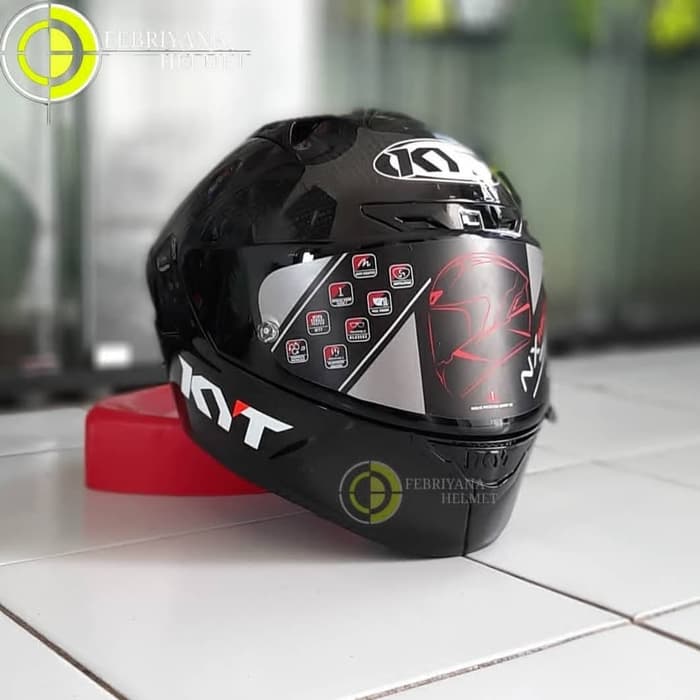 ---
Caberg Drift Evo Carbon Pro
Caberg is a trustworthy and reliable name in the helmet industry. Though they are new in Bangladesh, they have started their journey in 1974. But they had to do their business in Bangladesh from the end of 2019. Already they have created a marketplace with their excellent quality helmets. Caberg importing the racetrack-ready helmet Caberg Drift Evo Carbon Pro forma a couple of months ago. Outer shell made of this helmet with high-quality carbon fiber, comfort lining, double visor system that is perfect for touring plus ingeniously designed ventilation system – all this adds up to a fantastic helmet.
Clear, scratch-resistant, includes Pinlock anti-fog visor insert.
High-tech Carbon Fiber structure construction.
integral, smoked and scratchproof sun visor.
Double 'D' ring.
Bluetooth prepared, For spectacle wearers.
Inner lining removable and washable.
Multiple Shell Sizes to provide maximum safety with an innovative inner lining.
Multi-density inner EPS designed for better impact absorption.
Unique aerodynamic shell. Wind tunnel tested.
The rear spoiler gives a sporty and aggressive look to the helmet.
ECE R-22.05 (EU) certified.
---
Shark Spartan GT
Shark is a French company that produces motorcycle helmets, which was founded in 1986 in Marseille, France. A couple of months ago the sole distributor Dewan Motors officially launched Shark helmets in Bangladesh. They have a huge collection of mid-range and high-budgeted quality helmets. The Shark Spartan GT is a mid-budgeted carbon helmet. The SPARTAN GT is the brand-new fiber composite full-face helmet, features SHARK's latest innovations and expertise acquired over the years. The combination of fiber and carbon layers, associated with the Multi-Density EPS, offers the highest level of protection.
Shell is made of multiaxial fiberglass.
2 shell sizes for optimal morphological adjustment.
"Shark Emergency Removal System" to allow for quick release of the helmet interior in case of emergency.
Optical Class 1-rated visor featuring variable thicknesses and anti-scratch treatment.
"Ultra soft" visor notching movement.
SANITIZED®-labeled ALVEOTECH lining fabric featuring antimicrobial properties.
The removable interior is suitable for machine washing.
Aerodynamics optimized by means of CFD (Computational Fluid Dynamics) design studies.
ECE 22.05 certified.