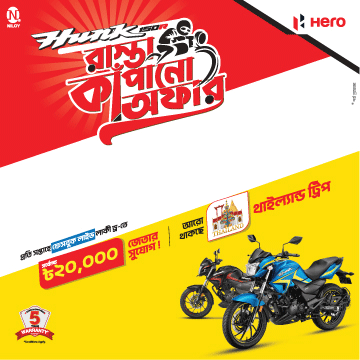 The commuter is the best-selling motorcycle segment in Bangladesh. 100, 110 and 125cc segments are at the top of the list. Every motorcycle brand are now focusing on commuter motorcycles. They are now launching many 110cc bikes for capturing the commuter market. 110cc bikes can provide better mileage. They are also cost-effective and decent performance orient.
Today we will discuss and will try to show you the comparison among Suzuki Hayate, Honda Livo and Hero Splendor iSmart. These three motorcycles are one of the best and rivals for each other in the 110cc segment. So let's find out what are the similarities and differences among them.
Design: Design is not so important for a commuter segment bike. But these three bikes got attractive and stylish graphics and body designs. Suzuki Hayate will be slightly ahead in this category. The special edition of this bike looks eye-catchy and well painted. The build-in quality of this bike is also better than its rivals. Hero Splendor iSmart and Honda Livo are also good. But their color variant and design are not so good as Suzuki Hayate. And they should improve their build quality also.
Engine Performance: Engine performance is the most important part of a motorcycle. So let's find out which one of these bikes gets better engine performance than others.
Suzuki Hayate: This bike is powered by an Air-Cooled, 4-Stroke, 1-Cylinder, SOHC, 112.8cc displacement engine which can generate 8.3 bhp maximum power at 7500 rpm and 8.8 Nm torque at 5500 rpm. The 4-speed gearbox will help to get better transmission.
Honda Livo: It's equipped with a 110cc, single-cylinder, 2-valve, 4-stroke, HET Technology engine which can produce 8.25 bhp maximum power at 7500 rpm and 8.63 Nm torque at 5500 rpm.
Hero Splendor iSmart: It's coupled with Air Cooled, 4 Stroke Single Cylinder, OHC, 109.15cc displacement engine which can churn out 9.3 bhp maximum power at 7500 rpm and 9 Nm of torque at 5500 rpm. Though Hero Splendor iSmart got the higher engine power in the long run, Suzuki Hayate will be ahead.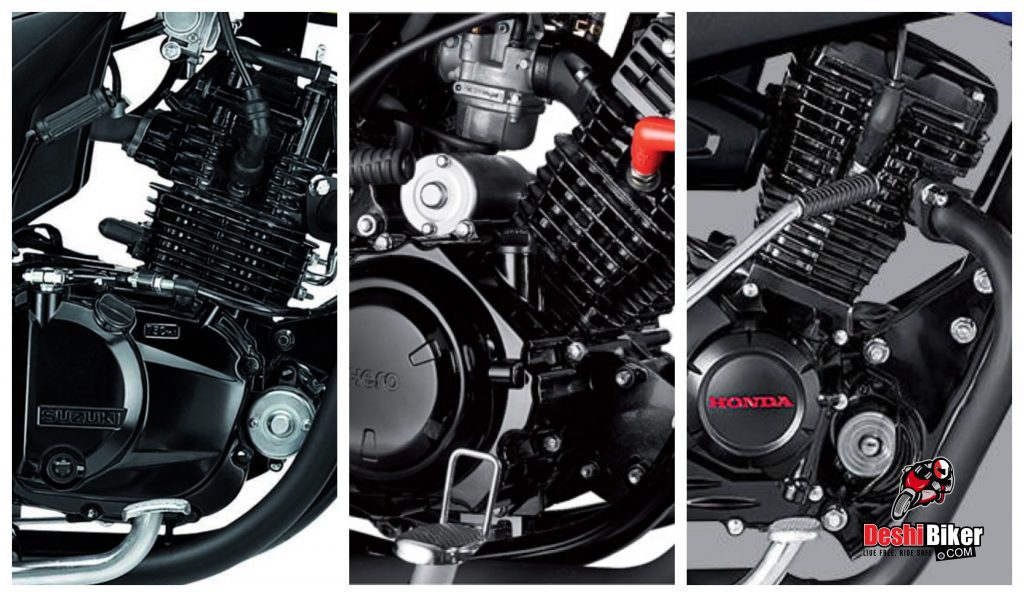 Braking: In this category, the Honda Livo will be slightly ahead of its rivals. Because Livo gets a 240mm disc brake in front wheel and a standard drum brake in the rear wheel. But Hayate and iSmart don't upgrade with any disc brake. They are using drum brakes on both wheels. Suzuki and Hero should improve these bikes' braking systems.
Mileage: This is one of the important sections of a motorcycle. In mileage, these three motorcycles can provide almost the same. Hero iSmart and Livo can give 60 km/l average mileage and Suzuki Hayate can provide 65 km/l average mileage. So it's hard to compare them.
Brand Value: Suzuki and Honda are the two Japanese motorcycle brands and Hero is an Indian brand. So definitely the brand value and build-in quality of Hayate and Livo are at the top. But iSmart also gets an excellent build-in quality but in the case of brand value, it's hard to compare with Honda and Suzuki.
Color variant: There are four colors of Suzuki Hayate are available in Bangladesh which are Glass Sparkle Black (Red Graphics), Pearl Mira Red, Glass Sparkle Black (Blue Graphics) and Pearl Mirage White. Hero iSmart also gets four colors which are Sports Red, Red & Black, Silver & Black, Blue & Black. Black, Blue, Brown, and White are four colors of Honda Livo which are available in Bangladesh now.
Price: In the term of pricing, Suzuki Hayate will be definitely in ahead. Hayate cost only 99,990 BDT which is one of the lowest in the 110cc segment. The price of Honda Livo and iSmart is 111,000 BDT and 109,990 BDT.
Suzuki Hayate is an all-rounder motorcycle among its rivals. It can provide excellent engine performance, better mileage, stunning color variants, and is also well priced. Hero iSmart and Honda Livo are also good bikes but they are slightly behind Hayate.