Riding a motorcycle always give us the joyous and adrenaline pumping. However, motorcycles are single-track vehicles and it's easy to get into an accident. Motorcycles always stay on the road with the rubber side down and it's called tyre. So it's very important to keep your tyre in good nick and shape. If your tyre not in a good shape then you should change them. But many riders can't understand what should they know before purchasing a new tyre. On many occasions, riders buy the wrong size tyre for their motorcycle and face so many problems. So let's take a look at what a rider should know before buying a motorcycle tyre.
Tyre Size: Riding with the right size tyre is a very important part. We love to do an experiment for that many riders change their stock tyre with a wider tyre. Motorcycle manufacturing companies do many experiments before launching a motorcycle. They spend much time finding out which size will be suitable for a motorcycle. Tyre manufacturing companies write down the tyre size into the tyre sidewall. So you can easily read it and know the ideal size of your tyre. If you change the tyre size of your bike, it will dramatically change the balance and braking of your bike. So it's a smart thing to not change your tyre size.
Tyre Code: In every tyre, you will find a number written on its sidewall. Those numbers have a meaning that you should know. For example, you purchase a 130/90 – 16 67 H tyre for your bike. Here 130 stands for Section width. It means how the width of your tyre surface is. 90 stands for aspect ratio. Here 16 means what is the rim diameter. If you purchase a tyre with 130/90 size but your rim diameter didn't match then your tyre won't fit properly. 67 means how much load your tyre can hold. And lastly, H stands for how fast your tyre can run. So you should learn the tyre code before buying a new tyre.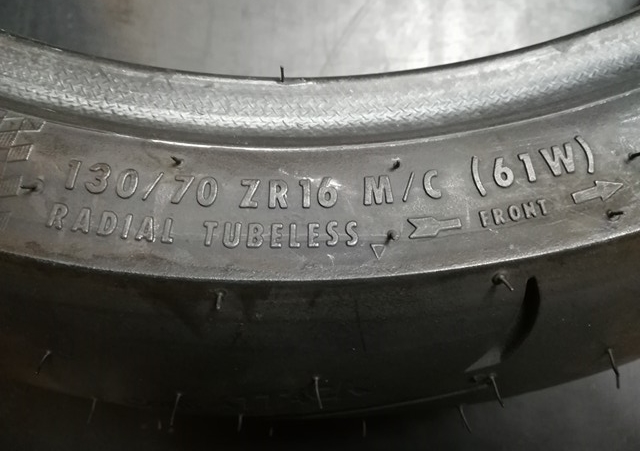 Load rating Chart
| | |
| --- | --- |
| Load Index | Kilograms |
| 65 | 290 |
| 66 | 300 |
| 67 | 307 |
| 68 | 315 |
| 69 | 325 |
| 70 | 325 |
| 71 | 345 |
| 72 | 355 |
| 73 | 365 |
| 74 | 375 |
| 75 | 387 |
Tyre Type: We can see so many tyre type variations in the market. Each type has specific Effectiveness. We can find mainly three types of tyre variation in the Bangladesh market. Those are soft compound tyre, hard compound tyre and off-road tyre. Soft compound tyres are basically known as truck tyre. This type of tyre will give you a better grip, perfect cornering and proper braking during slippery surfaces. But this type of tyre doesn't have long durability. Another type is a hard compound tyre. This type of tyre has long life durability but it can't provide you with better grip and confidence during cornering. We can often see off-road tyres. Because in Bangladesh, we can see just a few amounts of off-road bikes. These tyres are mainly used for better grip and to prevent slippage.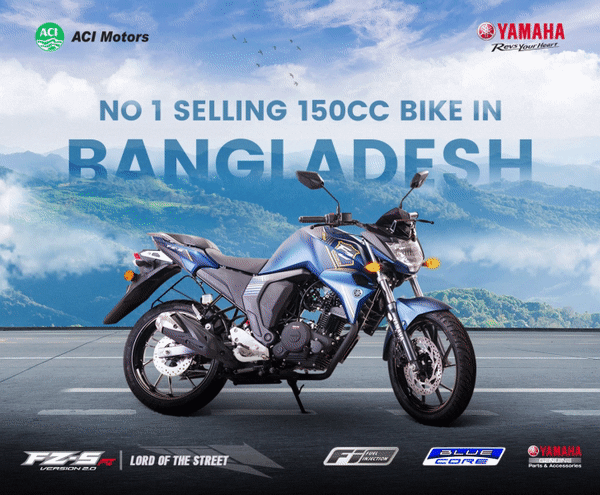 We didn't see many domestic tyre manufacturing companies in Bangladesh. But recently Tourino tyres are starting to make world-class tube and tubeless tyres in Bangladesh. They are the first tubeless tyre manufacturing company in Bangladesh. Their tyres are easily comparable with any world-class tyres. Now they are making 24 patterns 29 sizes tyre. So let's take a look at their tyre sizes.
TOURINO TUBELESS TYRES AND RECOMMENDED BIKES 
SIZES & PATTERNS
F/R
RECOMMENDED BIKE
100/80-17 (SUPERRIDE)
Front
Yamaha (FZ, FZ-S, Fazer), SUZUKI (Gixxer)
100/90-17 (JOURNEY)
Rear
Bajaj (Discover-135, Pulsar DTSI, Platina, HERO IGNITO, HONDA STUNNER 100, Honda Unicon-150
100/90-17 (ARROW-C)
Rear
100/90-17 (CROSSROAD)
Rear
100/90-17 (SOLDIER)
Rear
100/90-18 (ARROW-Y)
Rear
CBZ Xtreme-150, HERO HUNK-150, Karizma ZMP 220, Passion-100, Apache 160
100/90-18 (CROSSROAD)
Rear
100/90-18 (RACETECH)
Rear
110/70-17 (ROAD GRIPPER)
Front/Rear
HONDA CBZ
110/80-17 (ARROW-C)
Rear
APACHE RTR-160, Pulsar 150, Keeway RKS 100
120/80-16 (SUPERCROSS)
Rear
120/80-17 (RACE KING)
Rear
BAJAJ Pulsar DTSI-150, HERO Hunk-150, Pulsar 220, Keeway RKS 125 GS (Front)
120/80-17 (ARROW-C)
Rear
120/80-18 (ARROW-R)
Rear
HERO HUNK-150
130/70 – 17 (ROAD GRIPPER)
Front/Rear
Yamaha R15 V2, RTR 160 (rear)
140/60-17 (AVIVA)
Rear
Yamaha (FZ, FZ-S, Fazer), SUZUKI (Gixer)
140/60-17 (BLADE )
Rear
140/70-17 (ROADGIPPER)
Front/Rear
Apache RTR 160, Loncin GP 150 (Front)
80/100-17 (ARENA)
Front/Rear
HERO Karizma ZMP220, Hero Passion Pro 100
80/100-17 (ARROW )
Front
80/100-18 (ARROW -Y )
Front/Rear
90/100-10 (ARROW-Z )
Front/Rear
HERO Pleasure
90/90-17 (ARROW )
Front/Rear
BAJAJ Discover-135, Pulsar, DTSI, HERO, IGNITO, TVS Apache RTR 150, Pulsar 220, Keeway RKS 100(Front), Keeway RKS 125 GS (Front)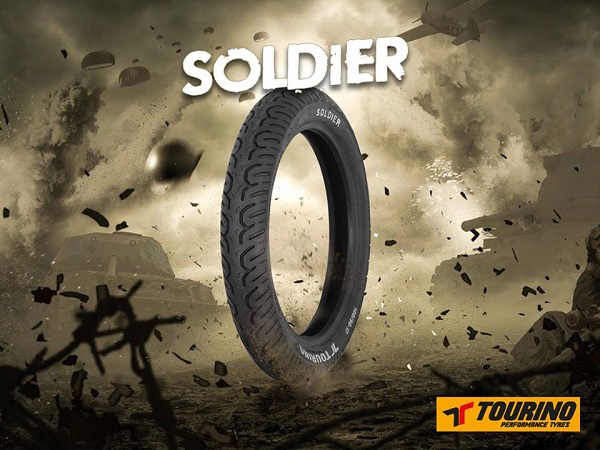 TOURINO TUBE TYPE BIKE TYRES 
| | | |
| --- | --- | --- |
| SL. | SIZES & PATTERNS | FRONT/REAR |
| 1 | 100/90-17 (CROSSROAD) | Rear |
| 2 | 100/90-17 (SOLDIER) | Rear |
| 3 | 100/90-17 (ARROW-C) | Rear |
| 4 | 100/90-18 (CROSSROAD) | Rear |
| 5 | 100/90-18 (RACETECH) | Rear |
| 6 | 100/90-18 (ARROW-Y) | Rear |
| 7 | 110/90-16 (MAX GRIP) | Front/Rear |
| 8 | 120/80-17 (ARROW-C) | Rear |
| 9 | 120/80-18 (ARROW-R) | Rear |
| 10 | 2.25-17 (AGNI) | Front |
| 11 | 2.50-17 (LION) | Front |
| 12 | 2.50-17 (ARROW-C) | Rear |
| 13 | 2.50-17 (RHINO) | Rear |
| 14 | 2.50-17 (TIGER) | Rear |
| 15 | 2.50-17 (EAGLE) | Rear |
| 16 | 2.50-18 (TIGER) | Rear |
| 17 | 2.50-18 (LION) | Front |
| 18 | 2.75-14 (ARROW) | Front/Rear |
| 19 | 2.75-14 (GENIUS) | Front/Rear |
| 20 | 2.75-17 (LION R) | Front |
| 21 | 2.75-17 (ARROW) | Front/Rear |
| 22 | 2.75-17 (TIGER) | Rear |
| 23 | 2.75-18 (LIONSPEED) | Front/Rear |
| 24 | 2.75-18 (RACETECH) | Rear |
| 25 | 2.75-18 (ARROW) | Front/Rear |
| 26 | 2.75-18 (LION R) | Front |
| 27 | 2.75-18 (TIGER) | Rear |
| 28 | 3.00-10 (RANGER) | Rear |
| 29 | 3.00-10 (SPEEDO) | Front/Rear |
| 30 | 3.00-12 (RHINO) | Rear |
| 31 | 3.00-17 (CYCLONE) | Rear |
| 32 | 3.00-17 (RACETECH) | Rear |
| 33 | 3.00-17 (ARROW-C) | Rear |
| 34 | 3.00-17 (RHINO) | Rear |
| 35 | 3.00-17 (TIGER) | Rear |
| 36 | 3.00-18 (CYCLONE) | Rear |
| 37 | 3.00-18 (LIONSPPED) | Front/Rear |
| 38 | 3.00-18 (RACETECH) | Rear |
| 39 | 3.00-18 (RANGER) | Rear |
| 40 | 3.00-18 (ARROW-C) | Rear |
| 41 | 3.00-18 (CHEETAH) | Rear |
| 42 | 3.00-18 (TIGER) | Rear |
| 43 | 3.25-16 (SHAKTI) | Front/Rear |
| 44 | 3.25-16 (TRISTAR) | Front/Rear |
| 45 | 3.25-16 (ROVE-M) | Front/Rear |
| 46 | 3.25-16 (SHARK) | Front/Rear |
| 47 | 3.25-16 (DRAGON) | Front/Rear |
| 48 | 3.25-18 (RANGER) | Rear |
| 49 | 3.50-10 (OPTIMA) | Front/Rear |
| 50 | 3.50-10 (SOLDIER) | Rear |
| 51 | 4.10-18 (ROCK) | Front/Rear |
| 52 | 80/90-14 (ARROW-Y) | Rear |
| 53 | 90/90-12 (GEOX) | Front/Rear |
| 54 | 90/90-17 (ARROW) | Front/Rear |
| 55 | 90/90-18 (ARROW-R) | Rear |