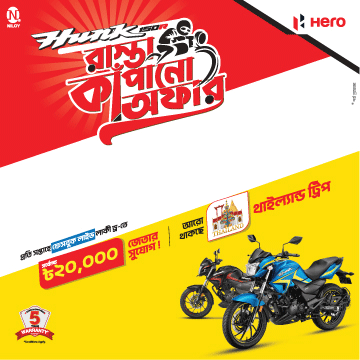 Suzuki is one of the renowned and leading motorcycle manufacturer brand in the world. This Japanese brand regarded as top 3 motorcycle brand in the world. Their engine and build in quality is excellent. They also participate in MotoGP competition. Suzuki Hayate is the lowest segment motorcycle of this brand. Recently Suzuki reduced the price of this motorcycle and makes it more reasonable to their customers. The previous price was 114,950 BDT and now its reduced to 94,950 BDT.
Suzuki started to assemble few motorcycles in Bangladesh. The tax rate also reduced for CKD (Completely Knock Down) . Thats why they are able to reduce price of some models. But now they are planning to manufacture motorcycle in Bangladesh. If this will happen then the price would get more reduced. It would be compared with Honda Dream Neo, Bajaj CT 100, TVS Metro and Hero iSmart. But most of these motorcycles are from Indian brand. We all know that Japanese brands are always reliable and trust worthy. So lets find out why Suzuki Hayate is one of the best motorcycle with in 1 lakh.
#Brand Value: Now, Japanese brands are ruling in motorcycle industry. It not for just their name, its for their performance and products quality. There will be no complain about its engine performance, build in quality or reliability. So Suzuki is alone a reason to buy this motorcycle.
#Design and Look: Suzuki Hayate got the classic commuter design. 5 spoke alloy wheels with stunning looks headlamp just gorgeous. The fuel tank and side panels customized with shrouds. For its standard design, its looks like a higher segment motorcycle.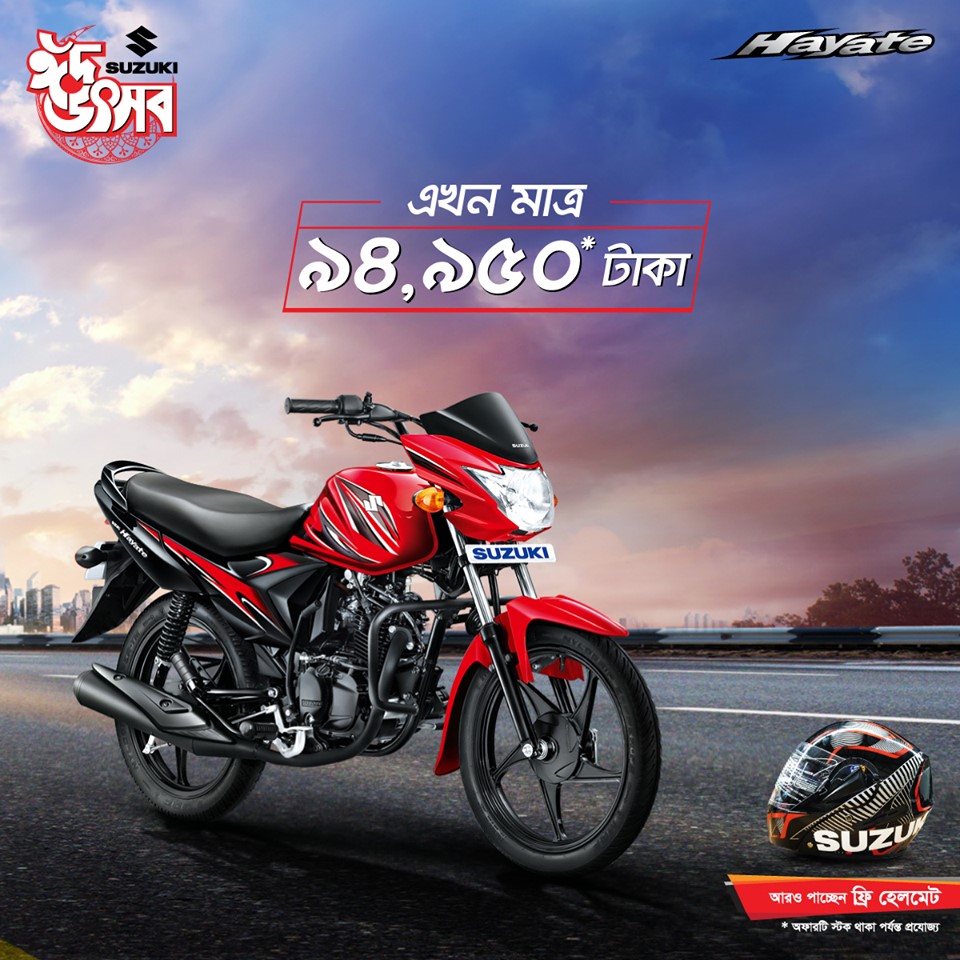 #Engine Quality: Suzuki always added performance orient engines into their motorcycles. It can produce enough power for a 110 cc bike. This engine can churns out 8.58 bhp maximum power at 7500 rpm. Acceleration rate is also  standard and can reach the top speed of 100 km/h. #Mileage: Commuter motorcycles are build for provide better fuel efficiency. Most of the people in Bangladesh lived in rural areas. So this is one of the advantage of this bike. This two wheeler can provide average mileage close to 60 km/L but it would be more in highway.
#Build in Quality: There will be no doubt about Suzuki's build in quality. They build their motorcycles with best quality parts and materials. Their paint quality and finished is outstanding.
#Cost Effective: Suzuki Hayate is the lowest priced motorcycle from Suzuki. But its engine quality, design and performance doesn't looks like a 110cc motorcycle. This premium quality commuter only cost 94,950 BDT. But its special edition model cost 114,950 BDT.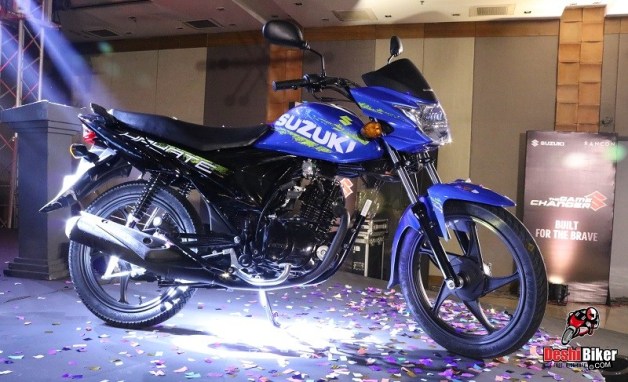 #Resale Value: Resale value is an important thing of a motorcycle. You can't get better resale value without a standard brand. We all know Japanese brands are reliable and long lasting. So its easy to get better resale value for Suzuki's motorcycle.
#Control and Handling: Commuter motorcycles are easy to control. Suzuki Hayate got wide handlebar with 5 spoke alloy wheels which gives better control. In traffic jam, its easy to move on with Hayate.
#Spare Parts Availability: People always to buy a motorcycle which spare and parts are available in any where. Suzuki working into this situation and now their parts are available almost every district of Bangladesh. Their parts are also reliable and long lasting.
#Customer Service: Customer service is one of the essential thing. When you full fill a customers demand  and provide them better service then the selling graph becoming high. Thats why Suzuki has a customer service center in almost every district.
These not only the reason to called Suzuki Hayate one of the best within 1 lakh budget. It also provide better comfort, long lasting body parts and reliability. If you want to buy a commuter motorcycle then Suzuki Hayate would be the best choice for you.