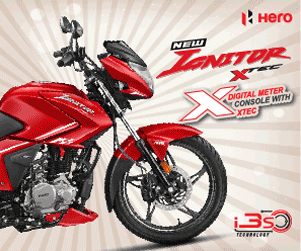 Suzuki GSX-R 150 Vs Honda CBR150R (Indonesia)
| | | |
| --- | --- | --- |
| COMPARE | Honda CBR150R (Indonesia) | Suzuki GSX-R150 |
| Type | Sports | Sports |
| Origin |  Japan | Japan |
| Engine |  Single Cylinder, Four Stroke, Liquid Cooled SI Engine | Water-cooled, 4-stroke, DOHC 4-valve, 1-cylinder |
| Displacement | 149.16cc | 147.3cc |
| Maximum Power | 17.1 BHP (12.6KW) @ 9000RPM | 18.90 Bhp @ 10,500 rpm |
| Maximum Torque | 13.7NM @ 7000RPM | 14 NM @ 9000 rpm |
| No. of Cylinders |  1 | 1 |
| Cooling |  Liquid Cooled | Liquid Cooled |
| No. of Gear |  6 | 6 |
| Starting system | Electric | Electric |
| Clutch |  Manual Wet Multi-Plate | Wet Multi Plate |
| Kerb Weight |  135 kg | 131 kg |
| Length |  1983 mm |   2020 mm |
| Width |  694 mm | 700 mm |
| Height |  1038 mm | 1075 mm |
| Seat Height |   787mm | 785 mm |
| Wheelbase |  1311mm | 1300 mm |
| Fuel Tank Capacity |   12 Liters | 11 Litres |
| Top Speed |  145 km/h |  160 KM/H |
| Mileage | 40 KM/L | 32 km/L |
| Front Tyre | 100/80/17 |   90/80-17 |
| Rear Tyre | 130/70/17 | 130/70-17 |
| Price | 450,000 BDT |  350,000 BDT |
| More Details | Honda CBR150R (Indonesia) | Suzuki GSX-R150 |
Suzuki GSX-R150 and Honda CBR 150R are one of the top-rated full-faired motorcycles in Bangladesh. Suzuki and Honda both Japanese brands are rivals for many years. Due to cc limitation in Bangladesh, GSX-R150 and CBR 150R are the highest segment motorcycle. Though both bikes are the same segments, but they have some differences between them. So let's finds out which one is best from another.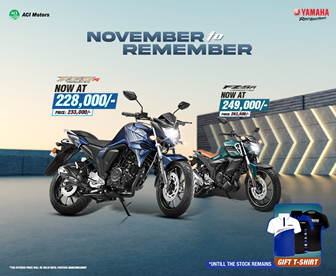 Design
Both bikes look aggressive and sporty from the front end. Both are aerodynamically perfect and also passed the wind tunnel test. Both get a slight touch from their elder MotoGP sibling. You can find some differences in design, but both bikes are unique in their own design patterns.
Engine
This is the main part of these two motorcycles. Though both are the sports segment bikes, so their engine performance is almost the same. But GSX-R150 can produce better engine power than CBR-150R which is 18.90 bhp maximum power at 10,500 rpm and 14 Nm torque at 9000 rpm. Where CBR 150R can 17.1 bhp maximum power at 9000 rpm and 13.7 bhp maximum power at 7000 rpm. GSX-R also can reach the top speed of 160+ km/h which is the top for any Bangladeshi motorcycle. But its mileage is a little bit lower than CBR. GSX-R can deliver 32 km/l average mileage and CBR can 40 km/l average mileage.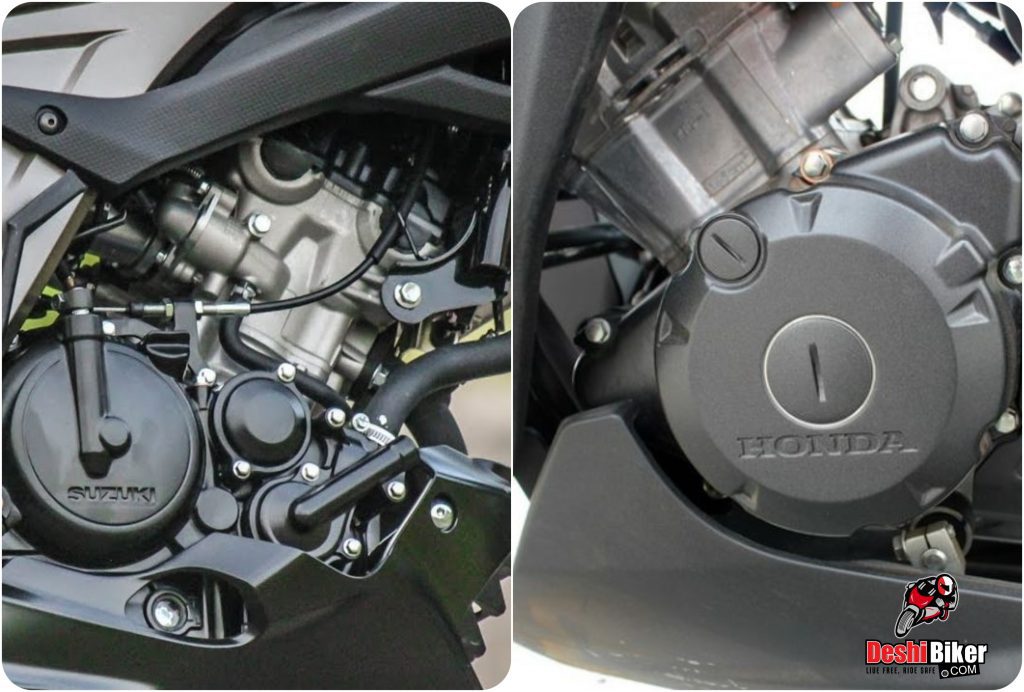 Handling and Comfort
Sports bikes are not to provide riding comfort. Sports bikes are meant to lightweight, maximum lean angle and provide excellent engine performance. So it's a little bit silly to expect better handling on a sports bike. But if you compare them, then CBR-150R will be ahead of GSX-R. The handlebar of CBR is a little bit upper and also comperatively comfortable during the ride. But GSX-R is more aerodynamic and edgy designed for better cornering and top speed.
Braking and Wheel
The new CBR 150R comes with a Dual-channel ABS braking system and Suzuki GSX-R150 have ABS/Non-ABS braking system. GSX-R equipped with 280mm disc in the front and 220mm disc brake in the rear wheel. On the other hand, CBR gets 276mm disc brake in the front and 220mm disc brake in the rear wheel. In rear wheel, CBR uses 130/70-17 and in the front 100/80-17 section tubeless radial tyres. GSX-R also uses 130/70-17 section tubeless tyre in the rear wheel but 90/80-17 section tyre in the front wheel.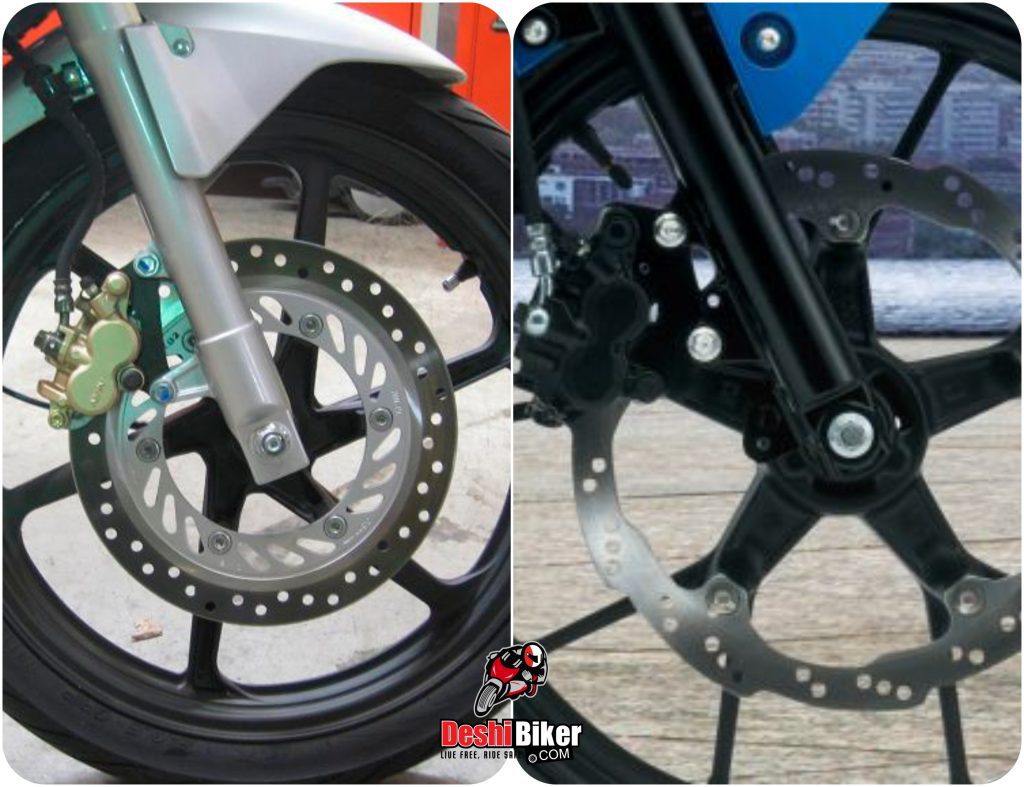 Price & Color
Though Suzuki GSX-R150 is the fastest motorcycle of Bangladesh, but it priced low than CBR-150R. At the beginning of the year, GSX-R was cost 399,000 BDT, but at the end of the year it down to 350,000 BDT. It's now available with three colours, those are Blue, Yellow, and Black. And the new CBR 150R ABS costs approximately 480,000 BDT.