This post is also available in:
Bengali
Review of my favorite FZS V3 :
This has been one of the celebrated bike after launching in Bangladesh. Before that FZS V2 had been dominated the market for a long time. Subsequently, the version 3 has arrived. The main reasons of buying this bike are comfort, braking and mileage.
I have to mention the Anti Lock Braking System (ABS) before taking about Yamaha FZS V3. In one word, the Single Channel ABS is extraordinary. In any situation, it provides good controlling which is unrivaled. Furthermore, the Dual Disk and single ABS breaking are best for controlling. Especially in the wet roads the effectiveness of ABS noticeable.
It won't be a problem for long tour because of the fuel capacity which is 12.800 ML. The attractive part of this bike is the Starting point. It looks good because of the placement of the key beside the fuel tank. I got a average mileage of 40-45 but the mileage depends mostly on riders. Since the bike has EFI engine so normally the mileage would be good.
Because of the 100/80-17m and 140/60-17 tyre sizes in the front and back, I don't face problem in cornering. The balance and braking is enough good because of the wider tyre.
Regarding riding experience, I must say this bike is the Comfort King. Because of the wider seat, I can comfortably ride with my parents. Besides, it offers comfortable ride in spite of riding continuously. Hence there is no possibility of having back pain. For both the rider and pillion, this bike is perfect for touring.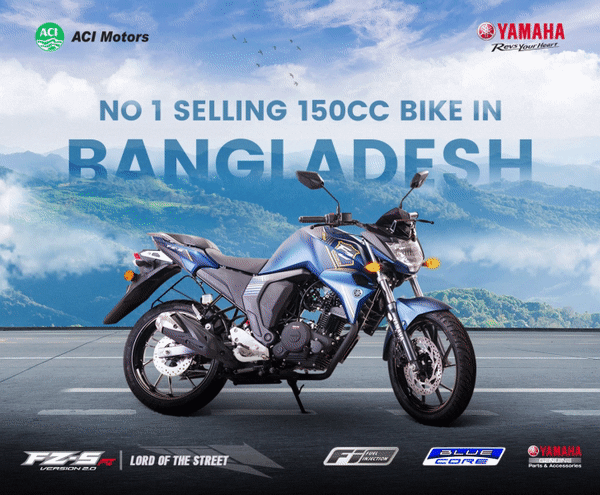 I got a top speed of 125 and can be controllable in a speed of 80-90. You can have a refined smooth engine sound compare to the older V2. But one of the complaint about this bike is the acceleration which would be good if offers better.
The V3 is quite a good choice for both city and highway. I have rode well in city and can tackle the traffic jam because of the turning radius which is not bad. For tour, it can get a 10/10.
Every bike has some negative sides, likewise this bike also has some issues which seems bad to me. Being a 150cc bike, everything seems good to me but the acceleration which is very low and can be felt in the highway. Then the head light, which is adequate for riding in city but difficult in highway.
Lastly, I will talk about the Yamaha distributors in Bangladesh, ACI Motors. There is no need to say anything new about them. I think only they are concern with the advantages and disadvantages of the bikers. They organize different events with bikers. Their sales after service is comparatively better then others company.
Courtesy– Ahasan Shishir
This post is also available in:
Bengali