Yamaha FZs FI V2.0 is a premium segmented sports bike which is available in Bangladesh since long. However, the older version of the bike is very popular in market but couple of years ago, the 2nd version of it was launched which is BS4 approved and the design has changed a little. In naked edition sports bikes, the bike Yamaha FZs FI V2.0 is undoubtedly a better choice which can be compared with some Japanese same segmented products usually. But today we are going to compare it with an Italian brand bike named Benelli TNT 150. There are some common facts between this two bikes where both of them are 150 cc naked sports bikes. Basically it seems a little bit odd that we are comparing a Japanese product with an Italian brand where the Italian product is assembled in China which makes it more of a Chinese bike so far.
Besides, the price range of the both bikes are far differ. But people wants to know about the major differences between the bikes where they are both are same segment sports bikes. So, let's see the details comparison review between the bikes Benelli TNT 150 and Yamaha FZs FI V2.0 below.
 

Benelli TNT 150 Vs Yamaha FZs FI V2
COMPARE
Benelli TNT 150
Yamaha FZs FI V2
Type
Sports
Sports
Origin
Italy
Japan
Engine
Air Cooled, 4-Stroke, 2-Valve
Air cooled, 4-stroke, SOHC, 2-valve
Displacement
148 cc
149 cc
Maximum Power
14 BHP @ 8000 rpm
12.9 Bhp @ 8000 rpm
Maximum Torque
13.4 NM @ 6000 rpm
12.8 Nm @ 6000 rpm
No. of Cylinders
 1
 1
Cooling
Air Cooled
Air Cooled
No. of Gear
 5
5
Starting system
Electric Start
Self Start
Clutch
Wet Multi-plate
Wet, multiple-disc
Kerb Weight
144 kg
132 kg
Length
2080 mm
1990 mm
Width
810 mm
770 mm
Height
1075 mm
1050 mm
Seat Height
780 mm
790 mm
Wheelbase
1365 mm
1330 mm
Fuel Tank Capacity
13 litres
12 litres
Top Speed

120 KM/H
120 KM/H
Mileage
40 kmpl
45 KM/L
Front Tyre
100/80-17
100/80-17M/C (52P)NYLOGRIP ZAPPER-FX1
Rear Tyre
130/70-17
140/60-R17M/C (63P)revz-Y
Price
1,79,900 BDT
2,44,000 BDT
More Details

Benelli TNT 150

Specification
Yamaha FZs FI V2 Specification
# Looks: Looks makes the first impression for anyone. So, it is very important for bikes as well. At first we have come to consider the looks of Yamaha FZs FI V2.0. It is fully decent looking naked sports bike. Than version one, there are some changes were done in the version two. It has muscular fuel tank with stylish and changed extended kit. The seat is splitted but comfortable and skid resistance. IT has well designed exhaust and there are rear mudguard added. Overall, no one can refuse the bike due to the looks. On the other side, Benelli TNT has also good looking but more aggressive design fuel tank added. It has more sharp looking extended kit but still they can not match with FZs. FZs is available in different fantastic shades where the colors of Benelli TNT 150 are not so attractive. IT has also splitted seat added where rear position is much higher just suitable for sports bike. BUt seat is not that comfortable as FZs.
# Engine Performance: Yamaha can be considered as one of the top two motorcycle manufacturing company in the World as well as reliable brand no doubt. The engine of the bikes are made in Japan. In the case of their bikes, in most of the cases, they are assembled in different countries like Indonesia, Thailand and India but they are origin of Japan. So, it seems that they are much more reliable than any Chinese and Indian brands no doubt. The bike FZs has very reliable engine which is now much more refined. It has four stroke, two valve and SOHC engine which can generate 12.9 Bhp max power and 12.8 NM max torque. The engine is air cooled instead of liquid cooled engine. Due to naked sports bike, it should have liquid cooled engine like most of the sports category bikes. But in both cases of Benelli TNT and FZS, there are air cooled engines are used. Now, look to the Benelli TNT. It consists of 148 cc engine with four stroke and two valve. The maximum power of the bike is 14 Bhp and maximum torque is 13.4 NM.
# Suspension & Brake: The front suspension of Yamaha FZs FI V2.0 is telescopic forks and rear suspension is monocross swing arm. They are very high quality suspensions and ensures proper comfort even during long ride. On the other side, Benelli TNT has also front telescopic suspension added and rear the suspension is monoshock. Into the bike Benelli TNT, there are hydraulic disc and drum braking combination added. The front brake is single hydraulic disc and rear brake is drum. In that case, FZs is better than Benelli. It has front 267 mm disc brake wjhere rear, there is 130 mm drum brake. But there is a new version of FZs is available in the market where rear brake is also disc. So, dual disc brake lovers can buy the version.
# Comfort & Control: The bike Yamaha FZs FI V2.0 is very good at it's controlling. The bike has dual disc or disc and drum braking combination. Since the beginning, no people can say anything about it's braking. It has very matured braking which makes the controlling very secured even for amateur riders. Besides, the bike has very comfortable seat and though, it is splitted but mush more comfortable than any same segment bikes. On the other side, Benelli TNT has not much comfortable seat just like FZs. It has splitted but higher rear seat which is not so suitable for female. Besides, the bike is a newborn in Bangladesh and we yet to learn much about it's controlling but being an Italian origin product, it would not disappoint a rider.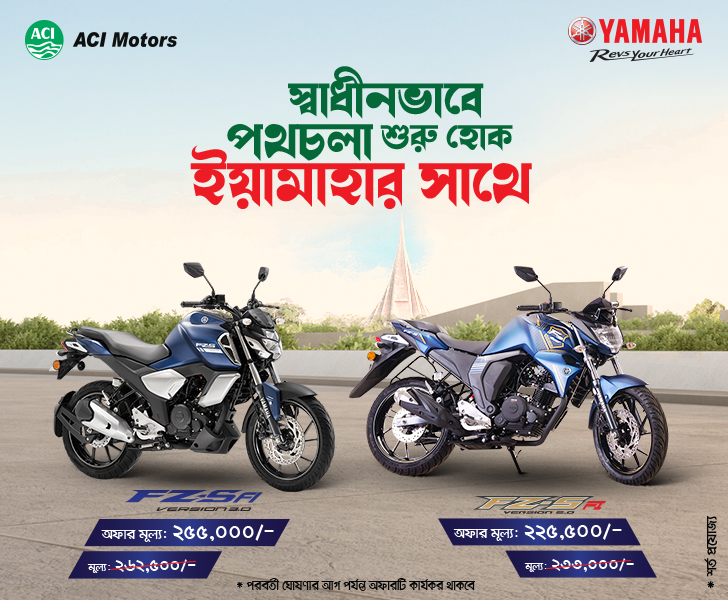 # Fuel Consumption: Yamaha FZs FI V2.0 is fully updated from the version one. IT has BS4 engine and there is also Blue Core technology added. Due to that the mileage of the bike is increasing than the first version. Current the new version of the bike used to provide almost 45 km mileage average which is so inspiring. On the other side, Chinese assembled bikes used to provide very poor mileage. As the new bike the mileage of Benelli TNT would be around 40 km average mut day by day it would be reduced.
# Top Speed: Yamaha FZs FI V2.0 bike is not very good for it's speed. The bike is best for design, controlling and comfort. But considering the top speed, it would not disappoint you at least. The top speed would be reportedly 110 kmph to 120 kmph. In that case, Benelli TNT 150 is better than FZs. Benelli TNT can give you more than 120 kmph top speed very easily.
# Price: Considering the price range, the bikes Yamaha FZs FI V2.0 and Benelli TNT 150 are completely different. The price tag of Yamaha FZs is much more higher than Benelli TNT. IN the segment, FZs is almost high price tag included bike in Bangladesh which is available in exchange for BDT 2,44,000 only. But obviously the price of dual hydraulic disc braking version is bigger than that. In that case, Benelli TNT 150 is available with reasonable price. The current price of the bike is BDT 1,79,900 only.
 According to the above listed discussion, you can clearly see the differences between the two bikes. Considering the same segment sports bikes, Benelli TNT 150 would not match with Yamaha FZs FI V2.0. But, the bike of Yamaha is added higher price tag where Benelli is available with reasonable price range. So, if you have the ability than should go for Yamaha FZs FI V2.0 without any hesitation. But if you have the low budget, then Benelli would be good for you.