Hero Bike Price in Bangladesh 2023 (All Specification)
At the first time, Atlas Bangladesh assembled Hero motorcycle for Bangladesh and after that Hero MotoCorp signed an agreement with Nitol Niloy group in Bangladesh 2014. Now Nitol Niloy Group is the joint venture and distributor in Bangladesh. Here we make a list of Hero motorcycle which is available in Bangladesh.
Hero Splendor iSmart Plus' price in Bangladesh is 120,000/-, It is examined as one of the top ranked product of Hero MotoCorp in Bangladesh based on 110 cc segment. The bike can run with 8.2 Bhp max power and 8.05 Nm max torque. Consists of 110 kg kerb weight Splendor iSmart Plus can provide up to 90 km per hour top speed.
| | |
| --- | --- |
| HERO MOTORCYCLES PRICE | PRICE (BDT) |
| Hero HF Deluxe – BS4 Price | 106,500 |
| Hero HF Deluxe – All Black BS4 Price | 111,000 |
| Hero HF Deluxe BS4 TL Price | 111,000 |
| Hero HF Deluxe BS4 i3S Price | 113,000 |
| Hero Splendor Plus – BS4 Price | 117,000 |
| Hero Splendor Plus – i3S IBS Price | 119,000 |
| Hero Splendor Plus – i3S IBS BS4 Price | 120,000 |
| Hero Splendor Plus – SE Price Price | 121,000 |
| Hero Splendor Plus – XTEC Price | 129,000 |
| Hero Splendor I Smart Plus Price | 120,000 |
| Hero Passion Xpro – Disc Price Price | 114,750 |
| Hero Passion Xpro – Drum BS4 Price | 107,250 |
| Hero Passion Xpro i3S Price | 132,000 |
| Hero Passion Xpro XTEC Price | 145,000 |
| Hero Glamour – BS3 Price | 125,000 |
| Hero Glamour – BS4 Price | 136,500 |
| Hero Glamour – BS4 i3S Price | 145,000 |
| Hero Ignitor Price | 133,500 |
| Hero Ignitor – Techno Price | 145,000 |
| Hero Ignitor – FV XTEC Price | 160,000 |
| Hero Ignitor – FV XTEC Refresh Price | 160,000 |
| Hero Hunk SD Price | 158,500 |
| Hero Hunk SDM Price | 180,000 |
| Hero Hunk DD Price | 187,500 |
| Hero Hunk DDM Price | 174,000 |
| Hero Hunk 150R DD Price | 180,000 |
| Hero Hunk 150R ABS Price | 191,000 |
| Hero Pleasure Price | 152,000 |
| Hero Maestro Edge Price | 157,500 |
| Hero Maestro Edge XTEC Price | 175,000 |
| Hero Thriller 160R SD Price | 200,000 |
| Hero Thriller 160R DD Price | 210,000 |
Hero is another motorbike giant of India it is the top motorbike seller in India. It is a largest two-wheeler company in world wide. Hero Honda started its journey in 1984 as a join venture company. Indian Hero cycles and Japanese Honda started this join venture company. At 2006 Forbes magazine listed world most respected company and Hero Honda ranked there 108. In the March 2013 the market capitalization was 4.3 billion USD. In 2010 Honda decided to move out of the joint venture the Hero Group were bought all shares.
"Hero" name is came from the Munjal brothers for their flagship company Hero Cycle. Hero cycle was a joint venture of Hero Group and Hero motorcycle ltd at Dharuhera, India is owned by the Munjal family. In 1980 this company produce motorcycle in low cost and those motorcycle were very popular in India because of fuel efficiency and low cost. They had very popular advertising which also caught peoples minds, it was Fill it… Shut it…. Forget it. It totally about this brand motorbike fuel efficiency. It was the second-largest motorbike manufacturing company in the world in 2001.
When Honda move out of the joint venture, then Hero bought the rest of the share and they also handling this full company. In 2013 this motorbike company sold 7 crore unit of its bike which was broke all the record. Its most popular bike is Hero Honda Splendor which sells over 1 million units per year.
Hero Honda always produced the best motorcycle and now Hero is also holding it. This biggest giant also gives bikers fashionable, low cost, fuel efficiency bike and it also a trusted brand. Here in Bangladesh Hero has a big market and huge fan. They always sell standard bike and earn bikers trust. It has 13% market share in Bangladesh. Its Hero Hunk is also a flagship motorbike in Bangladesh and they young bikers are also buying this. Hero Hunk is also made a big market here. As a low range flagship Hunk caught bikers heart and its eye catchy look and great performance is another cause of its popularity.
Nitol Niloy Group is also with Hero in a joint venture in Bangladesh. Their main concern is to assemble and manufacturing Hero motorcycle in Bangladesh. They initially invested USD 40 million and they also grew up together. Hero MotoCorp owned 55 percent venture and Nitol Niloy group holding 45 percent venture. Nitol Niloy is already well-known industry in Bangladesh and they also have Vehicle business.
As a trusted motorbike company Hero is famous and popular in India and Bangladesh. Their best-quality motor also earns biker trust. This motorcycle giant also rising its business in Bangladesh.
Reason to Buy Hero Motorcycle
Hero Motorcycles are a popular choice for several reasons. Hero is the second largest two-wheeler brand, producing world-class motorcycles with much effort and experience. Hero's bikes are renowned for their fuel-efficient bikes, the latest innovation, premium design,  providing cost-effective transportation. Recently Hero has adopted Xtec consising number of tech features to make convenient riding. Hero Thriller and Hunk are the most popular naked sports bikes known for best performance and better mileage. Splendor Plus, Glamour, Passion, and Ignitor are also famous for better mileage and comfort. Having a strong reputation for reliability and durability, Hero Motorcycles often reduce maintenance costs. Hero Motorcycle ensures a balance of performance, economy, and dependability. Another reason to buy a Hero motorcycle is its affordability and reliability than others, Hero offers various price-range motorcycles for everyone. As an Indian reliable brand that also has good resale value, riders who frequently change bikes HeroCrop is the best option for.
Hero Most popular Motorcycles in Bangladesh
Hero Hunk 150R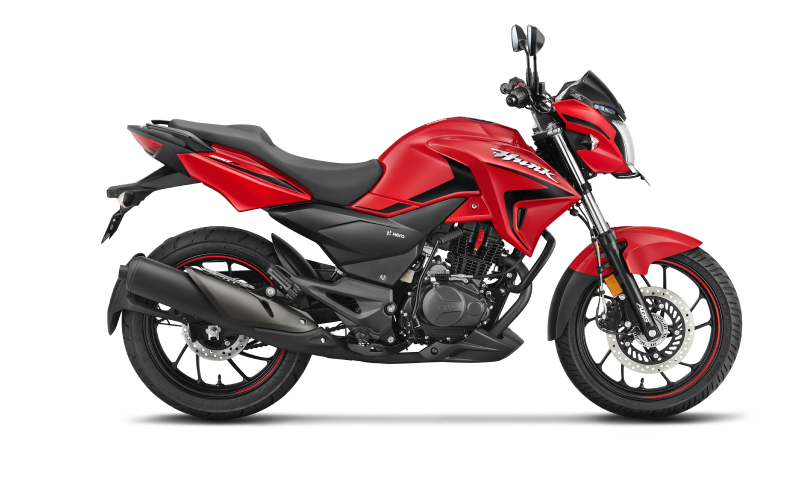 Hero Hunk 150R  is a reliable and sturdy motorcycle with an aggressive sporty design. Its durable build quality with authentic materials and powerful engine make it suitable for both city commuting and occasional long rides. Hero Hunk is powered by 149.2 cc Single Cylinder 4-Stroke, Air Cooled engine makes 10.55 kw @ 8500+/-500 rpm max power and 12.6 Nm @ 6500+/-500 rpm max torque. Hero Hunk 150R offers a comfortable riding experience with a well-cushioned seat and smooth handling. To ensure proper safety it features single channel ABS paired with 276 mm front and 220 mm rear both disc brakes. Its 7-step adjustable monoshock suspension and telescopic front suspension are efficient for smooth and comfortable riding. Hero Hunk 150R provides a good balance between performance and economy, this bike is able to provide a maximum 45 kmpl mileage. Hero Hunk 150R is a solid choice for riders looking for a dependable and efficient motorcycle. Hero Hunk 150R price in Bangladesh is less than 2 lacs but being a performance-oriented motorcycle offers something extraordinary at this budget.
Hero Thriller 160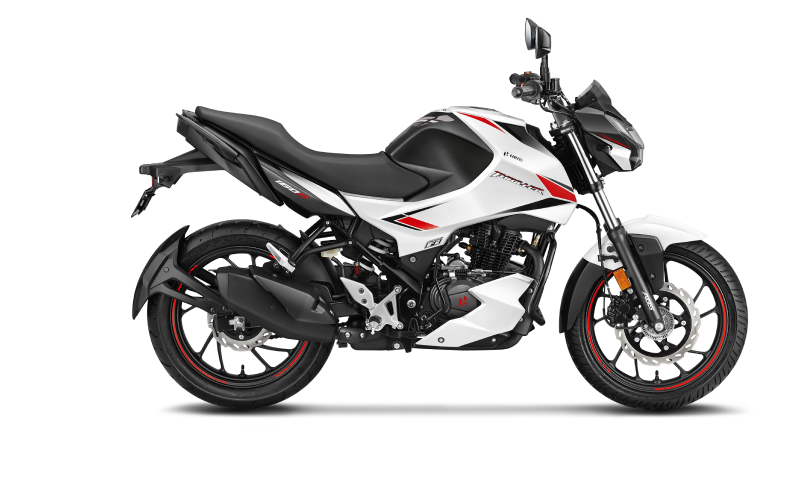 Hero Thriller 160 is a reserved and compact naked sports motorcycle beyond exaggeration cosmetically but features all in mechanically. Its unique body shape, solid color with minimum graphics, and cutting-edge headlamp have augmented its agility. The powerful speed machine is equipped by 163 cc Air Cooled, 4 Stroke 2 Valve Single Cylinder OHC engine that can generate 112 kW (15 bhp) @ 8500 rpm maximum power, 14 Nm @ 6500 rpm maximum torque and 120 kmph top speed. This powerful engine reaches 0-60km/h in 4.7 seconds, reviewed by expert riders. Being a latest futuristic motorcycle Hero Thriller 160 has USB Charging Port, Sporty Belly Pan, Aggresive Graphics, Telescopic Front Forks, Droid LED Headlamp, Sleek and Robust LED Winkers, Inverted Fully Digital LCD Display, 7-Step Adjustable Hydraulic Monoshock Rear Suspension and so. In terms of safety Hero Thriller 160 features single channel ABS mated with 276 mm Petal Disc and 220 m Petal Disc/130 mm Drum brake supported by 7 Step Rider-Adjustable Monoshock and Telescopic (37 mm DIA) with Anti-Friction Bush suspension. The latest motorcycle Hero Thriller 160 also has the side stand engine cut-off feature which is the first segment. Hero Thriller 160 has different price variations in Bangladesh.
Hero Splendor Plus Xtec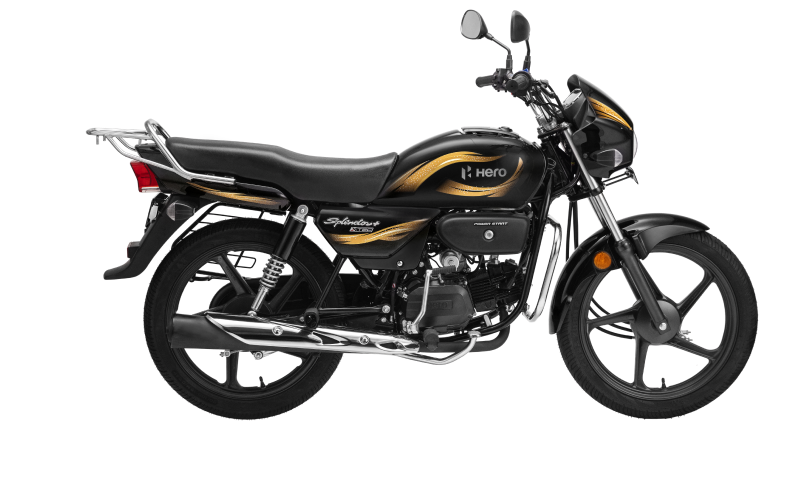 Hero Splendor Plus is one of the most renowned commuter motorcycles for its better performance and mileage. Currently, Hero re-branding it as Hero Splendor Xtec because of newly adopted Xtec features. Hero Splendor Plus is a reliable and popular commuter cost-effective and fuel-efficient two-wheeler. Hero Splendor Plus is powered by 97.2 cc Air cooled, 4 – Stroke Single Cylinder OHC engine that can produce 6.15 kW (8.36 Ps) @ 8000 rpm max power and 0.82 Kgfm (8.05 Nm) @ 5000 rpm max torque which is quite adequate power for city rides. Its build quality is decent, reflecting Hero's commitment to durability,  as a tech-oriented bike Hero Splendor Plus Xtec has 5-Step Adjustable Hydraulic Shock Absorbers,  USB Mobile Charger, Fuel Saving i3S Technology, and an instrument cluster displaying essential information. its reliability, fuel efficiency, and affordability make it a practical choice for budget-conscious riders. Hero Splendor Plus Xtec price in Bangladesh is quite reasonable so, all can afford it.
Hero Glamour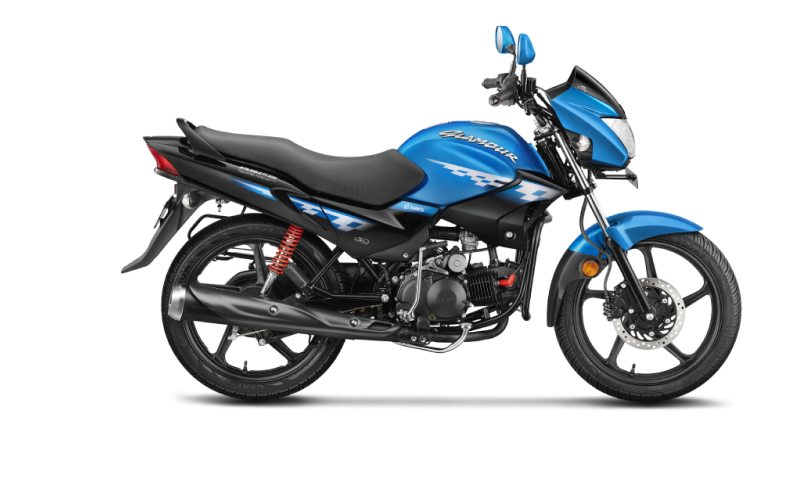 Hero Glamour is an impressive executive motorcycle, perfectly combined with style and performance. Glamour comes with i3S (Idel stop-start system) that cut off the engine during traffic signal or other idle periods and gets an immediate start just throttle to reduce fuel consumption. Hero Glamour is powered by 124.7 cc air-cooled, 4 – stroke, single-cylinder OHC engine that provides 90 kmph top speed, 6.72 KW (9.1 Ps) @ 7000 RPM max power and 10.35 N-m @ 4000 RPM max torque. Hero also ensures proper safety with performance, Glamour gets 240 mm dia disc in front and 130 mm Liners drum in rear for spot braking. Its 4-speed gearbox and adequate braking system is supported by telescopic hydraulic in front and swing arm with hydraulic shock absorbers rear suspension. Hero Glamour comes with a dynamic design with contemporary graphics and various color variants. Hero Glamour is recommended for riders who seek style, comfort, technology, and mileage at affordable prices. Hero Glamour's price in Bangladesh is close to hand than its other competitors.
Hero Passion Xpro Xtec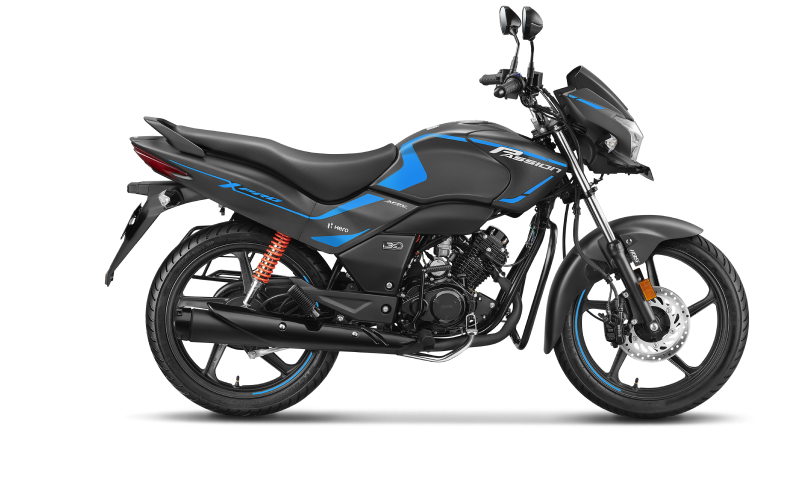 Hero Passion Xpro Xtec is a game changer in the commuter segment, this bike offers all the incredible features. Hero introduces an amazing combination of innovation, style and performance for the first time in Bangladesh. Hero Passion Xpro Xtech houses a 109.15 cc Air cooled, 4-stroke, Single-cylinder, OHC refined engine delivering 6.70 kW @ 7500 rpm max power and 9.0 Nm @ 5500 rpm max torque. Having 4-speed constont mesh gearbox and multi-plate wet clutch Hero Passion has tubular double cradle body frame. In terms of technology Hero Passion Xpro Xtec features digital meter console connected by Bluetooth shows SMS and Call Alert, for the first time it has iBS braking system which essentials for balanced braking, as like its others siblings it has side stand cut off engine and others latest features. Hero Passion Xpro Xtec has Matte Axis Grey Blue and  Matte Axis Grey Red two premium color variants. Hero Passion Xpro Xtec is in Bangladesh a little in higher than other 110 cc motorcycles because of the latest tech features.
Hero Upcoming Motorcycles in Bangladesh
Hero Thriller 160R 4V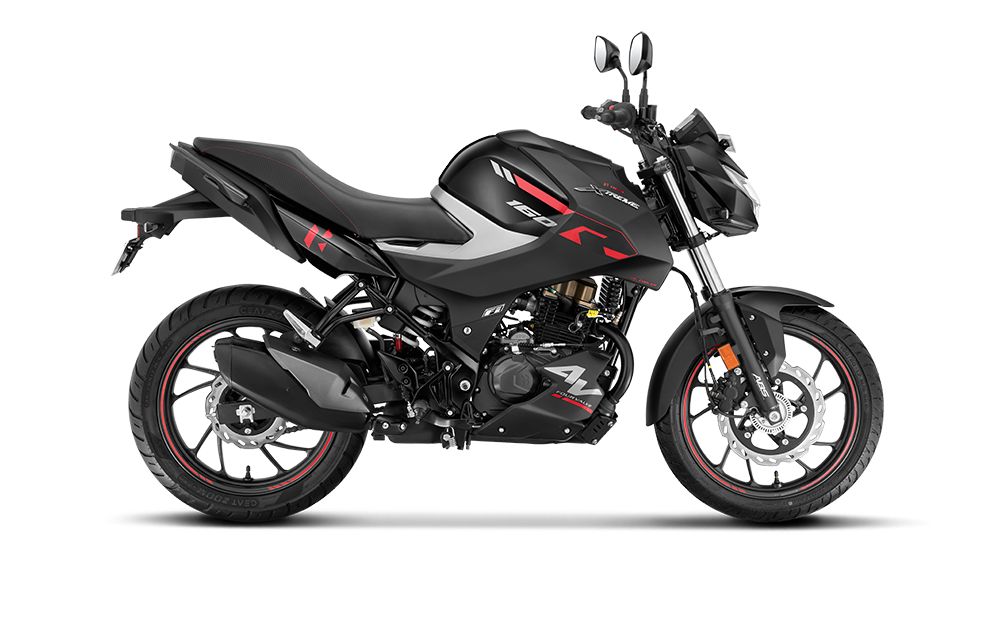 Although Hero Xtreme 160 4V is a well-known motorcycle in India, it will be debuted in Bangladesh as Hero Thriller 160 4V Hero Thriller 160 4V is a commendable addition to the 160cc performance segment motorcycle. It has a sporty design and muscular stance, it appeals to riders seeking a good combination of style and performance. Thriller 160 4V is powered by 163.22 cc 4 Stroke, Air-Oil Cooled, 4 Valve heavy duty engine which makes 16.9 PS @ 8500 rpm max power and 14.6 Nm @6500 rpm of max torque, at the same time this powerful engine reaches 115 kmph top speed and gets 0-60 kmph in 4.7 seconds.Its 37mm dia USD and 7-step adjustable monoshock suspension setup provides a comfortable ride, absorbing bumps and potholes effectively. In terms of brakes it has 276mm front and 220 mm petal disc in rear with dual channel ABS to stop the fastest bike in 160cc statement. Being an updated motorcycle  Hero Thriller 160R 4V has essential digital features including Hero Connect 2.0 app but lacks kick start option. Hero Thriller 160 4V is a strong contender in the 160cc segment, offering a pleasing combination of performance, style, and aggression. Hero Thriller 160R 4V estimated price in Bangladesh is 250,000/- BDT.
Hero Xpulse 200 4V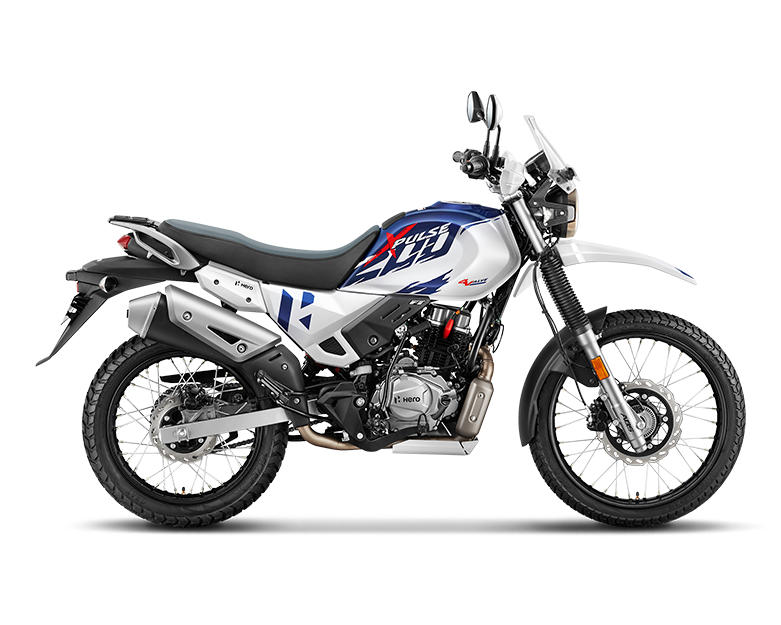 Hero Xpulse 200 4V is a groundbreaking combination of style, performance, and innovation. This off-road bike is bound to capture riding enthusiasts, its bounce-baking innovations add the last fuel to the fire in the off-road riders. Hero Xpulse 200 4V is powered by 199.6 cc OBD-II+E20 4V engine that produces robust 14.1 kW/ 18.9 BHP 8500 rpm max power and  6500 RPM 17.35 nm of max torque, smooth throttle response, and optimal fuel consumption is ensured by this air-cooled engine. Hero Xpulse 200 4V has diamond type lightweight chassis paired with telescopic front forks and 10-step monoshock at the rear to ensure more stability and comfort. Hero Xpulse 200 4V offers three different riding modes: Road, Off-Road and Yes each has its own expectation, there are also single-channel ABS braking for efficient braking. As an advanced bike Hero Xpulse 200 4V features digital LCD display connect with Bluetooth Connectivity shows crucial riding information and so on. In spite of benign a off-road adventure bike, it is suitable for daily commuting as it provides better mileage approximately 51 kmpl. Most anticipate Hero Xpluse 200 4V will be launched in Bangladesh soon, it estimated price in Bangladesh is 350,000/- BDT.
Hero Xtreme 200s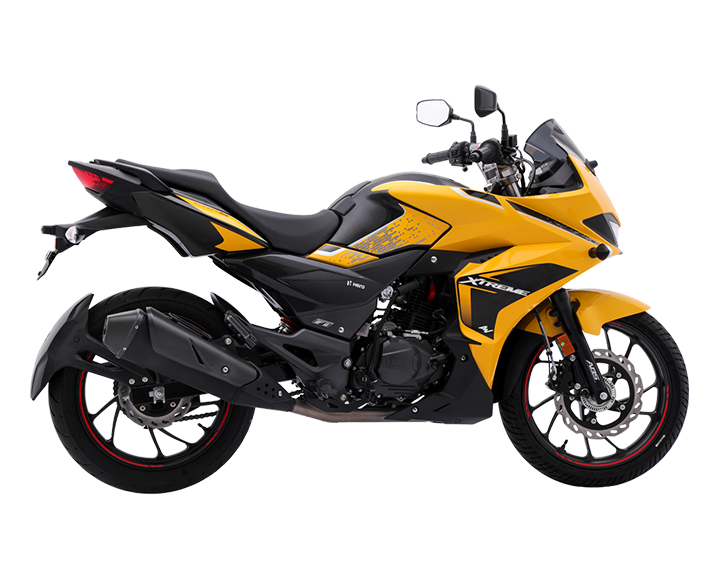 Hero Xtreme 200s 4V is the most appreciated full-faired sports motorcycle that comes with a bunch of the latest features and striking performance. The new Xtreme 200s 4V features dual-tone premium color and graphics, a sporty spilled handlebar, a muscular rear cowl, and a sporty exhaust. Hero Xtemre 200s 4V is equipped by 200cc 4 Valve engine that generates 19.1 hp @8000 rpm max power, 17.35 nm @6500 rpm of max torque, and gets 125 kmph top speed. This powerful engine coupled with 5-speed constant mash gearbox and telescopic front and 7-step adjustable rear suspension provides more conform and accuracy. This power machine is also equipped with fully digital LCD speedometer to display essential information like gear indicators, eco-mode indicators, fuel indicators, service reminders, etc. It also as Bluetooth connectively to assist turn-by-turn navigation via smartphone connectivity,  also has other digital features including full LED head and tail lamps. As a full-faird sports bike Hero Xtreme 200s 4V is equipped with single-channel ABS braking paired with 276 mm front and 220 mm petal dia disc. Hero Xtreme 200s 4V has three color variants Panther Black Metallic, Moon Yellow & Mat Axis Gray Metallic. Hero Xtreme 200s 4V estimated price in Bangladesh is 350,000/- BDT
Hero Karizma XMR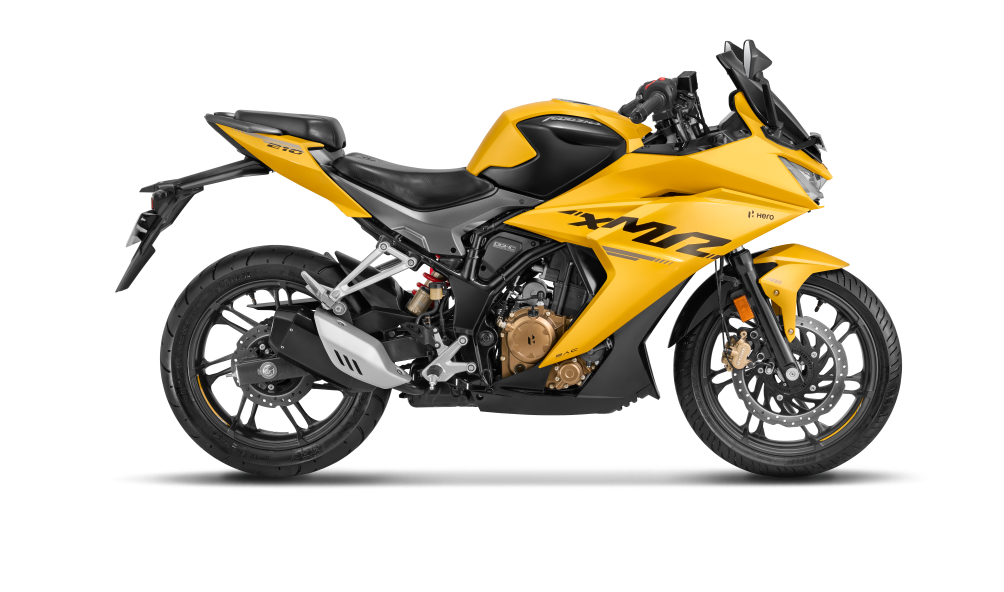 Hero Karizma XMR is an iconic full-faired motorcycle in the sports segment by the Indian largest two-wheeler manufacturer HeroMotocrop. This entry-level sports bike has brought many which are fot the first time for Hero such as liquid-cooled, Dual channel ABS, full-faired body and so on. Hero Karizma XMR is powered by 210 cc 4-Stroke, 4 Valve, Single Cylinder Liquid Cooled, DOHC coupled with 6-spped gearbox and supported by Dia 37 mm, Telescopic Front Forks with Anti Friction Bush and 6 Step Adjustable, Gas Charged Mono Shock rear suspension. This powerful engine is bound to generate 150 kmph top speed, 25.5 PS @ 9250 rpm max power and 20.4 Nm @ 7250 rpm max torque. In terms of brake Hero Karizma XMR gets dual channel ABS based on 300 mm petal front and 220 mm rear dics. On the others hands it also features digital traits as LED lamps, digital instrument cluster with Bluetooth connectivity. So it simply assumed that Hero Karizma Bangladeshi riders will experience incredible features with Hero Karizma XMR. Hero Karizma XMR estimated price in Bangladesh is 340,000/- BDT.
Niloy Motors Ltd, is joint venture of Nitol-Niloy Group was debuted as a vehicle imported in 1980 and became the sole distributor of TATA Motors in Bangladesh. In 2014, the company signed an agreement with Indian HeroMotoCrop of $40 million USD to establish a motorcycle manufacturer plant. Niloy Motors established their plant at  Naopara, Jessore where they manufacture and assemble Hero motorcycles, parts, and spares. This venture of Nitol-Niloy Motors involves in import, assembling, manufacturing, sale, and marketing of their products. 
Phone: 09636666666, 880 1905-999222
Email: info@niloymotors.com
Address: Nitol Niloy Tower, 69, Nikunja, Khilkhet C/A, Dhaka-1229 Bangladesh
History Of Hero
Hero MotoCorp, headquartered in India, has a glorious history in the motorcycle industry founded by Brijmohan Lall Munjal. Originally known as Hero Honda, the company was established in 1984 as a joint venture between Hero Cycles of India and Honda of Japan. Their collaboration led to the production of motorcycles that quickly gained popularity in the Indian market. The partnership flourished, and Hero Honda became the largest two-wheeler manufacturer in the world by the late 2000s. 
In 2010 the companies dismissed the collaboration and leading to the formation of Hero MotoCorp continued to produce a diverse range of motorcycles, catering to various segments of the market. Hero focused on innovation, introducing fuel-efficient and environmentally friendly models. Splendor series and Passion series are among their notable successes, contributing significantly to their market share. Hero MotoCorp has expanded its global presence, exporting motorcycles to approximately 40 countries.
Hero Motorcycles Share Market in Bangladesh
Bangshladesh Government reduced  25% point of supplement duty in importing motorcycle components with a view to encouraging domestic production in  2016-17 fiscal year. Since then motorcycle industry started rapid growth. Though native companies still struggling to capture overseas brands have occupied the major portion of the market. Indian Hero is one of the key players, Hero has 30.9% share in 80 – 110cc commuter segment and only 2.26% presence in 125-165 cc. According to the latest update Hero has total 13% of the market share in Bangladesh. Abdul Matlub Ahmad, chairman of Nitol-Niloy Group said motorcycle market is still under 5000 corer annually, as the government has granted higher cc motorcycles upto 350 cc it makes possible in the motorcycle industry in Bangladesh. Deshibiker.com has published an elaborate discussion on Motorcycle share market in Bangladesh.
FAQs
What is the mileage of Hero motorcycles? 
Hero motorcycles are known for their fuel efficiency. The mileage varies depending on the model, but many Hero bikes offer competitive fuel efficiency in their respective categories. Commuter bikes like HF Dealux and Splendor Plus Xtec produce 70 and 80 kmpl mileage respectively.
Does Hero offer EMI facility?
Nitol Niloy Group has developed a financial plan as AMAR HERO to own Hero motorcycles with a flexible EMI plan. This plan offers maximum 24 month installment with only 1% service charge.
How many Hero motorcycle showrooms are available in Bangladesh?
There are more than 211 Hero motorcycle showrooms in Bangladesh, where all latest motorcycles, parts and spares are sold at authorized prices. Skilled and experienced technicians provide best services for your Hero motorcycles.
Who is the local distributor of Hero motorcycles in Bangladesh?
Niloy Motors Ltd. is the sole distributor of Indian giant motorcycle manufacturer Hero MotoCrop in Bangladesh, Niloy Motors Ltd. is a venture of Nitol-Niloy Gruop. Niloy Motors Ltd. established an industrial park at Naopara, Jessore to manufacture and assemble Hero motorcycles, parts, and spares in Bangladesh. This privet company involve in import, assemble, manufacturer, sale and marketing of their products.
How often should I service my Hero motorcycle? 
It is recommended to follow the service schedule mentioned in your Hero motorcycle's owner's manual. Generally, regular servicing every 3,000 to 5,000 kilometers is advised to ensure optimal performance and longevity.
What is the warranty period for Hero motorcycles? 
Warranty periods can vary, but Hero typically offers a standard warranty of 5 years for its motorcycles. It's advisable to check the specific warranty details for your model.
How do I find the right size of helmet for my Hero motorcycle?
Helmet sizes vary, but it's crucial to choose one that fits snugly without being too tight. Refer to the sizing chart provided by the helmet manufacturer, and consider trying it on before purchase for the best fit and safety. 
Are Hero motorcycles suitable for long rides? 
Hero motorcycles are designed for various riding conditions, including long rides. However, comfort preferences vary among riders. Hero Thriller 160R, Hero Hunk 150 R, upcoming Hero Xpluse, Hero Karizma XMR are long drive oriented motorcycles. It's advisable to test-ride a model and ensure it meets your comfort and performance expectations for extended journeys. 
What type of engine oil should I use for my Hero motorcycle? 
Hero MotoCorp recommends specific grades and types of engine oil for their motorcycles. Follow instructions suggested in the manual book or contact an authorized service center to ensure you use the correct oil for optimal engine performance. 
How can I improve the fuel efficiency of my Hero motorcycle? 
Regular maintenance, proper tire inflation, and smooth riding habits contribute to better fuel efficiency. Follow the manufacturer's recommendations for maintenance intervals and adhere to fueling guidelines for the best results.
14Products found
Filter
Sort by price: high to low
Hero Thriller 160R is a naked sports motorcycle from the Indian brand Hero Motocorp. Currenty Hero Thriller 160R Double Disc ABS version Price in Bangladesh is  2,10,000/= and the single ABS disc version price is 2,00,000/=. Red, white and blue color is available in the market. This bike is stylish and bulky designed. Its powerful 160cc engine can produce 15.2 bhp maximum power at 8500 rpm and 14 Nm of torque at 6500 rpm. This bike can reach the top speed of 125 km/h and it can reach 0-60 km/h at only 4.7 seconds according to the company. This naked sports introduced with three new color shades.

Hero Hunk 150R is look muscular and the best rival of Bajaj Pulsar and TVS Apache RTR. This new Hunk is comes with new look, refined engine, wider tyre and Anti-Lock braking system. Current Hero Hunk 150R ABS price in Bangladesh is 191,000/- BDT and the double disc version price is 180,000/-

Once upon a time, Hero Hunk was the biggest rival of Bajaj Pulsar 150. Now there are two versions of this bike is available. Hero Hunk double-disc price in Bangladesh is 187,500/- and the SD price BDT 158,500/- This one is the cheapest 150cc motorcycle right now in the market. Due to its powerful engine and comfortable ride, Hunk is popular in Bangladesh. The engine of Hunk consists of 149.2 cc displacement that can produce 14.4 Ps max power and 12.80 Nm max torque. Bajaj Pulsar 150 DTSi, Apache RTR 150, and Honda CB Trigger 150 are regarded as the most rivals of Hero Hunk.

Hero Maestro Edge is a considerate outcome of Hero MotoCorp. Hero Maestro Edge is consists of 110.9 cc engine that can produce maximum 6 kW (8 BHP) @ 7500 RPM power with 8.7 Nm @ 5500 RPM torque. With the latest OHC technology included the scooter has also air-cooled engine with four-stroke and single cylinder. Hero Maestro Edge Xtec current price in Bangladesh is 1,75,000/- and Maestro Edge is 157,500/- BDT.

Hero Pleasure is a renowned scooter made by Hero MotoCorp. Now its Sheet Metal version price in Bangladesh is 152,000 taka. It is the revised version of Hero Honda Pleasure which consists of 102 cc engine that can afford highest 6.91 Bhp @ 7000 rpm power and 8.1 Nm @ 5000 rpm torque. TVS Jupiter is regarded as the main rival of this Hero product in Bangladesh.

Hero Ignitor is one of the good looking motorcycle of this segment. This standard bike can produce sufficient power and provide better fuel efficiency. Over all it's getting enough users in Bangladesh recently. Hero Ignitor 125- Techno price in Bangladesh is 145,000/- 

Hero Glamour is regarded as one of the best commuter motorcycle in 125 cc segment in Bangladesh. Glamour 125 price in Bangladesh is 125,000/- and its others editions prices are slight defferent. The engine consists of air cooling system that can generate highest 9 Bhp @ 7000 rpm power. With four speed gearbox, a claimed top speed of the bike is 94 km per hour. In Bangladesh, TVS Phoenix, Discover 125 and Honda CB Shine are examined as the main rivals of Hero Glamour.

Hero Splendor iSmart Plus' price in Bangladesh is 120,000/-, It is examined as one of the top ranked product of Hero MotoCorp in Bangladesh based on 110 cc segment. The bike can run with 8.2 Bhp max power and 8.05 Nm max torque. Consists of 110 kg kerb weight Splendor iSmart Plus can provide up to 90 km per hour top speed.

Splendor Plus is one of the best 100 cc motorcycle in Bangladesh due to exclusive features and outlooks, its price in Bangladesh is 117,000 taka. Hero MotoCorp has refurbished and upgraded its one of the leading model, Splendor, featuring all the specifications to meet the BS6 criteria. The bike has a 97.2 cc engine with air-cooled, single-cylinder, digital CDI ignition, and OHC based engine technology.

Hero Passion XPro is an excellent-looking 110 cc standard bike which is recently launched in Bangladesh. Hero Passion XPro price in Bangladesh is 114,750/- it has so many varients at different price. Consists of aggressive design fuel tank, the bike Xpro is powered by 109.1 cc engine which can released 8.58 Bhp max power in 7500 rpm. Reported top speed of the bike is more than 95 kmph. It has so many variants that stipulated by authority.

HF Deluxe BS4 price in Bangladesh starts from 106,500/- BDT. HF Deluxe  is manufactured by Indian company Hero but assembled in Bangladesh. The motorcycle has 97.2 cc engine which can manage 5.74 kW @ 75000 rpm max power with 8.04 Nm @ 4500 rpm max torque. The bike can provide more than 65 km mileage average and run with 85 km per hour top speed. TVS Star Sports,  TVS Metro and Discover 100 are the best three rivals of Hero HF Deluxe.

Hero motocorp is one of the leading motorcycle manufacturers in India.  But in Bangladesh, they have also got a large amount of market share. Hero Motorcorp price in Bangladesh io BDT 100,490 taka. The company launched Hero Splendor iSmart 100 in the previous year. This bike gets an attractive look along with a powerful 97 cc engine that can deliver 8.2 bhp power.