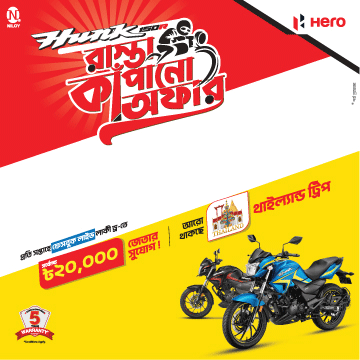 Many people wanted to know the user review of Hero Thriller 160. Today I'm going to share the experience with you.
Honestly speaking, I don't query about bikes. I don't have that much experience. Don't even know many name of the parts. I just know how to ride a bike, advantages and disadvantages.
I had Pulsar NS 160 earlier. Now I'm using Thriller 160 and traveled 2600 KM. As I am a bike tour lover so I'm going to share my own experience with you. Many things based on a rider's weight and height may not be related to my experience. Firstly, I'm going to share the negative sides. Negative Sides –

Everyone says seeing is believing. The first limitation of this bike is the design which is not good, they could give a good looks to this 160cc motorcycle.
The headlight is dim which can not be replaced. This is bad for biker tourist like us. That's why I'm suggesting to those who travel at night, use additional fog light.

I'm not satisfied with the low engine performance in downhill. Being a 160cc bike, the acceleration is quite good but the power is poor.

The shifting from 1st gear to second gear felt hard. The gear became neutral sometimes when shifting from 2nd gear to 1st gear. I haven't seen this in any previous bike. I hope this will get smooth after more riding.
The riding seat is very cozy but the pillion seat is not quite good to me.
Positive Sides –

Braking and controlling is quite good to me. I heard complains on Single Channel ABS of other company's bike in this segment but haven't find any fault in the braking of this bike. The ABS has provided enough support in high speed or riding in rain.
Speed of 0-90 KM/H takes short time and because of good acceleration, in highway it gives good feedback in overtaking.
Siting position and comfort is on top of the list for tourist biker, for which I can rate this bike 9 out of 10. I have cut the 1 point because the grip needs to be wider. However, the suspension and sitting position is comforting for long ride and doesn't result in back pain or other problems
With pure octane the mileage is 45+ and with

adulterated octane, 30+. As its suggested to use octane so never use petrol. And try to get fuel from good pump station.

Because of short height, it can be a good use to tackle traffic jam in city. But rider with a long height won't get comfort riding. Overall, this bike is perfect for city ride.
The rear suspension is adequate for off-road. Maybe it'll get more free with more riding.
The sit is comfortable. Once I had rode 340 KM in the hill and 250 KM in flat road, didn't have any pain.
I have shared with you the experiences of riding in hill and flat road. I hope this review will benefit those who will buy this bike.
Thank you
Courtesy– Robin Mahmud Surat