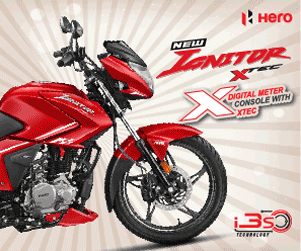 Yamaha YZF R15 Version 3.0 is now a hot trend of biking community. Still now 3 – 4 company import this bike in Bangladesh including ERS Global/M Slaz Bangladesh. Those are given booking money started to get the bike from 11th August, 2017. Racing Blue, Matte Red, Matte Black & Blue Movister Edition is available in Bangladesh so far. It's should to mention that importers always don't have sufficient bike in stoke and that's why you may wait for some days after the confirmation of booking money.
Basically Yamaha R15 Version 3.0 is the 3rd Edition of R15 series. Though ACI Motors Ltd. Is the importer of Yamaha motorcycle in Bangladesh but they are basically import bikes from India. As R15 V3 isn't launch yet in India that's why they can't bring it in Bangladesh. Those importers are selling R15 V3, they are importing from Indonesia.  Indo & Thai sports bike performance already proved in around the world. So there is no more question about the quality.
ERS Global is delivered me the bike from their factory (Narayanganj) on 14th August, 2017 and still now (31 August, 2017) I have ride this motorcycle around 4000 km. In last two month I have visited different places of Bangladesh with this beast including Rangamati, Khagrachari, Cox's Bazar etc. By riding this bike in day, night, hill road, on road, off-road make me easier to understand it's strength and weakness.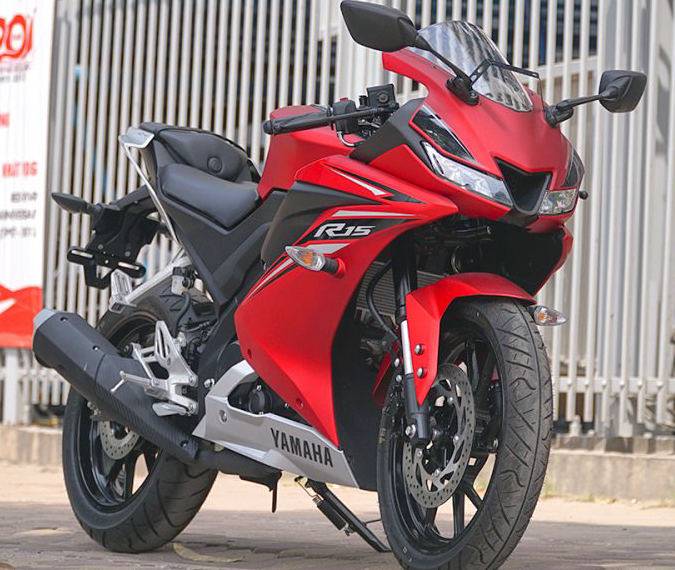 Front end of Yamaha R15 Version 3.0 is simply awesome. You can just compare it's front end beauty with Honda CBR 150 Indonesia. It's Aerodynamics shape is excellent which make it attractive, useful and give a racing favoure. Not only that it's design concept also helpful for better top speed and fuel efficiency.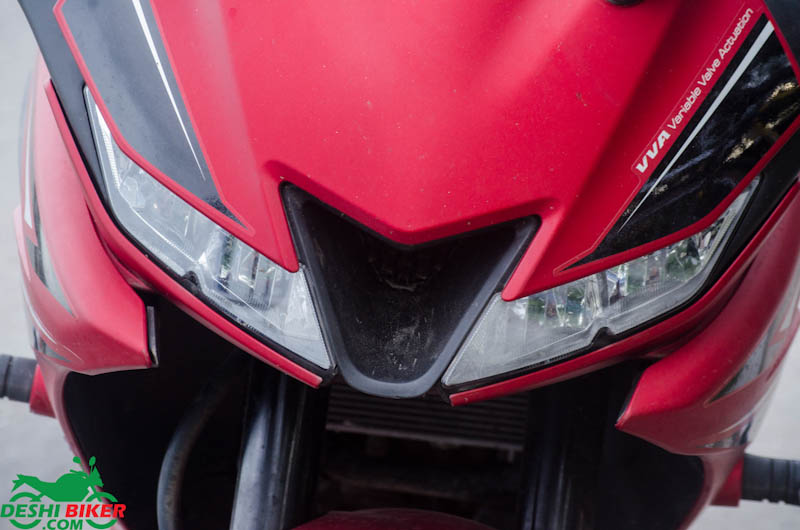 Auto Headlight On (AHO) system installed in this bike that's why the headlight automatic become ON just when start the switch. Head and Tail light of R15 V3 is LED which is a new additional of version. Though it's headlight looks little bit tiny but provide sufficient light. Over all it's front headlight make me happy. I hope any additional fog light installment won't require. Just like R15s and R15 V2 it's indicator lights situated in little bit lower position and just when it work, looks tremendous. It's indicator lights attached by a frame of rubber that's why it won't crush easily.
It's dashboard is totally digital and having all kind of necessary features like gear indicator, digital RPM meter/Tachometer, fuel guage, mileage reader, trip meter, clock, odometer, speedometer etc. But there is no top speed recorder here. It's fuel gauge provide exact data. Just to be mention that V3 also don't have any reserve switch for fuel warning purpose. That's why when it's fuel gauge will go to the last level and become blur in sometimes will mean it's don't have sufficient fuel in tank.
R15 V3 have an additional switch in hand for double indicator ON purpose which is really an important feature for a bike. For example if a biker wants to go forward in straight way can use this indicator. Not only like that this feature have different kind of use as well.
Just another positive side is you can move this handle bar far away which is helpful to turn around the bike within a short distance.
It's fuel tank looks nice. Though it seems very big but able to carry 11 liter fuel almost. Basically it's outer cover is made by plastic but having steel tank inside the cover. Plastic fuel tank have some negative and positive side you know. Overall it's fuel shape looks pretty and make me satisfied.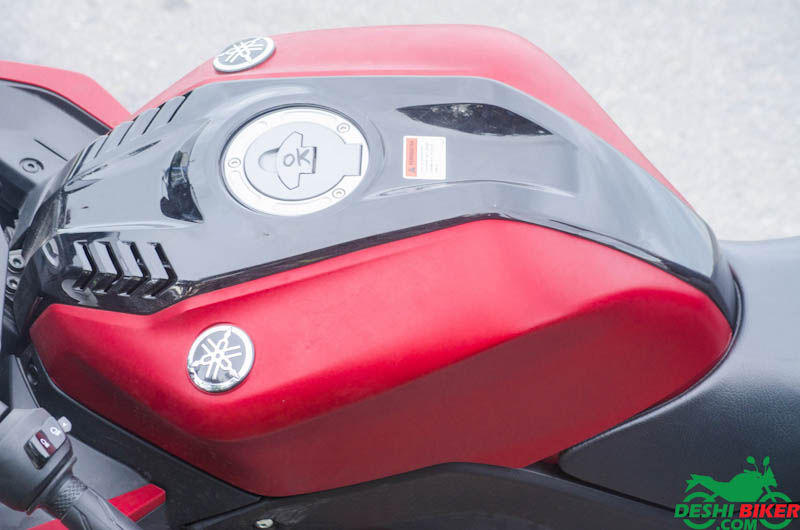 R15 Version 3.0 have the most powerful engine in Bangladesh so far and it can able to produce 19.04 Bhp. I have ride in hill areas like Rangamati & Khagrachari with pillion and effortlessly get up into the high hills. If ride in 1st gear at city or hill area it's engine become little bit hot isn't over hitted. As like other sports bike, water cooled technology used here to make the engine cool.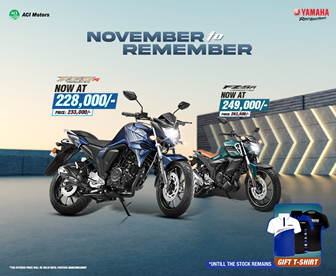 R15 V3 sitting positive is just like a traditional sport bike which looks very stylish. I have continuously ride around 640 km (Rangpur – Rangamati) with bike but didn't feel any back pain but make pressure in hand. Comparing other sports bike it's seat height, length and width is little bit more. R15 V3 is perfect for those rider whose height is more than 5 feet 8 inch and less than 5 feet 6 inch rider would face problem to ride this one.
Day by day sports bikes pillion seat is become uncomfortable for pillion where as V3 back seat is little bit more comfortable comparing CBR 150 Indo, Yamaha M Slaz etc. Though it's pillion seat height is little bit high like others but it's flat and that's why can easily move with a women pillion hopefully. But the seat is little bit hard and that's why it's tough to stay long.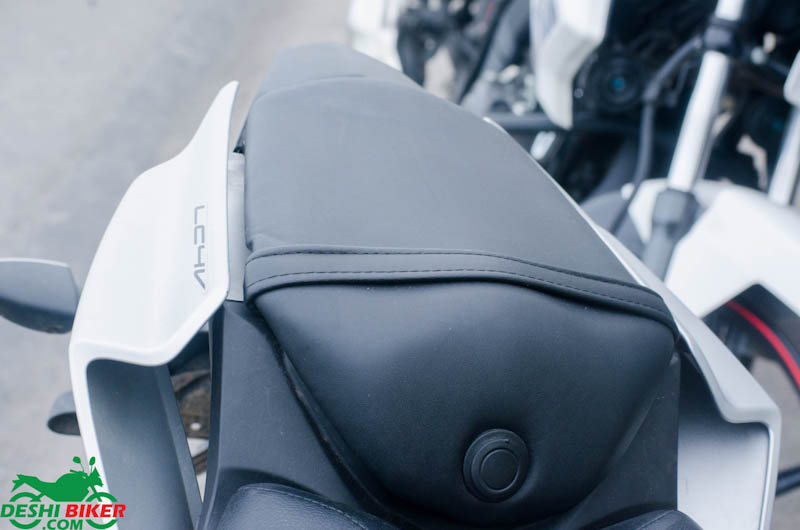 Based on RPM it's sound is little bit different and in both situation it's awesome to hear. But it's exhaust should be more stylish like other sports bikes.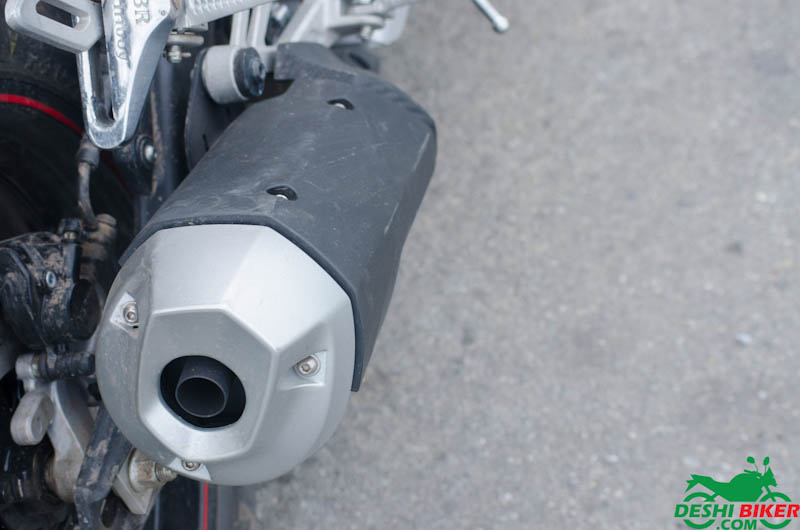 I will give 9 out of 10 to R15 V3 suspension. In one word, Yamaha used an excellent technology here. Cause of delicate situation of highway sometimes pass away over the hole and didn't see the speed breaker sometimes but didn't feel much more jerking. Even one of my pillion commented that it's feeling like a Volvo bus.
This bike have double disc brake and it's braking system is well enough. Specially it's rare disc brake make me more satisfied. Though it's don't have Anti lock braking (ABS) system which was expected. As far we are hearing that within next year V3 will come with ABS.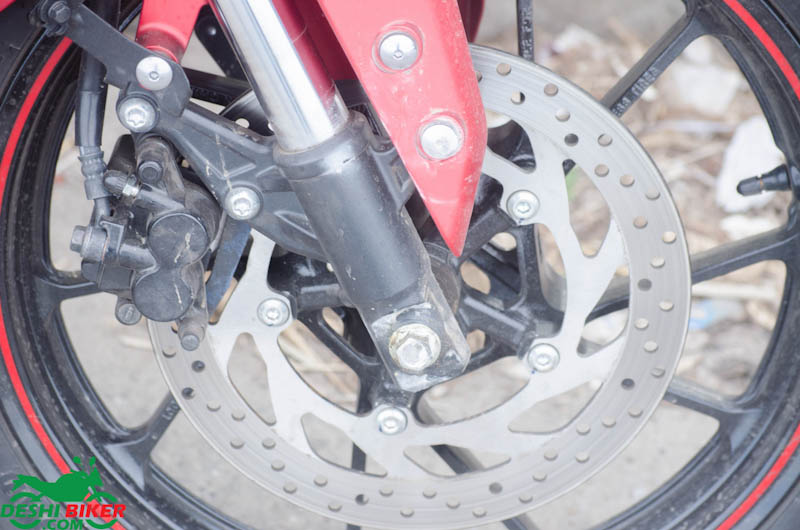 It's rare tyre is 140/70mm. Most of the bikers deserve wide tyre because it's useful and looks attractive. Comparing any other sports bike in Bangladesh it's rare tyre is more wide.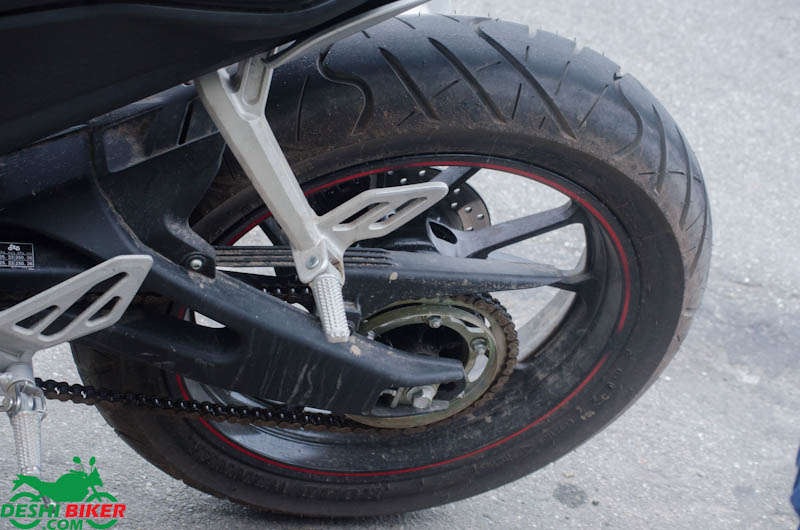 Usually a very new bike don't provide highest mileage where I'm a getting around 45+ km/L  mileage in city and highway. It's mileage reading in dashboard was make me surprised and then count the mileage manually and get the same result. It make me understood that blue core and VVA technology of Yamaha is really effective. Advantage of Blue code and VVA is it's utilize the engine power, keep the engine cool, increase fuel efficiency and guide the bike to get more top speed. It's air clear shape is too large and performance oriented.
I have discussed the top speed with some R15 V3 riders and they have claimed it's top speed 145+ km/H. Even a V3 rider said that he get the taste of Yamaha R3 is R15 V3. Top speed in my bike is 130 km/H so far and didn't try after that. It's acceleration is awesome and that's why this machine won't take more time up to 125 km/H. After then it's take little bit more time to increase the speed. I didn't feel any vibration in top speed as well. Cause of it's better acceleration capacity hopefully it can defeat any other sports in Bangladesh at drag race.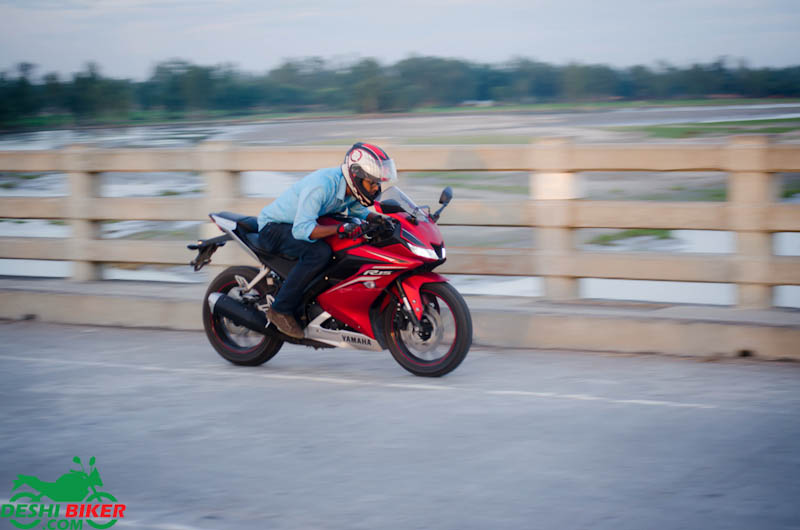 It have six speed gear box. Slipper clutch technology used in this bike which usually available in super bikes. Slipper clutch is a popular feature for racing track. This feature help a rider for better cornering by saving time. Cause of slipper clutch R15 V3 gear work smoothly.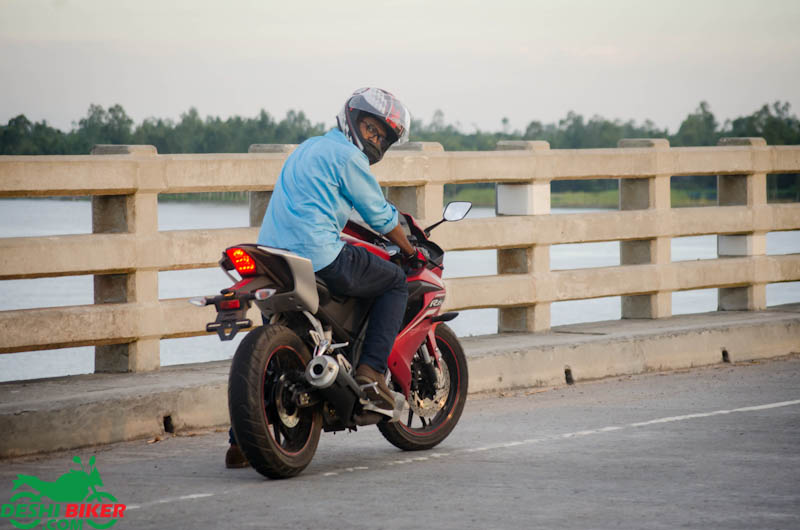 Though it's a high budget bike in Bangladesh but don't have any engine or service warranty as well which is really frustrating. It's really hard to find the spare parts of V3 right now but I hope within a short time this bike is increase in Bangladesh and spare parts will be available. Just like it's own price, V3 spare parts price also little bit high.
It's was my experience with Yamaha R15 V3. If anything went wrong hopefully will take it mercifully.
Written by: Dewan Sohan