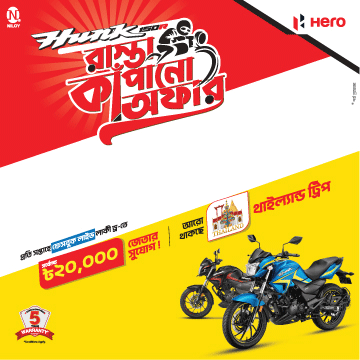 In Bangladesh, TVS Apache RTR 150 is one of the most talkative bike based on it's features, style and configuration. Along with popularity, people also criticize the bike as well. TVS is one of the renowned Indian brand and they have 200 cc bike in India which is the most popular 200 cc bike there. In Bangladesh, 200 cc bikes are not allowed but 150 RTR is available here instead. Young generation are almost crazy about it. As stated by TVS Bangladesh, the accurate displacement of Apache RTR is 147 cc but it is claimed that generally RTR bikes are 159 cc. I am a RTR user and today I will tell you the positive and negative sides of the bike neutrally.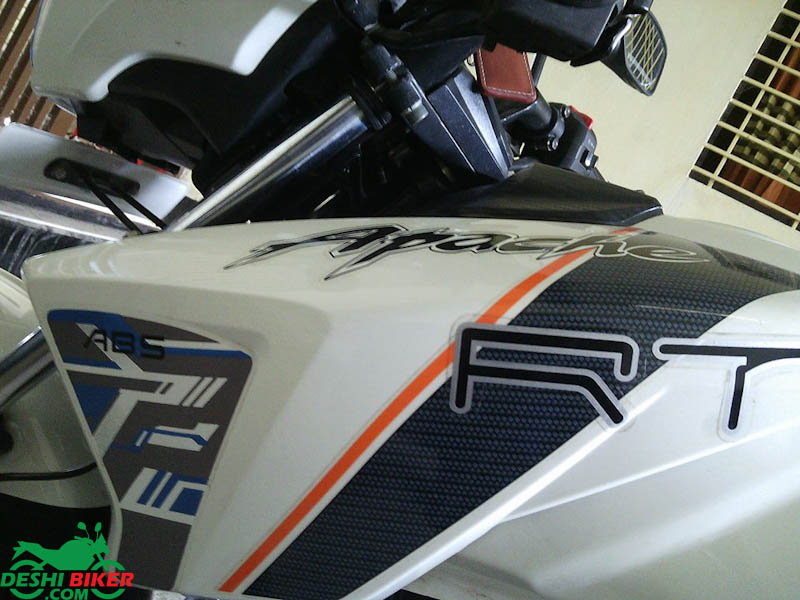 I can claim myself as a bike lover though earlier I have no personal bike. But since the childhood I was very fond of bikes and by when my father had Bajaj 4s Champion. But I learned to ride with my father's second bike Bajaj Boxer 100 AT and it was almost nine years ago. After that I rode plenty of different bikes where some of my father's, some from relatives and friends. But when the fact has come to buy my own bike, I was confused and my budget was two lacs. In the budget, which should I select because all are good. In my choice list, there are Bajaj Pulsar 150, Honda CB Trigger, Apache RTR, Hunk, Hero Xtreme Sports. Finally, time to judge.
If we consider the looks, we must admit that RTR has most stylish looks in this segment no doubt. But there is still questions beside looks. I consulted with some elder biker brothers. They provided me another important information which is the quick acceleration of RTR which is also called ready pickup. It is great about RTR and can make instant speed which means, the speed of RTR would be great. And 3rd point is, TVS is a leading Indian brand and so, it's resale value would be also good. So, based on this three important facts, I took RTR for my own and for a 26 years old rider, what else do I need?
In the meantime, I have rode more than 5000 km and travelled long ride as well. Here I have present the positive sides and problems of the bike. I have made facts point by point for your convenience.
1st – In the segment of naked edition, I love the looks of RTR very much personally. But also it is not refused by anyone. It has somewhat aggressive sports looks as well.
2nd – The headlamp of RTR is amazing specially it's parking light. Though, the power of headlamp is not high and so, causes problem during night ride. But as I know, Indian bikes have possessed the same problem. So, company should use LED light but also tail lamp is LED.
3rd – The quick acceleration of RTR is amazing. It defines the name of RTR which means, Racing Throttle Response. It can make 0 to 100 very quickly but later it takes time to make more speed. My bike's top speed is 107 km per hour till now and could increase more but road was not enough.
4th – I have changed the engine oil according to the rules. First time I changed it in 500 km and from then change it in every 1000 km. First engine oil was from the company, second was Visco 3000 and rest were Havoline 20w40. Among them, Havoline 20w40 suites the engine most it seems.
5th – I have got the average mileage 44 km. 6th – With my RTR, I have rode almost 300 km continuously but faced no problem at all. In that day, I made the highest speed of my bike which was 107 kmph. But engine went a little hot.
7th – I am not happy with the rear tyre of RTR. It should be 120/80 instead of 110/80 and then it's grip and balance would be great. Besides, we should maintain the tyre pressure according to the company manual. With excess tyre pressure, there is a possibility of skidding the bike. I used to keep 30 psi in front and 45 psi in rear tyre.
8th – Most of the persons used to complain the braking system of RTR but to me the major problem is rider than ride. Unexpert riders fail to control the machine as usual. Besides, stock tyres used to provide low grip and so, you should change the stock tyres and use MRF tyres instead. However, you should ride according to your capability which you can control. Over speed driving is always harmful. I generally keep my bike's speed within 60 to 70 kmph. It would be different if the road is clear. To get maximum good brake, you should use front and rear both brakes at the same time. If front tyre pressure remains high, then skidding possibility would increase. So, you should keep front tyre pressure low every time.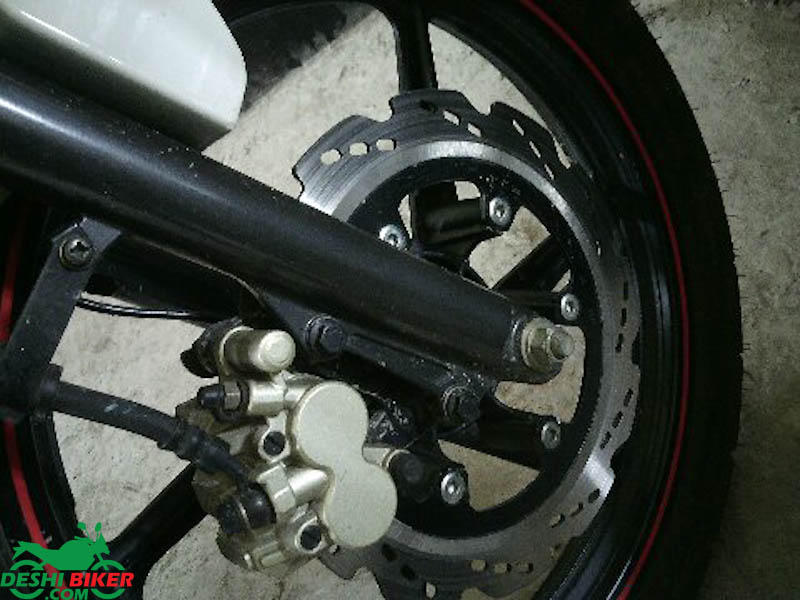 9th – Now come to the fact of vibration. It is the main problem of RTR it seems. Though earlier I did not know the fact completely. As my opinion, during 90 kmph speed, the bike used to vibrate a little but you can habituate in the fact within short time. In that case, with pillion, you feel more comfortable. But people says it is a vibration machine and something more. But the reality is different. Those who rides RTR for long can judge my comment better. Just received a few experience with RTR, you can not give good or bad certificate to a bike which is not logical.
10th – Here we come to the features of RTR. It has digital speedometer and analog tachometer. Among digital meter there are odometer, trip meter, fuel gauge, digital clock added. Though, the clock sometimes getting slow and till now I have to fix it twice times.


11th – Fuel tank or the body kits are not strong enough. Once my bike got hit with a pillar and as a result tank was bended. Fuel tank should be strong.
12th – The servicing center of TVS is almost everywhere in Bangladesh and they used to provide great service to the customers. After buying a bike, they provide four free full servicing in the first year along with four paid services where you have to pay just 200/- BDT and used to receive you preferred services. Besides, after every three months TVS company used to arrange free service campaign. To me, they are quite friendly and cordial. I have received their service and will do it continuously.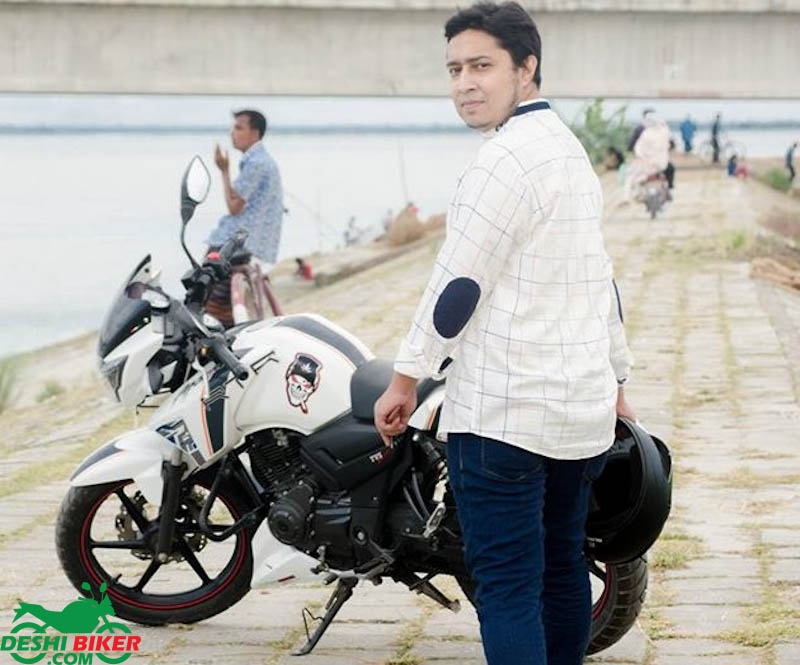 Finally I have to say that if you can act like an expert, then Apache RTR would provide you great service though you can not get the taste of R15 from the machine. But in the segment of naked edition standard bike, RTR is undoubtedly a great choice.