If we consider the top rated sports category bikes in Bangladesh, there are few bikes which are among the category. Some of them are 150 cc and some are 125 cc sports bikes. Though, we all know that 125 cc can not be compared with 150 cc bikes but considering the pirce range and brand origin, sometimes they can be compared. Today we would like to reveal a comparison about them. One is 125 cc top rated bike named Aprilia RS4 125 and other one is Suzuki GSX R150. Both are regarded as the top in their own segment. But their price ranges are around same. Suzuki GSX R150 is one of the best creation of Suzuki. Suzuki is the brand of Japan and we still consider Suzuki as one of the top four Japanese brand bike manufacturer. They have launched their top rated product GSX R150 almost a year ago and since the beginning, they have got the market as well as won the heart of young generation considering the looks and speed. Besides, price of the bike is comparatively reasonable. On the other side, Aprilia RS4 125 is the first bike of Aprilia in Bangladesh which has launched in the country a year ago as well. Aprilia is an Italian top bike manufacturing brand which is very demand-able throughout the World. It is their first product in Bangladesh. So, let's take a look below where we present a best quality comparison review between the bikes Aprilia RS4 125 and Suzuki GSX-R150.
Aprilia RS4 125 Vs Suzuki GSX-R150
| | | |
| --- | --- | --- |
| COMPARE | Aprilia RS4 125 | Suzuki GSX-R150 |
| Type | Sports | Sports |
| Origin |  Italy | Japan |
| Engine | 124.2cc, Aprilia single-cylinder, four stroke, fuel injection | Water-cooled, 4-stroke, DOHC 4-valve, 1-cylinder |
| Displacement | 124 cc | 147.3 |
| Maximum Power | 14.8 BHP @ 10500 rpm | 18.2 Bhp @ 10000 rpm |
| Maximum Torque | 10.9 NM @ 8250 rpm | 13.8 Nm @ 8500 rpm |
| No. of Cylinders | 1 | 1 |
| Cooling | Liquid Cooled | Liquid Cooled |
| No. of Gear |  6 | 6 |
| Starting system |   Electric | Electric |
| Kerb Weight |   134 kg | 131 kg |
| Ground Clearance | 135 mm | 160 mm |
| Seat Height | 820 mm | 785 mm |
| Fuel Tank Capacity | 14.5 L | 11 Liter |
| Front Tyre | 110/80 – 17 | 90/80-17 |
| Rear Tyre | 130/70-17 | 130/70-17 |
| Top Speed | 122 kmph | 155 kmph |
| Mileage |  35 kmpl | 40 |
| Price |   5,75,000.00 BDT | 3,99,000.00 BDT |
| More Details | Aprilia RS4 125 Specification | Suzuki GSX-R150 Specification |
# Looks: THe looks of Aprilia RS4 125 and Suzuki GSX R150 are very gorgeous and aggressive. Both are fully compatible as sports bikes. But especially for the racing track, Aprilia RS4 125 would be much more suitable. It has no pillion seat but seat only for rider. There are muscular fuel tank with full fairing body kit. The shades of the bike is also very good. Most amazing part of the bike is it's front end which is muscular and edgy. There are dual pit but very aggressive design headlamp. At the first look the bike seems very strong comparatively other sports bike. If we consider the looks of Suzuki GSX R150, it is also gorgeous looking sports bike and almost similar with it's high cc bikes. It has also fully racing body with aerodynamic fairings. The pillion seat is much higher and small. It has sporty exhaust with carbon fiber finished muffler and aggressive bikini fairing headlamp unit. There are three colors of Aprilia RS4 125 and four colors of Suzuki GSX R150 are available in Bangladesh right now.
# Engine Performance: Suzuki GSX R150 is a 150 cc bike where RS4 125 is a 125 cc bike. So, generally Suzuki has the most powerful engine no doubt. It consists if 147.3 cc engine that can generate 18.2 Bhp max power in 10000 rpm and 13.8 NM max torque. In the 150 cc segment. GSX R150 has the 2nd most powerful engine in Bangladesh right now. It has DOHC, four valve and one cylinder with liquid cooled engine. On the other side, Aprilia RS4 125 also has liquid cooled engine with 124.2 cc engine displacement. The bike gets the fuel injection technology with 14.8 Bhp max power and 10.9 NM max torque. Both Aprilia and Suzuki bikes have six speed gearbox added in each bike with electric starting system.
# Suspension & Brake: Suzuki is a Japanese brand and so, the parts of the bike is advanced no doubt. It has front telescopic forks suspension and rear mono shock suspension added. Besides, front and rear there are hydraulic disc brakes added into the bike where front disc is generally bigger. It has very much effective braking system but no ABS. However, Aprilia is Italian brand and so, very advanced quality suspensions installed into the bike. The front suspension is 41 mm upside down forks and rear suspension is asimmetric swingarm. Besides, it's front brake is really bigger which is 300 mm stainless steel disc and rear brake is 218 mm stainless steel.
# Comfort & Control: If we considering the comfort, no bike between GSX R150 and RS4 125 is very comfortable. They are both completely sports category bikes. GSX R150 has pillion seat but not comfortable. It has very small pillion seat which is much higher. Only light weight people can ride on it but female would not feel good as pillion. On the other hand, Aprilia RS4 125 has no pillion seat at all. But it's rider seat is very comfortable. For just one person the bike seems very good. Now, we are going to see the controlling. Both bikes have double hydraulic disc brake installed. The bike RS4 125 has bigger disc than GSX R150. But still, the brakes of Suzuki GSX R150 can control it's speed. Both bikes can provide very good controlling no offense.
# Fuel Consumption: Mileage is the most important fact for the general people. They often think of mileage before buying a motorcycle. In that case, though Aprilia has FI engine and it is 125 cc bike but due to powerful engine the bike's mileage is not so good. The average mileage of the bike is 35 km. On the other side, as 150 cc bike Suzuki GSX R150 is giving more mileage than Aprilia RS4 125. The average mileage of Suzuki GSX R150 is almost 40 km.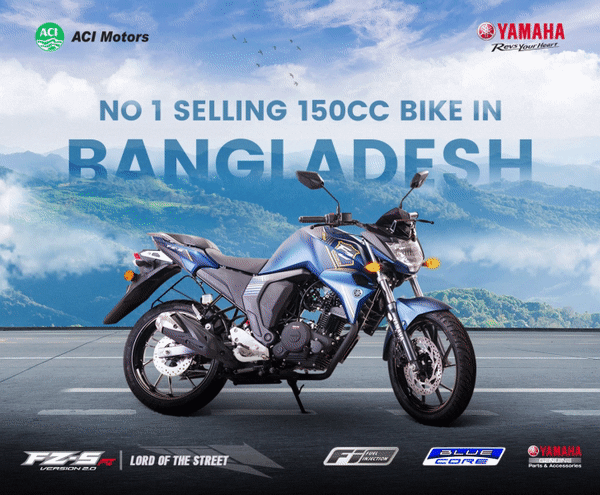 # Top Speed: Right now, in Bangladesh the most speedy bike is Suzuki GSX R150. Yes, this is the bike which can be called as speed machine as well. Considering speed, no bike can match with it. So, young generation are very fond of the bike. Reportedly the bike is giving more than 155 kmph top speed. On the other side, Aprilia RS4 125 would provide near about 122 kmph top speed reportedly.
# Price: Though, most of the cases, Suzuki GSX R150 is one step ahead than Aprilia RS4 125 but considering the price range, the bike Aprilia is far ahead than Suzuki. The Japanese company has kept the price range as expected it seems. So, the bike is now dominating the market in the segment. But due to high price tag, Aprilia RS4 125 can not claim the heart of people though it has very attractive looks and features. The current price of Aprilia RS4 125 is BDT 5,75,000 only and the price of Suzuki GSX R150 is BDT 3,99,000 only.
It seems that if you want to make a choice between them, it would be difficult. Because the both bikes have very big price difference. But if you have the budget and want to change your riding test, then should go for latest bike Aprilia RS4 125 but if you have pretty small budget and want a powerful engine, then GSX R150 would be best for you.