The acceptance of scooters is increasing day by day in Bangladesh. To full-fill this demand, many two-wheeler companies are launching various models scooters in the market. A few months ago, Suzuki launched a maxi scooter in Bangladesh and its called Suzuki Burgman Street 125.
Many people will get curious about what is a maxi scooter? Well, a maxi scooter usually means a touring scooter, that looks muscular and bigger sized. It looks sporty and its seating position is also comfortable. Along with city ride, this scooter is also suitable for a long tour. The seat is comperatively big and it's comfortable for rider and pillion both. The seat has large under-seat storage facilities to carry the necessary goods.
Though scooters are widely used for city ride but we did some long tours with scooter. The experience of the long tour on the scooter was great. Scooters are more comfortable on long tour than any standard or sports bike. Even after a long ride, you won't get fatigued.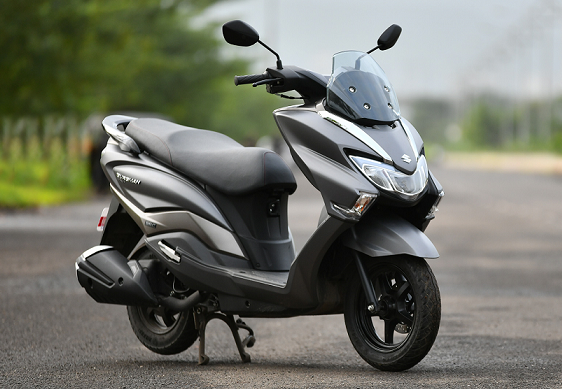 By the way, let's come to the point. Suzuki Burgman Street is a popular scooter series of Suzuki, which is made up of different CC's. Just as 125, 200, 400 and 650 cc's. Suzuki Burgman Steet 125 Being a scooter in this series, it looks like the scooters of the Higher CC. It's amazing to look at, stylish and sporty.
The headlamp unit looks stunning, U shaped and LED. The indicator lights are also beautifully adjusted to the body. Front end chromium finished gives it a decent look. The maxi-scooters windscreen is usually a bit larger, where the Burgman Street 125 windscreen is a little smaller. It was originally designed to conform to the design of the scooter.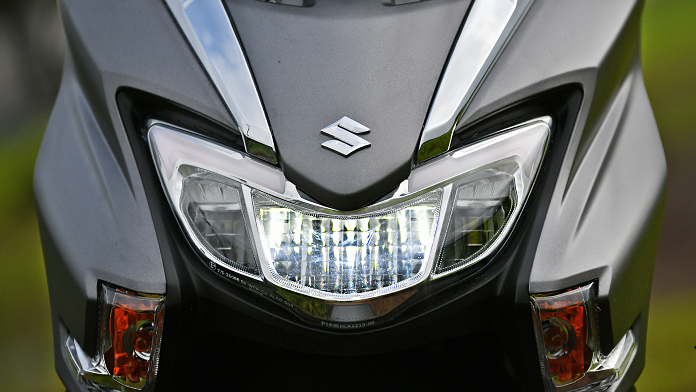 The seat is quite large and wide, that's comfortable for rider and pillion both. The handlebar is very nicely designed. Not only that, its comfortable seat with an up-raised handlebar makes its riding position super comfortable. Flexi foot position is added to enhance riders' comfort. This is an amazing machine to run for a long time. You will understand how the feedback on a long ride if you ride on a maxi scooter.
Looks and comfort, these two things that make this scooter special. This Japanese brand scooter is now available at any Rancon Motorbikes Ltd authorized showroom.
Suzuki Burgman Street 125 equipped with the same Suzuki Access 125's 124cc carburetor engine which is single-cylinder, four-stroke, and two-valve. The air-cooled system is used for cooling the engine. This engine can produce 8.6 bhp maximum power at 7000 rpm and 10.2 Nm torque at 5000 rpm. But the Burgmans engine is more smooth and refined than Access. That's why this scooter's power delivery and throttle response comperatively sound better.
Like other scooters, it doesn't need any gear shifting. It gets Continuously Variable Transmission (CVT), which is more effective than traditional Automatic Transmission. This feature will help to get better mileage. Suzuki claims that this scooter can provide 53 km/l average mileage and the fuel tank capacity is just as Suzuki Access, that's 5.6 L. Self and Kick both types of starter are available in this scooter.
Though the ground clearance is 160 mm like Suzuki Access, but it gets some changes in height, width, length, seat height, and weight. The length of this scooter is 1880 and seat height 780 mm. The scooter looks quite large in size, but the weight is relatively low, which is 108 kg. Many riders will probably like it because of the lightweight.
They used a telescopic fork in front and hydraulic mono-shock suspension in the rear wheel. The front alloy wheel is 2 inches bigger than the rear rim which is 12 inches. 90/90 sections tubeless tyres are used in front and rear wheels.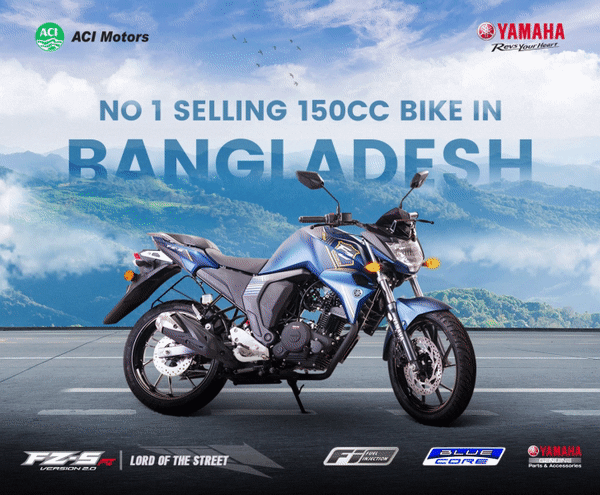 Suzuki has also given a lot of attention to this scooter's braking. They installed 170 mm disc brake in front and 130 mm drum brake in the rear wheel. Not only that, they improved this scooter's braking system installing a Combined Braking System (CBS). When will you press its front brake it will automatically activate in both wheel. For that, it will provide proper braking and will reduce the skid possibility.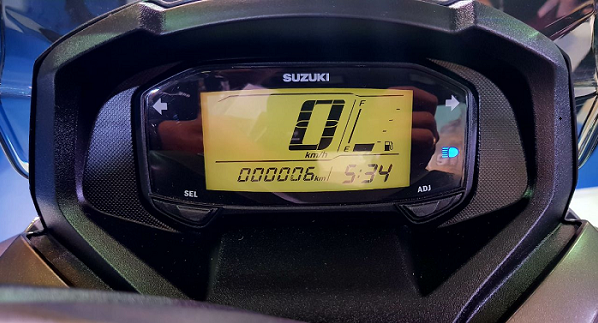 Suzuki Burgman Street 125 gets a fully digital instrument panel almost like Suzuki Gixxer. You will have all the essential features of it. Its instrument panel is placed in front of the handlebar, which will give you a different feel than other scooters.
Burgman's under-seat storage is 21.5 L where you can carry many things.
There are 2 hooks for carrying luggage at the near rider's feet. The rider has a rack of an equal volume of 2 liters near the rider's hand to hold a pot of water from 1 to 1.5 liters. On the left side, there is another Glovebox that will get a DC socket for mobile charging. You can install the mobile charge option at any time if you want.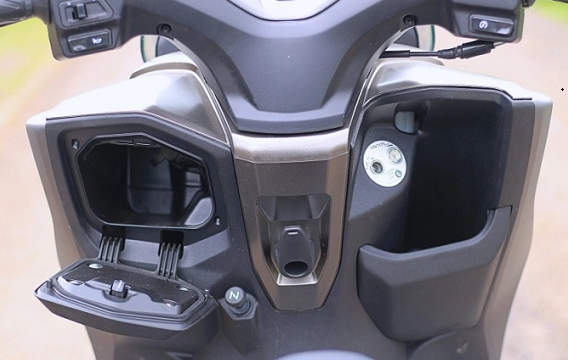 Suzuki has focused on everything they can to make this scooter a premium one. Key Shutter Lock Used With Ignition Switch For Special Security. The foot-rest of the pillion is made of aluminum. The grabrail is also made of metal and it's quite thick. The Suzuki and Bergman 3D logo is used in this. It's three colors are available in the market, those are White, Grey and Black.
For those who want the best comforts in riding, looking for a high-quality scooter and wish to ride a long ride alongside the City Ride, this scooter might be one of the best choice.
Always wear a helmet and safety guards during a ride.
Live Free, Ride Safe./.