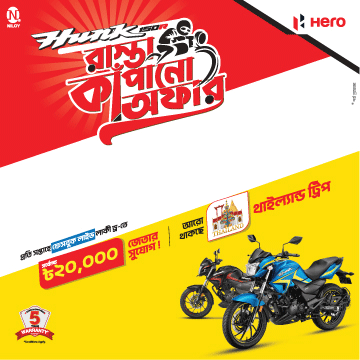 Yamaha R15 V3.0 and Honda CBR 150R are the two most talkative sports bike in Bangladesh which are regarded as the best two bikes in the segment as well. Between them R15 is the most demanded since the beginning. But now, the latest version of Yamaha R15 is available in market which is called as V3.0. It is much more aggressive and advanced technology added. Yamaha has launched V3.0 after number of years where V2.0 dominated the market for long. But later, Honda released their trump card CBR 150R which is the dual headlamp version and so, the demand of V2.0 was reduced. So, Yamaha launched V3.0 to claim the market once again and they are quite successful in that case. V3.0 is one step ahead than Honda CBR 150R in all cases and there are no bikes to compete with the version of R15 right now. But still, people loves Honda CBR 150R which has also aggressive looks. Basically, CBR 150R can be compared with Yamaha R15 V2.0 much and CBR indo is comparatively better than V2.0. But against V3.0, it seems not suitable. So, Honda is planning to bring something new but already in 2018, they have launched CBR 150R with all new shades. Due to the same segment sports bikes, we have come to make a comparison review between the bikes. Let's check the details below.
Yamaha R15 V3 Vs Honda CBR 150R
COMPARE
Yamaha R15 V3.0
Honda CBR 150R
Type
Sports
Sports
Origin
Japan
Japan
Engine
Liquid-cooled, 4-stroke, SOHC, 4-valve, Fi, Single Cylinder
Single Cylinder, Four Stroke, Liquid Cooled SI Engine
Displacement
155.1 cc
149.16 cc
Maximum Power
19.04 Bhp @ 10000 rpm
17.1 BHP (12.6KW) @ 9000RPM
Maximum Torque
14.7 NM @ 8500 rpm
13.7NM @ 7000RPM
No. of Cylinders
1
1
Cooling
Liquid Cooled
Liquid Cooled
No. of Gear
6
6
Starting system
Electric Start
Self Start
Clutch
Wet Type Multi-Plate
Wet Multi Plate
Kerb Weight
137 kg
135 kg
Length
1990 mm
1983 mm
Width
725 mm
694 mm
Height
1135 mm
1038 mm
Seat Height
815 mm
787 mm
Wheelbase
1325 mm
1311 mm
Fuel Tank Capacity
11 litres
12 litres
Top Speed

150 KM/H
145 KM/H
Mileage
44 kmpl
45 KM/L
Front Tyre
100/80-17M/C 52P
100/80-17
Rear Tyre
140/70-17M/C 66S
130/70-17
Price
525,000 BDT
450,000 BDT
More Details

R15 V3 Full

Specs
CBR 150R Full Specs
# Looks: First of all we have come to compare the looks of R15 V3.0 and CBR 150R. Both are very aggressive looking full faired sports bikes in Bangladesh right now, and considering the young generation's demand, both of them are standing on the top position. R15 V3.0 has come with completely unique looking which can be compared with Yamaha R1 or some high segmented bikes. Basically in 150 cc sports category bikes, the same looks are not available right now. It has aggressive design headlamp with splitted and higher rear end. But pillion seat is comfortable. The fuel tank seems bigger but can contain 11 litres of fuel. It has stylish alloy wheels with rear wide tyres. Generally sports category bikes has no wide rear tyre but in the bike R15 V3.0 there are 140 section rear tyre added. Now, come to consider the looks of Honda CBR 150R which is also called Indonesian version or dual headlamp version. It is much more aggressive than the single headlamp version. Besides, it's colors are highly attractive. It has also a repsol version available which is a dream bike of most of the young riders. The bike's front end is very gorgeous and stylish looking. It has splitted seat but rear seat is comparatively better than V3.0. Both R15 V3.0 and CBR 150R are very attractive looking bikes and now, the choice will depend on the riders. # Engine Performance: Yamaha and Honda both are top rated Japanese brands and so, their quality are undoubtedly very good. The both bikes are assembled in Indonesia where Yamaha R15 V3.0 consists of four stroke, four valve, one cylinder and FI engine which is also SOHC. It has 155.1 cc engine that can generate 19.04 Bhp max power and 14.7 NM max torque. The bike possesses the most powerful engine in Bangladesh right now. It has liquid cooled engine with six speed gearbox. The bike also has VVA and Blue Core technology with slipper clutch function. On the other side, Honda CBR 150R has also very much reliable Japanese engine. Consists of one cylinder, four stroke and SI engine the bike has actual displacement is 149.16 cc. The engine can create 17.1 Bhpo max power and 13.7 NM max torque. It has also very powerful engine but considering engine power, R15 V3.0 is one step ahead. It has also six speed gearbox with wet multi plate clutch.
# Suspension & Brake: The suspensions of the bikes R15 and CBR 150R are also very good and reliable. In R15 V3.0 there are front telescopic USD suspension and rear monoshock suspension added. Besides, it has double hydraulic disc brakes added where front disc is bigger which is 282 mm and rear disc is 240 mm. In the case of Honda CBR 150R Indo, there are front telescopic suspension added and rear suspension is spring loaded hydraulic. It has front 276 mm disc and rear disc is 220 mm. Due to very high quality suspensions, both bikes are providing very higher level comfort even riding on the tough roads. However, double hydraulic disc brakes are very charming and for amateur riders, it would be very helpful.
# Comfort & Control: Both Yamaha R15 V3.0 and Honda CBR 150R Indo bikes have double hydraulic disc brakes. So, there would be no question raise about the controlling. The best controlling system installed into both bikes. There are still no complain about the braking system of Yamaha and Honda company bikes. However, now we can focus to the comfort. Both are high quality sports bikes and so, they have splitted seats attached. So, for female pillion it would be tough to ride comfortably. But considering both bikes, R15 has better seating position which is also bigger, plain and comfortable. But during long ride, both male and female pillion would face problem. Generally sports bikes causes back pain during long ride and it seems true for both R15 V3.0 and CBR 150R. But comparative for rider, the seating position of Honda CBR 150R is better.
# Fuel Consumption: Generally we all know that sports category bikes are providing very poor mileage but on the case of R15 and CBR, both have very upgraded engine and so, their mileage are awesome. From the users of Yamaha R15 V3.0, we have known that the bike used to provide more than 44 km average mileage. It is so much surprising. On the other hand, Honda CBR 150R is also giving very handsome mileage. Reportedly the bike provides almost 45 km average mileage. Both bikes have powerful but refined and fuel efficient engines and so, they have filled up the demand of the general people.
# Top Speed: Generally sports bikes are good for speed. In that case, Honda CBR and Yamaha R15 will not disappoint the riders. The speed of R15 is better than CBR where CBR is much more comfortable for long ride. They are best in their different ways. Yamaha R15 V3.0 will give more than 150 kmph top speed reportedly where Honda CBR 150R will give near about 145 kmph top speed.
# Price: The both bikes are one of the two top rated products in Bangladesh and also they are the expensive bikes as well. The price of Yamaha R15 V3.0 is much more higher than Honda CBR 150R Indo. The current price of the bike is BDT 525,000 only. On the other hand, the price of Honda CBR 150R is BDT 450,000 only. The price of the bikes are much higher for general people. Hopefully in near future, the price ranges of such category bikes would be reasonable.
Here we have presented above the full comparison review between the bikes Yamaha R15 V3.0 and Honda CBR 150R. The bikes are very much popular and we can not say which one will be best choice. It will completely depend on the riders. If you have the budget and want to ride something new and advanced, they R15 V3.0 would be a very good choice but for build in quality and long lasting ride, Honda CBR 150R always will be good choice for you.