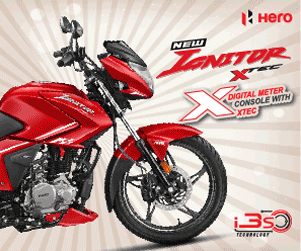 There have some biker who give their main importance in comfortable riding and scooter is specially complementary for them. But traditional scooters look can't satisfy and impress a biker. Today, I will introduce you with a scooter named Yamaha Ray ZR which design, concept, aggressive and sporty.
Yamaha's Bangladesh distributor ACI motors launched Yamaha Ray ZR in last 19th august and its retail price is 152,000 tk only. Even before few importer import some amount of Ray ZR and the price was around 205,000 tk. But in present, only ACI motors ltd hold the rights to import any Yamaha's bike/scooter.
Dhaka to cox's bazar nonstop riding, off road test in kuakata tour, city ride in Dhaka, overall our team Deshi biker ride Yamaha Ray ZR scooter almost 2600 km. We think that's enough to know about a scooters performance. Before start writing we must say, this Yamaha Ray ZR scooter attracted us in scooter segment.
If a biker has madness about bikes, then he would be fall in in love with Ray ZR. What we find in this bike and what we don't, now we will help you to find out in this review.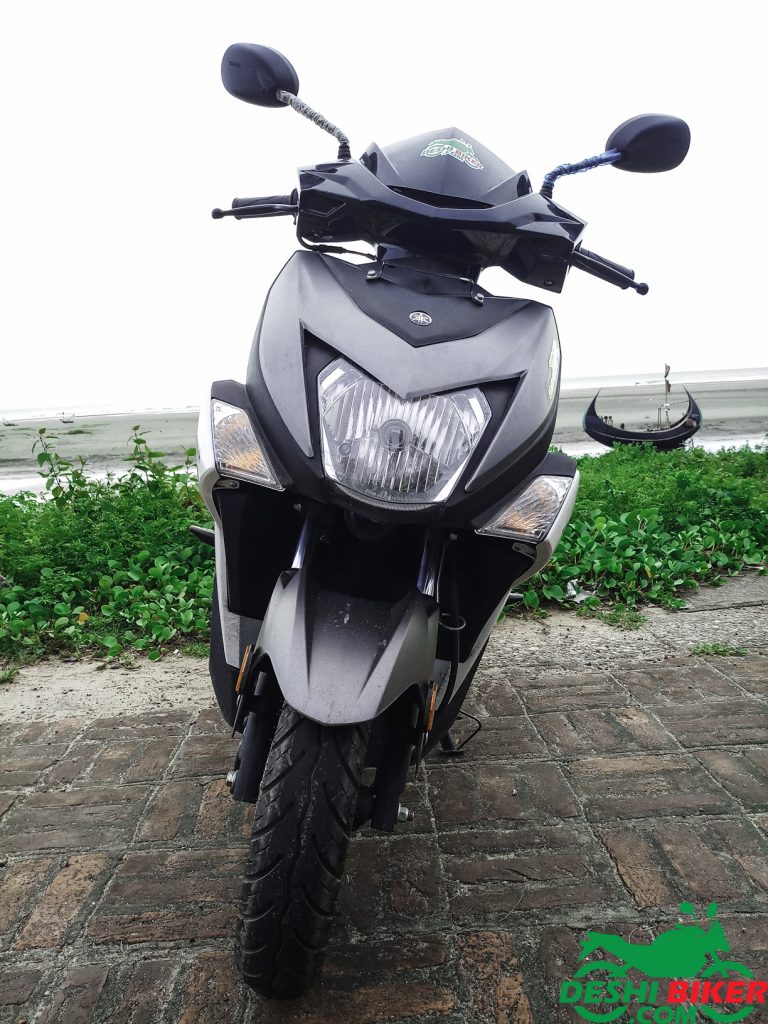 Bike or scooter, a buyer always think about its look at first. For that Ray ZR will be ahead from any compatible scooter. We found sporty looks in this scooter.
Yamaha always care for their braking system and Ray ZR is not peculiar from it. 170mm disc brake use in front and 130mm drum brake in rear. We will give 100 out of 100 for its braking. You won't lean forward in hard braking which will give extra comfort. In the beginning, the front disc didn't work properly. But after 1000 km it's start to give suitably.
We get dissatisfied for its mileage in break-in-period. But after riding, its mileage starts to getting better. At last we get the highest mileage of 46 km/L. Its dashboard is analog but it has all the essential features like speedometer, odometer, fuel gauge etc.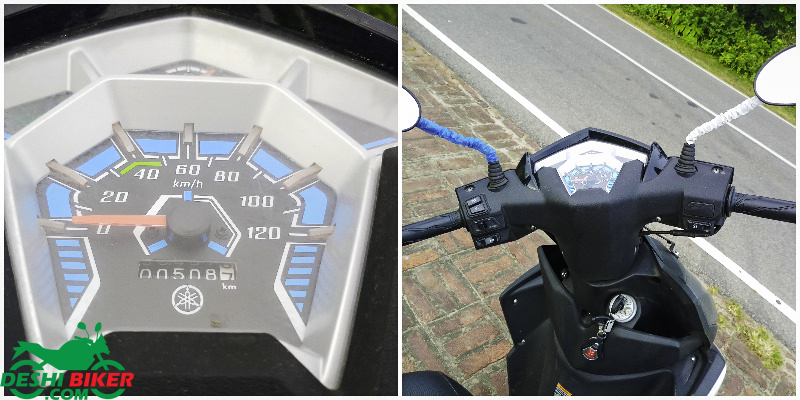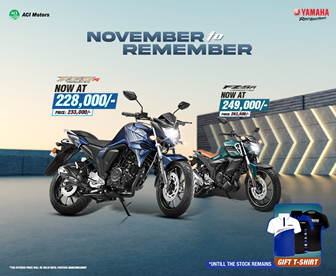 Ray ZR has a wide seat which will give comfort to the rider and pillion both. Scooty! Less speed? Or not suitable for long tour? If you have these questions in mind, then you are wrong. This Yamaha 113cc scooter powered by blue-core air cooled engine which can generates 7 bph maximum power and 8.1 Nm torque. We got the top speed of 100 km/h. It can also hit 0-80 km/h in a short time with a heavy pillion.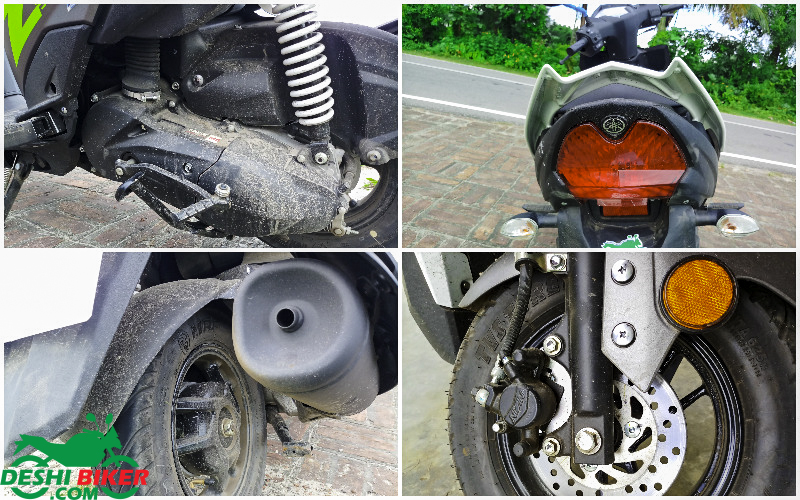 How powerful the headlight is or is it perfect for high way riding? The answer is "YES". This 12v halogen headlamp has enough power for any road condition. This scooter sounds excellent in high and low rpm. When will you passing through some other bike or someone, they will notice its windy sound.
10" metal sheets are used in front and rear wheel and they are covered with TVS 90/90-10 tubeless tyre. Its tyre grip is excellent and less chance to skid. This scooters riding position is suitable for long riding. Those who like long riding, they can prop it in their top list without a doubt.
We like almost everything of Ray ZR but its Horne's sound is not sufficient as Yamaha Fascino. It would be louder. The indicator light signal is not so clear. That's why it's hard to understand the indicators light is on or off.
Electric and kick starter both are available in this bike. V-belt automatic gear box is used in this scooter. This 103 kg scooter has large 21 litter size storage in under the seat and 2 small size storage near riders' hand. It will get smoother after 1000 km and its acceleration is attracted us mostly. It's the most positive side after looks.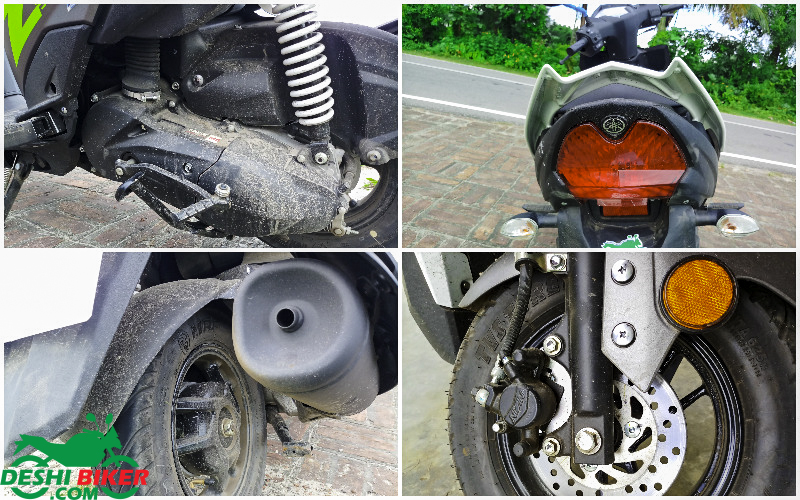 Telescopic fork suspension in front and unit swing suspension is used in Ray ZR and its response is excellent. It's little bit hard to ride in off road for its low kerb weight.
Before the announcement of price, we thought this scooters price will be 170,000-180,000 taka. We were surprised after seeing the market price is 152,000 taka only. For all that Ray ZR is efficient for its price of 152,000 taka. In present, you can find this scooter in any Yamaha's Dealer.
Written by: Ashik Mahmud