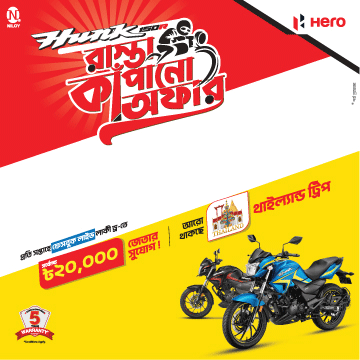 If we consider 125 cc bikes in Bangladesh, they are highly demanded. There are some most popular 125 cc bikes available where among them Yamaha Saluto, Hero Glamour, TVS Stryker, Home CB Shine and Bajaj Discover 125 are the best. But today we would like to make a comparison review between Yamaha Saluto and TVS Stryker. Both are 125 cc bikes and best for mileage. Though, Stryker has the most attractive looks than Yamaha Saluto, to speak the truth. Both bikes are almost new in marker though earlier, the first version of TVS Stryker was available. And now, it has come with completely new looks. And on the other side, Yamaha Saluto is another 125 cc bike which is now very demanded in market. It is also called as the king of mileage so far. Company says the mileage would be more than 70 km.  But it still could not beat TVS Stryker considering mileage. However, earlier we have made comparison review between Yamaha Saluto and Bajaj Discover, Yamaha Saluto and Hero Glamour. Our today's topic is to make a comparison review between Yamaha Saluto and TVS Stryker. Let's take a look below where we present the comparison review between the bikes.
YAMAHA SALUTO VS TVS STRYKER
COMPARE

SALUTO

STRYKER
Type
Standard
Standard
Origin
Japan
India
Engine
Air cooled, 4-stroke, SOHC, 2-valve
Single cylinder, 4 stroke, Air cooled, Spark ignition
Displacement
125 cc
125 cc
Maximum Power
8.18 Bhp @ 7000 rpm
11 Bhp @ 8000 rpm
Maximum Torque
10.1 Nm @ 4500 rpm
10.8 Nm @ 5500 rpm
No. of Cylinders
 1
1
Cooling
Air Cooled
Air Cooled
No. of Gear
 4
4
Starting system
Electric & kick Start
Electric & Kick
Clutch
Wet Type Multiplate
Wet Type Multiplate
Kerb Weight
113 kg
117 Kg
Length
2035 mm
2013
Width
720 mm
752 mm
Height
1090 mm
1085 mm
Wheelbase
1265 mm
1273 mm
Seat Height
805 mm
–
Fuel Tank Capacity
7.6 litres
10 litres
Top Speed

98 KM/H
100 KM/H
Mileage
65 KM/L
65 KM/L
Front Tyre
80/100-18 47P
2.75 – 17
Rear Tyre
80/100-18 54P
90/90 – 17
Price
1,46,000 BDT
1,22,900 BDT
More Details

Saluto Full

Specs
Stryker Full Specs
# Looks: At first we have come to compare the looks. If we see the looks of Yamaha Saluto 125, it has pretty decent looks with attractive fuel tank that is fully muscular and compatible for all aged people. It has long seating position with standard pillion grabrail. There is simple and unique looking front end with attractive headlamp. It has decent handlebar with slim and standard exhaust. The engine is fully naked but attractive body graphics attached. On the other hand, TVS Stryker has muscular fuel tank with also attractive body graphics added. It has long seating position with long pillion grabrail where some backpack can be added. It has slim exhaust with attractive tail lamp just similar as RTR 160. The engine is naked but it has attractive front end with eye catchy headlamp. The handlebar is also standard and during long journey, it can give painless ride. So, comparing the looks we can keep ahead TVS Stryker 125 only for a little but also Yamaha Saluto would be a great choice no doubt. # Engine Performance: Yamaha Saluto is a 125 cc bike and actual displacement is the same 125. The engine is air cooled, four stroke, SOHC and two valve added. The engine can generate 8.18 Bhp max power and 10.1 NM max torque. It has wet type multi-plate clutch just like TVS Stryker. The Japanese engine can give guarantee for longevity. On the other hand, TVS Stryker is an Indian assembled bike which is also the origin of India. It has also 125 cc engine that consists of single cylinder, four stroke, air cooled and spark ignition system added. The engine can create 11 Bhp max power and 10.8 NM max torque. It has also four speed gearbox added. Comparing the engine power, the bike TVS Stryker has the more powerful 125 cc engine than Yamaha Saluto.
# Suspension & Brake: Yamaha Saluto has telescopic fork front suspension and the rear suspension is swing arm. Besides, if we consider the braking system, it has also two different braking versions available in market. Normally people used to buy front brake with rear drum brake version. The other version of the bike has front and rear drum brake where 130 mm drum each. On the other side, TVS Stryker has front telescopic hydraulic type suspension and rear suspension is toggle link with hydraulic damper. Besides, it has front disc and rear drum brake added.
# Comfort & Control: If we consider the comfort, both TVS Stryker and Yamaha Saluto have very comfortable and well measured seating position. They are also wide enough. Both bikes can carry two pillion at a time it seems. Now, considering the controlling, both bikes have front hydraulic disc brake each and so, the braking system as well as the controlling of the bikes are very satisfying level. Generally in Bangladesh, people are very familiar with the braking system.
# Fuel Consumption: It can be called that Yamaha Saluto is a "King of Mileage'. It means the bike can give very handsome mileage than the same segment bikes. Some says the average mileage of the bike can cross 70 km but hopefully it would not less than 65 km so far. On the other hand, the bike TVS Stryker would not disappoint you. With the charming looks, the bike also can give almost 65 km average mileage reportedly.
# Top Speed:If we consider the top speed, both Stryker and Saluto are 125 cc bikes. So, considering the segment the bikes can give very handsome top speed reportedly. If we look to the Saluto, it can give more than 96 kmph top speed reportedly but the bike TVS Stryker can give more than 100 kmph top speed so far.
# Price: If we consider 125 cc bikes, the price of Yamaha Saluto is pretty more than rest available Indian brand same segment bikes. In that case of TVS Stryker and Yamaha Saluto, it remains same. The bike Yamaha Saluto is available in Bangladesh in exchange for BDT 1,46,000 only. On the other hand, the price of TVS Stryker is BDT 1,22,900 only.
By analyzing above all statistics, we can clearly seen that both bikes Yamaha Saluto and TVS Stryker are very good in the segment. If you want more reliable engine with decent looking and handsome mileage, the bike Yamaha Saluto would be good for you. But, pretty young aged people who wants handsome speed, attractive looks and great mileage TVS Stryker would be a good choice as well.