Taro GP 1 and Suzuki Gixxer SF both are almost the same segmented sports bike. Today we would like to make a comparative discussion between these two bikes. Gixxer SF is a 155 cc sports bike which is a product of Suzuki in Japan and Taro is an Italian brand but the bike GP 1 is assembled in China. Both of them consist of attractive features included. Gixxer SF is currently available in Bangladesh as one of the most popular sports bikes where Taro GP 1 is the latest addition that yet to launch in the country. Let's see their comparative details below.
Suzuki Gixxer SF Vs Taro GP 1 Valerio
| | | |
| --- | --- | --- |
| COMPARE | Suzuki Gixxer SF | Taro GP-1 Valerio |
| Type | Sports | Sports |
| Origin | Japan | Italy |
| Engine | 4-stroke, 1-cylinder, air-cooled, BS4 | Single Cylinder, 4-Stroke, Water Cooled, Chamshift Overhead |
| Displacement | 154.9 cc | 149.9 cc |
| Maximum Power | 14.6 BHP @ 8000 rpm | 16 Bhp @ 8500 rpm |
| Maximum Torque | 14 NM @ 6000 rpm | 14.5 Nm @ 7000 rpm |
| No. of Cylinders | 1 | 1 |
| Cooling | Air-cooled | Water Cooled |
| No. of Gear | 5 | 6 |
| Starting system | Self Start | Electric |
| Clutch | Multiplate | Wet Type |
| Kerb Weight | 139 kg | 155 kg |
| Length | 2050 mm | 2050 mm |
| Width | 785 mm | 720 mm |
| Height | 1085 mm | 1155 mm |
| Seat Height | 780 mm | 800 mm |
| Wheelbase | 1330 mm | 1422 mm |
| Fuel Tank Capacity | 12 liters | 13.5 liters |
| Top Speed | 135 kmph | 130+ kmph |
| Mileage | 45 kmpl | 35+ kmpl |
| Front Tyre | 100/80-R17 | 110/70-17 |
| Rear Tyre | 140/60-R17 | 150/70-17 |
| Price | 2,64,950 BDT | 299,000 BDT |
| More Details | Gixxer SF full Specification | Taro GP-1 Valerio Full Specification |
# Looks: Suzuki Gixxer SF and Taro GP 1 Valerio both are full faired sports bikes. But if we compare the looks between Gixxer SF and GP 1, we must keep ahead Taro GP 1 ahead. It is full sports-looking bike with most attractive fairings. It has a sharp front end with dual and charming headlamp which is also sharp. On the other side, Gixxer SF is also full faired but not as full sporty design. It has wide front end though it's built-in quality is awesome. It has a single headlamp which is pretty different and considering the front end, it seems a snake style. But, GP 1 is more attractive than Gixxer SF with full aerodynamic design. At the first sight, it can beat Gixxer SF no doubt.
# Engine Performance: If we consider the engine power between the two bikes, Gixxer SF has a more reliable engine than Taro GP 1 but the engine of Taro GP 1 is more powerful it seems. Though GP 1 has water-cooled engine which is also camshaft overhead but no BS 4 technology was added there. On the other side, Gixxer SF has BS 4 engine with air-cooled engine. If we look to the sports segmented other bikes, we see that sports bike consists of water-cooled or liquid-cooled or oil-cooled engine but Suzuki Gixxer SF has no such cooling system but air-cooled engine. In that case, Taro GP 1 is ahead of them. Powered by 155 cc engine, SF has 14.6 Bhp max power in 8000 rpm and Taro GP 1 has 150 cc engine that can create 16 Bhp max power in 8500 rpm. Gixxer has a five-speed gearbox where GP 1 has six-speed gearbox. 
# Suspension & Brake: Suzuki Gixxer SF has very reliable and comfortable suspension which has telescopic suspension in front and rear suspension is mono shock which is seven steps adjustable. Besides, the bike has both disc brakes where the front disc has 266 mm. In that case, Taro GP 1 is ahead one step. It has 300 mm disc brake in front which is pretty bigger. Besides, it's front suspension is bit different which is a positive shock absorber and rear suspension is mono.
# Comfort & Control: If we consider the controlling of the both bikes, we must know better about Gixxer SF which is a popular bike in Bangladesh. Due to dual hydraulic disc brake, controlling is amazing. Besides, it has single-plate seat which is comfortable but seems not so sporty as well. On the other side, Taro GP 1 has splitted seat which is full sporty but seems heavy comfortable. It has also front dual disc and rear single disc. So, control would not be compromised.
# Fuel Consumption: Here comes the main fact which is the mileage. The fuel consumption rate of the bike GP 1 is higher and so, it would provide low mileage to the biker. Average mileage of the bike is almost 35 km where Gixxer SF has BS4 engine which makes it a fuel-efficient one. The average mileage of the bike Gixxer SF is almost 40 to 45 km. So, in the case of mileage, Gixxer SF is much better than GP 1.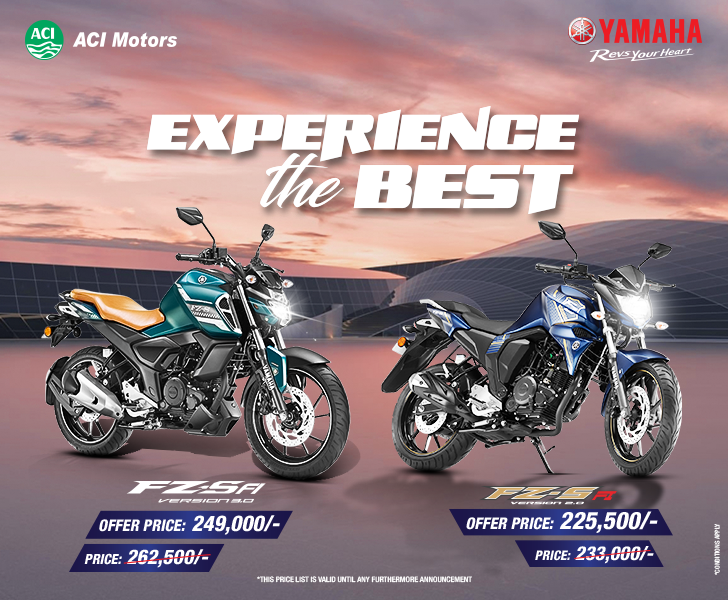 # Top Speed: Due to full aerodynamic body kit, Taro GP 1 can compete with legendary R15, GSX R15 and some other sports bike considering the speed. It would provide reportedly more than 140 kmph top speed which is better than Gixxer SF. Gixxer SF has also good speed which can easily cross 135 kmph reportedly.
# Price: At the end of the all discussion, we are here to learn about the price of the two bikes. Taro GP 1 consists of a bit high price tag added. Its the price is BDT 2,99,000 only where the current price of Gixxer SF is BDT 2,64,500 only.
Here we provide a details comparative review of the bikes Taro GP 1 and Suzuki Gixxer SF. Due to be the Japanese origin, Gixxer SF has high brand value and high resale value. So, who loves brand value much with much more reliable engine, can go for Gixxer SF but the people who loves the style much can go for Taro GP 1. And as a newborn product, Taro GP 1 Valerio would not disappoint you.