Yamaha Bike Price in Bangladesh 2023 (All Specification, Review & User Rating)
Yamaha is currently the second highest-selling motorcycle brand in Bangladesh. Lets find Yamaha Bike Price in Bangladesh 2023 including all model full specifications, user rating and review from the expert (Pros & Cons). ACI Motors Ltd. is the official distributor of Yamaha Motorcycles in Bangladesh and recently they have passed 7 years journey together. Yamaha motorcycles are popular for better mileage and performance. All Yamaha motorcycles price in Bangladesh are listed in the following table.
AVAILABLE YAMAHA MOTORCYCLES
The all-new Yamaha R15M offers a new aerodynamic body design for better airflow management so that the rider can reach the top speed faster and helps to maintain stability when you are on a high-speed chase. Yamaha R15M price in Bangladesh is 610,000.00 Taka. It offers a powerful engine that can produce a maximum horsepower of 13.5kW(18.4PS)/10000r/min and maximum torque of 14.2N.m (1.4kgf.m) / 7500r/min. ACI motors are the authorized dealer of Yamaha in Bangladesh.
Yamaha Bikes Latest Price List in Bangladesh 2023
| | |
| --- | --- |
| YAMAHA MOTORCYCLES PRICE | PRICE (BDT) |
| Yamaha FZS V2 Price | 233,000 |
| Yamaha FZS V3 (BS4) Price | 262,500 |
| Yamaha FZS V3 (Vintage) (BS4) Price | 262,500 |
| Yamaha FZS V3 Deluxe (BS6) Price | 273,000 |
| Yamaha FZS V3 (BS6) Price | 270,000 |
| Yamaha Fazer Price | 325,000 |
| Yamaha R15 V3 Price | 485,000 |
| Yamaha R15 V4 (Blue) Price | 600,000 |
| Yamaha R15 V4 (Black & Red) Price | 595,000 |
| Yamaha R15M Price | 610,000 |
| Yamaha R15 V4 (Intensity White) Price | 650,000 |
| Yamaha R15M (Color Meter) Price | 675,000 |
| Yamaha MT15 V1 Price | 430,000 |
| Yamaha MT15 V2 Price | 525,000 |
| Yamaha FZ-X Price | 305,000 |
| Yamaha Saluto Price | 158,000 |
| Yamaha RayZR SR 125 Price | 270,000 |
| Yamaha Aerox 155 Price | 530,000 |
This the latest Yamaha Bike Price in Bangladesh recently update in their official Facebook Page & website.
The world famous motorcycle brand Yamaha is a Japanese brand which is a prime manufacturer of the motorcycle. Yamaha not only produces motorcycles but also produce the marine product for the boat, outboard motors and others motorize product. Their journey was started in 1955. The Yamaha Motor Company was initiated after separation from Yamaha Corporation. The headquarter is situated in Iwata, Shizuoka, Japan.
Yamaha always gives the best quality motorcycle and their motorbike price comparatively high then another brand. It is also one of the cause of why Yamaha growing slowly in Bangladesh. But now they take many effective steps for increasing sale. let see a list which motorbike is available in Bangladesh.
ACI Motors working with bikers and they also take many events for rider and their brand. Yamaha motorbike rising day by day. Yamaha also tried to sell their motorbike reasonable price and the give different offer on their bike. Here in Bangladesh VAT is one of the reasons for the high price of the bike. Also CC limit is another cause for they can not sell their high CC bike. The motorcycle is now a very necessary thing in Bangladesh, especially in Dhaka city and day by day people interest to buy a bike, so here is a big market waiting for the bike companies.
This world biggest motorcycle giant lead by Genichi Kawakami who was the first president and it started to production motorbike and its first bike was YA-1 which made 1955 and it was 125 cc bike. Yamaha was growing very firstly in the motorbike section. Yamaha not only motorbike producer company they also produce scooter, motorized bicycle, boat, personal watercraft, sailboat, swimming pools, fishing boats, utility boats, 4-wheel ATVs, recreational off-road vehicles, outboard motors, go-kart engines, multi-purpose engines, electrical generators, golf carts, water pumps, small snow throwers, snowmobiles, automobile engines, intelligent machinery, surface mounters, industrial-use unmanned helicopters, electrical power units for wheelchairs and helmets.
India Yamaha Motor Privet Limited was established in 1985 which is a full Indian subsidiary of Yamaha Motors which headquarter is in Chennai. Yamaha Motor Company Japan made a joint venture with Escorts Group.
After 1971 Yamaha started their business in Bangladesh and in 2016 they select ACI Limited to the sole distributor in Bangladesh. Yamaha always supplies the best quality motorcycle and they introduce some best quality bikes with the biker. Recently the launched many fashionable and dashing motorcycle. The largest number of people are using its bike. Their Yamaha R15 V3 is the most famous bike, young generation riders are love this bike. Their FZS V2 is also popular and they also wanted to make popular their best commuter Saluto. Yamaha has many scooters and they also wanted to make popular their scooter.
Reason to buy Yamaha Motorcycles
Yamaha Motorcycle is one of the top-ranked motorcycle brands worldwide, the brand was begun in Japan in 1955 but has been expanded over the world. Yamaha motorcycles are built to dominate highways, city, off-road, and hilly bumpy roads. Reliability is the biggest factor for all riders to choose a motorcycle, in this term, Yamaha holds the title of being the best reliable motorcycle brand. Yamaha motorcycles are manufactured with quality materials and assembled by an experienced engineering squad. Keeping in mind the diversity and challenges of rides Yamaha constantly adopting the latest innovations and going through upgrades to ensure all sorts of needs of modern riders. At the same time, Yamaha offers stylish motorcycles and scooters in all segments in order to become the first priority of the young generations. Yamaha also offers fuel efficiency and performing motorcycles for classy riders. Yamaha Saluto is the most fuel-efficiency motorcycle in Yamaha's lineup, Saluto provides a maximum 60 kmpl mileage. Yamaha motorcycles tend to hold resale value as well, making them practical investments who are thinking upgration or changing their motorcycle. However, with agility, maneuverability, riding comfort, rider satisfaction and reasonable price range Yamaha motorcycle is always at the top compared to other competitors. Though Yamaha Bike Price in Bangladesh is slightly higher than it's competitors but still people buy Yamaha because of brand value and better sales after service.
Yamaha Most Popular Motorcycles in Bangladesh
Yamaha R15 V4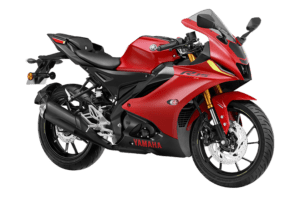 At first glance you may confused that is Yamaha R15 V4 inspired by Yamaha YZF R7 because apparently there are similarities between the two. As a fully faired bike, Yamaha R15 V4 comes with an aerodynamic body shape for proper airflow to get top speed faster. Yamaha R15 is powered by 155 cc Liquid-cooled, 4-stroke, SOHC, 4-valve engine which can produce 13.5kW(18.4PS)/10000 RPM maximum power and 14.2 Nm (1.4 kgfm) @7,500 RPM maximum torque whereas this powerful engine reaches 145 kmph top speed soon. According to the rider's review, Yamaha R15 V4 provides approximately 40 kmpl mileage in the city, 45 kmpl in the highway. Yamaha R15 V4 price in Bangladesh is quite balanced not so expensive. There are four colors available in Bangladesh METALLIC RED, RACING BLUE, DARK KNIGHT & INTENSITY WHITE. Yamaha R15 V4 is one of the most popular bikes in the sports segment for its better acceleration and aggressive design.
Yamaha R15M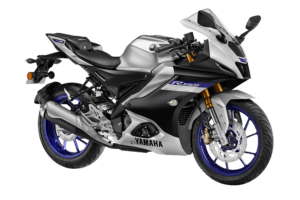 Yamaha R15M has been newly launched in Bangladesh with LED flasher, traction control, quick shifter & color TFT meter. Yamaha R15 M is equipped with 155 cc LC4V SOHC FI engine which churns out 13.5kW(18.4PS)/10000rpm height power and 14.2 Nm (1.4kgf.m)/7500rpm, the powerful engine is BS7 standard features traction control system and a quick shifter (up-shift). Yamaha R15 M has 282mm front and 220mm rear disc brakes with Anti-lock Braking System (ABS) to ensure a confident ride. With in moment you may get better acceleration and reach approximately 150 kmph top speed. As a sports bike Yamaha R15 M outputs maximum 45 kmpl mileage in better road conditions and rider experience. Yamaha R15 M price in Bangladesh 6.5 to 7 lacs (estimated) both Metallic Gray & Monster Energy MotoGP Edition color variants are available in Bangladesh.
Yamaha MT 15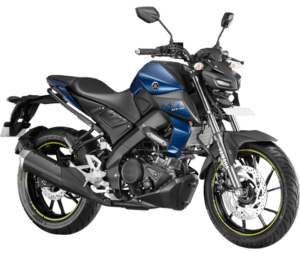 Yamaha MT 15 is often called the naked version of its elder brother Yamaha R15 V4, new MT 15 version 2.0 comes with so many notable upgrades including traction control system, dual channel ABS, USD front forks, and aluminum swingarm. Yamaha MT 15 is boosted with 155 cc Liquid-cooled, 4-stroke, SOHC, 4-valve powerful engine able to generate 13.5kW (18.4PS) 10000 rpm maximum power, 14.1 N.m(1.4kgf.m)/7500 rpm torque and 141 kmph top speed. Its excellent dimension, dual-tone color combination, aggressive looks and agility make one of the unicorns in bikes world. Single channel ABS with 220mm rear disc and 282mm front disc is well-balanced stable but the MT 15 must deserve dual channel ABS. Bluetooth-connected speedometer displays incoming or missed call alerts, SMS and email notifications, and phone battery an so on, the Y-connected app tracks your every move. As a naked sports motorcycle provides approximately 42-43 kmpl millage in different road conditions. Yamaha MT 15 offers an affordable price in Bangladesh irrespective all colors such as CYAN STORM, ICE FLUO-VERMILLION, METALLIC BLACK & RACING BLUE.
Yamaha FZ-S V2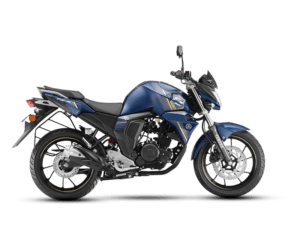 Yamaha FZ-S V2  is a stylish and powerful motorcycle in Yamaha's lineup that offers a great riding experience. Having its sporty agile design and comfortable seating, it appeals to riders who are looking for a combination of performance and practicality. Yamaha FZ-S B2 is equipped with 149 cc Air cooled, 4-stroke, SOHC, 2-valve engine that delivers 9.7 kW (13.2PS) / 8,000 rpm heights power, 12.8 N.m (1.3 kg f.m) / 6,000 rpm torque and 120 kmph top speed, making it suitable for both city commutes and highway rides. Yamaha FZ-S series has a reputation for fuel efficiency and provides minimum 45 kmpl mileage. The handling is precise, and the bike feels stable even at high speeds. Additionally, Yamaha FZ-S V2 comes with modern features such as LED lighting, a fully digital instrument cluster, and single-channel ABS, enhancing both its aesthetics and safety. Overall, Yamaha FZ-S V2 is a reliable choice for riders seeking a versatile and stylish motorcycle for their daily travels. Yamaha FZ-S V2 available in Bangladesh in Armada Blue & Dark Knight color variants at a reasonable price.
Yamaha FZ-S V3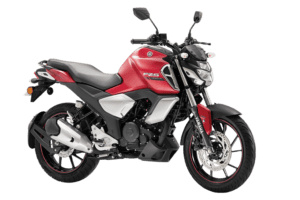 Yamaha FZ-S V3 has similarities with Yamaha FZ25 in various sense, as a naked sports bike it is quite up to the mark. The FZ-S V3 can be differed for is bulky fuel tank and headlamp chamber. It aerodynamic body shape, handlebar, alloy wheel enhanced the bike's agility and sporty vibe. The speed matched is equipped with 149 cc Single Cylinder, 4-Stroke, 2-Valve, SOHC powerful engine which produces a maximum 13.2 PS @ 8000 rpm max power and 12.8 Nm @ 6000 rpm max torque. At the same time this bike able to generate 117 km/h top speed and provide 45 kmpl mileage in city ride and near to 50 kmpl in highways. Yamaha FZ-S V3 also features single channel ABS braking system for better balance and control. Yamaha FZ-S price in Bangladesh is quite reasonable, as a mid-range motorcycle everyone can afford it. Currently, Yamaha FZ-S V3 is available in Bangladesh in Matte Black, Dark Matte Blue, VINTAGE GREEN & MATTE RED colors.
Yamaha FZ-X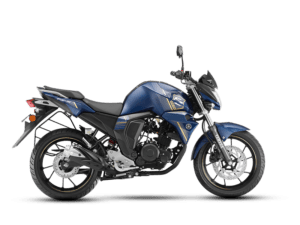 Yamaha FZ-X comes with a crossover bike inspired by Neo-Retro cafe-racer design for the first time ever in Bangladesh by Yamaha. Its toughness, design, comfort, connectivity and safety guarantee the best experience of motorcycle riding for motorcyclists. Yamaha FZ-X houses 149 cc Air-cooled, 4-stroke, SOHC, 2-valve engine paired with telescopic fork font and 7-step adjustable monocross suspension intended to produce 12.4 PS @ 7250 rpm max power and 13.3 Nm @ 5500 rpm max torque. Yamaha FZ-X also features Traction Control System which is an electronic system, remarks ability to reduce the chances of a wheelspin. Its golden color alloy wheel, bifunctional LED headlamp, LED flashers, Sleek LED Tail Light are the reflections on its premiums. As stylish cafe racer bike Yamaha FZ-X proved more than 42 kmpl mileage with good maintenance. Yamaha FZ-X price in Bangladesh can be categorized as higher-mid rage, as it is boosted with so many advanced features and technologies price may be considerable but value for the money. Yamaha FZ-X offers Black, Orange and Brown three different colors in Bangladesh.
Yamaha Upcoming Motorcycles in Bangladesh
After a long speculation, BRTA approved 350 cc motorcycles in Bangladesh. Something miracle gonna happen in the motorcycle industry of Bangladesh. Prominent motorcycle brands already working to launch higher cc motorcycles immediately. Yamaha do not lag behind, Yamaha has a number of higher cc motorcycle all over the world, and now it is time to launch in Bangladesh. Most probably ACI Motors will directly import higher cc bikes in Bangladesh because there is still lack of skilled manpower and highly qualified engineers. Yamaha's upcoming motorcycles are enlisted below.
Yamaha FZ 250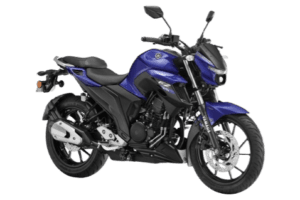 Yamaha FZ 250 is one the most affordable motorcycles in India which was launched in back 2017 and recently comes with BS6 variants its second version. Yamaha FZ 250 gives a street fighter vibe with its muscular body dimension, cutting-edge lining and aggressive design. In terms of engine performance, Yamaha FZ 250 is powered by 249 cc, single-cylinder, air/oil-cooled engine generating  20.51 BHP @ 8000 RPM max power and 20.1 Nm @ 6000 RPM max torque. Yamaha FZ 250 has the 5-speed gearbox gets 100kmph acceleration with throttle of 1063 seconds. In braking segment, Yamaha FZ 250 features dual-channel ABS with 282 mm disc at the front and a 220 mm disc at the rear. This bike also holds the fame of a better fuel efficiency motorcycle, FZ 250 provides approximately 40 kmpl mileage in better road condition. Yamaha FZ 250 estimated price in Bangladesh 6,00,000 BDT.
Yamaha R3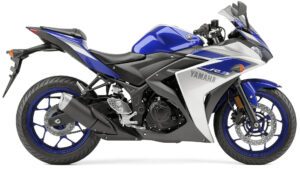 Yamaha YZF-R3 is a sporty and versatile motorcycle that combines performance with rider-friendly features. Powered by a high-revving 321cc twin-cylinder engine which produces 30,9kW (42PS)@10.750 rpm max power, 21.8 lb⋅ft (29.6 N⋅m) @ 9,000 rpm max torque and 181 km/h (112 mph) estimated top speed. Yamaha R3 delivers a good balance of power and efficiency. Its responsive handling, aided by a lightweight chassis and sporty suspension, makes it well-suited for both city commuting and spirited rides on winding roads. With a focus on rider comfort, Yamaha R3 features an ergonomic design that facilitates a natural riding position. In braking Yamaha R3 has 298mm disc up front and a 220 disc dual channel ABS braking system for balanced and exact braking to avoid unexpected situations. Black, Blue, and Aquamarine color has been launched in India, hopefully ACI Motors will launch it soon. Yamaha R3 estimated price in Bangladesh is 10,00,000 BDT.
ACI Motors
ACI Motors is the groundbreaker of the automotive industry particularly in Bangladesh. As a subsidiary of ACI Limited, ACI Motors launched in 2007 and became the sole distributor of the world-famous Yamaha motorcycle in 2016. ACI Motors launches FAZER FI, YZF R15 and FZS FI Yamaha's most desired sport bike, scooter Ray and most fuel economic motorcycle Saluto.   This privet company has established itself as a key contributor to the country's transportation and agricultural sectors, diverse product range  ACI Motors offers a diverse range of products, including motorcycles, scooters, and agricultural machinery. This diversity allows the company to offer to both urban commuters and rural farmers. ACI Motors is known for its motorcycles, which are designed to meet the needs of different riders. The brand focuses on providing reliable and efficient two-wheelers suitable for various riding preferences. ACI Motors plays a crucial role in the agricultural sector by providing a range of modern and efficient agricultural machinery. ACI Motors has a significant market presence in Bangladesh, contributing to the country's economic development by providing transportation solutions and supporting the agricultural sector. Overall, ACI Motors plays a multifaceted role in Bangladesh's automotive landscape, providing solutions for both personal mobility and agricultural development.
Address:
ACI Centre, 245 Tejgaon Industrial Area, Dhaka 1208.
Customer Care: 16533
Email: info@acimotors-bd.com
Yamaha Motorcycle Market Share in Bangladesh
The motorcycle industry of Bangladesh is quite different from other countries. Native motorcycle brands do not yet capture the market as overseas brands like Japanese Yamaha, Suzuki, Honda, Indian Bajaj, TVS, Hero, and some Chinese brands captured. Japanese brands have possessed a strong position in Bangladesh, Yamaha, Suzuki and Honda are the self competitors but Yamaha holds the major portions of the Bangladesh motorcycle share market. After collaborating with ACI Motors in 2016 Yamaha became the most desired and prioritized one to motorcyclists. With excellent serving and marketing, Yamaha holds 15% of the total share market of Bangladesh and secured the second position followed by Indian Bajaj. Subrata Ranjan Das Executive Director said "The young generation of Bangladesh are introducing quality motorcycles with advanced technology" and also talked about their last three months' sales report, Yamaha became the highest sales of 150cc motorcycles in Bangladesh. Here is an elaborate discussion on the motorcycle market share in Bangladesh, for details information you may check it. Yamaha is not specially focused lower CC segment which had the big volume yearly sales in Bangladesh. But recently the customers
Yamaha Motorcycle Global Market Share
Japan-based two-wheeler brand Yamaha has a noteworthy presence in the global share market. Yamaha motorcycles are always first priority of all riders around the world because of the best performance, refined engine, aggressive looks, reliability and endurance. Until 2019 Yamaha was the market leader based on total sales but with the arrival of COVID 19 the brand sales down 3.4 million units. After the pandemic Yamaha turns back with 4.3 million of sales. In Latin America (+18.5%) and in East Europe (+19.4%) and West Europe (+8.7%) Yamaha sales are increasing but in Asian countries like India, Pakistan, Bangladesh, South Korea, Japan etc Yamaha motorcycles have not remarkably uprising. Yamaha Corporations set up a project to increase their sales in 2X with in 2025 and take some initiative steps to achieve the goal.
History of Yamaha
Yamaha is a prominent player in the motorcycle industry, has a rich history spanning several decades. The Japanese company began its motorcycle journey in 1955, initially producing lightweight two-stroke machines. Actually, the company was established as Nippon Gakki Co., Ltd in 1887 by Torakusu Yamaha the company is currently known as Yamaha Corporation. One of their early successes was the YA-1, introduced in 1953, which marked Yamaha's entry into the competitive world of motorcycling. In the 1960s, Yamaha gained international recognition with the production of the two-stroke, twin-cylinder YDS-1, showcasing their commitment to performance and innovation. 
Yamaha continued to refine their technology and design, and in 1968, Yamaha released the iconic DT-1, often considered the world's first true off-road motorcycle. This model played a pivotal role in popularizing off-road riding globally. In1970s Yamaha making significant strides in racing. Yamaha TZ750, a two-stroke, four-cylinder machine, dominated the motorcycle racing scene, especially in events like the Daytona 200. and handling in the sports bike category. Yamaha's motorcycles have not only excelled on the racetrack but have also become synonymous with reliability and innovation in various segments. Yamaha's diverse lineup offers to riders of all levels, from beginners to seasoned professionals, cementing Yamaha's position as a leading force in the global motorcycle industry.
Vision of Yamaha Corporation
Yamaha Corporation aims for "Sharing passion & Performance" by their business policy on the grounds of the automobile and music industry. The multinational company provides various products front two-wheelers to sports car and acoustic to electric music instruments to customers. Yamaha is always in the front line to ensure safety, better performance and reliability on their products especially for motorcycles. Yamaha Motor Co. Ltd worlds on three ideas "Corporate Mission", "Management Principles" and "Action Guidelines" which constitute the theory of "Corporate Principles" Being the successor of Torakusu Yamaha their vision to offer the latest exciting and meet the desire of the customer over the world.
FAQs
Why choose Yamaha motorcycles?
Yamaha motorcycles are well known for durability, performance, comfort, style and after-sales services. Yamaha motorcycles are specially designed for long drive and daily commuting so that Yamaha motorcycles will remain sound and safe. On the other hand, Yamaha motorcycles come with stylish cutting edge design and offer best performance regarding millage and others. This is why you may choose Yamaha motorcycles. On the other hand, ACI motors ltd. is offering the best after sales service in Bangladesh comparing any other motorcycle brands which is just another reason of buying Yamaha motorcycles. Though Yamaha bikes price in Bangladesh is slightly high but the people love to buy it.
How good are Yamaha motorcycles?
Is you evaluate the best part of Yamaha motorcycles then you can't deny its reliability because Yamaha motorcycles are manufactured with best quality materials and the best engineering innovation. So, Yamaha motorcycles offer an extended lifespan and the best durability.
What types of motorcycles does Yamaha manufacture?
Yamaha produces a diverse range of motorcycles, including sport bikes, cruisers, off-road bikes, and scooters to cater to various riding preferences.
What is the Yamaha YZF series known for?
Yamaha YZF series is renowned for its high-performance sports bikes, featuring cutting-edge technology, aerodynamic designs, and powerful engines, making them popular among racing enthusiasts.
Are Yamaha motorcycles fuel-efficient?
Yamaha motorcycles are designed with fuel efficiency in mind, and many models incorporate advanced engine technology to provide a balance between performance and fuel economy. Yamaha Saluto owns 60 kmpl mileage dignity, well known for better fuel efficiency.
What is the significance of the Yamaha MT series? 
Yamaha MT series emphasizes a "Dark Side of Japan" design philosophy, offering naked bikes known for their agile handling, torque-rich engines, and distinctive, minimalist aesthetic.
How is Yamaha contributing to environmental sustainability in their motorcycles?
Yamaha is actively involved in developing eco-friendly technologies. Many Yamaha motorcycles feature fuel injection systems and adhere to emission standards, showcasing the company's commitment to reducing environmental pollution.
Does Yamaha Bike Price in Bangladesh is little bit high?
A bike price in Bangladesh depends on dollar rate, manufacturing type (CKD/SKD/CBU), government duty (VAT & TAX) etc. But for some model, Yamaha bikes price in Bangladesh is slightly higher than it's competitors. Comparing with Suzuki and Honda, Yamaha motorcycles price in Bangladesh little bit higher. ACI motors ltd. explained about the reason of high pricing as well. Because of so many models they bring in CBU conditions, that is why some Yamaha bike price in Bangladesh may high in sometimes.
Who is the local distributor of Yamaha Motorcycles in Bangladesh?
ACI Motors, sole distributor of the world-famous Japanese motorcycle brand Yamaha. ACI Motors was launched in 2007 as a subsidiary of ACI Limited. In 2016 ACI Motors ventured with Yamaha Motorcycles, under strong leadership and relentless efforts Yamaha Motorcycles got an extra-ordinary dimension in Bangladesh.
Is Yamaha showroom available in the entire Bangladesh?
Yes, there are more than 115 showrooms, sales, and service centers scattered in the entire country. Every division, district, and sometimes in Upazila possesses a minimum of one Yamaha Motorcycle authorized showroom where bikes, parts and spares are sold at the same price.
11Products found
Filter
Sort by price: high to low
The all-new Yamaha R15M offers a new aerodynamic body design for better airflow management so that the rider can reach the top speed faster and helps to maintain stability when you are on a high-speed chase. Yamaha R15M price in Bangladesh is 610,000.00 Taka. It offers a powerful engine that can produce a maximum horsepower of 13.5kW(18.4PS)/10000r/min and maximum torque of 14.2N.m (1.4kgf.m) / 7500r/min. ACI motors are the authorized dealer of Yamaha in Bangladesh.

Yamaha R15 4V Price in Bangladesh is 595,000 BDT but the Racing Blue edition price is 600,000 tk. Premium edition of this model R15M price is sightly high which is 610,000 BDT. Yamaha has a huge collection of higher-configuration bikes. The new Yamaha R15 V4 comes with a 155 CC LC4V SOHC FI VVA engine with a traction control system and a quick shifter. ACI Motors is the authorized dealer of Yamaha here in Bangladesh soon we might get our hands on this powerful and stable beast.

Yamaha XSR 155 price in Bangladesh is BDT 545,000/- taka. Yamaha XSR 155 is a Retro-style motorcycle from the Japanese brand Yamaha. This bike equipped with the same engine power as Yamaha R15 V3 and MT 15. But the design concept borrowed from its elder sibling XSR 900. Yamaha didn't compromise anything to make this bike premium. For the R15 V3's engine and EFI fuel system, it can reach the top speed of 135 km/l and 42+ km/l average mileage.


Yamaha R15 V3 is one of the most appealing motorcycle in 150cc segment. Current price of Yamaha R15 V3 is 485,000 BDT (Official). It can generates a massive 19.04 bhp maximum power at 10,000 rpm and also can reach the top speed of 155 km/h. The Indian version launched with standard double channel ABS braking system with Assist and Slipper clutch for smooth and easy gear shifting.

The new Yamaha MT 15 racing street fighter is one of the top rated naked sports bike from Yamaha in Bangladesh. As per latest update, Yamaha MT-15 version 1.0 price in Bangladesh is 430,000 BDT and MT-15 Version 2 price is 525,000/-. Its design, body work, color finish is stunning. It have a 155cc powerful blue-core engine as same as R15 V3 which can generates 19.3 bhp maximum power and 14.7 Nm torque. This bike has a good acceleration rate and can reach the top speed of 140 km/h.

Yamaha Fazer FI V2 price in Bangladesh is BDT 325,000/- taka. This one is the 2nd upgrade version of Yamaha Fazer which is a very popular semi fared bike in Bangladesh. Fazer is regarded as one of the best standard bike and also considered as one of the best touring motorcycle in Bangladesh due to it's comfort and other features.

Yamaha FZ-X is a premium cafe racer bike. Currently, Yamaha FZ-X price in Bangladesh is 305,000.00. This model offers a retro classic style with features that enhance every ride and trademark classic charisma. The FZ-X is built tough with the design inspired by Neo-retro design thinking, connectivity and all the safety features that will provide you the best experience ever.

The all-new Yamaha Ray ZR Street Rally 125 Fi is an upgraded version of the previous one. It price in Bangladesh is BDT 270,000/- taka. This scooter offers a powerful 125 cc air-cooled, fuel-injected (Fi) blue core engine that produces 8.2 PS @ 6,500 RPM of maximum torque and 9.7 N.m @ 5,000 RPM torque. This version provides 30% more output and 16% more fuel efficiency than the previous 110 cc.

Yamaha FZs Fi V3 (BS4) official price in Bangladesh is 262,500/-, there are so many different versions in different prices. The most attractive feature of this bike is it has single-channel ABS. It has fully come with a different look. A headlamp is now LED, the fuel tank is more stylish and muscular, the handlebar is a little bit upright, the seat is more comfortable. This motorcycle is now available in all authorized showrooms of ACI Motors Ltd.

ACI Motors Ltd. is recently reduced the price of Yahama FZs Fi V2 during COVID-19 pandemic. Yamaha FZs Fi V2 current price in Bangladesh is 233,000/- tk . Yamaha FZS Fi Version 2.0 is one of the most popular and mostly used sports category motorcycle in Bangladesh right now due to better fuel efficiency, performance and longevity. It one of the most wanted naked edition sports bike which can be compared to none only but Suzuki Gixxer. Consists of attractive color combinations, simple smart fairing and updated seating position, FZS Fi is one of the best creation of Yamaha. You can also check FZs V3.

Yamaha Saluto 125 is good product of Yamaha which consists of 125cc engine. Yamaha Saluto 125 UBS price in Bangladesh is BDT 158,000/-. Its 125 cc powerfull engine can generate 8.18 Bhp maximum power @ 7000 rpm where it's maximum torque is 10.1 Nm @ 4500 rpm. Yamaha Saluto 125 is currently available in two different braking system named disc and drum.