Honda Bike Price in Bangladesh 2023 (All Specification, Review & User Rating)
Honda is world most popular two wheeler brand and Honda is still a synonym of motorcycle in Bangladesh. Lets find new Honda motorcycles price in Bangladesh including full specification, expert review and user rating.
Honda CB150R Exmotion Price in Bangladesh is 700,000 BDT (Unofficial). The most exclusive feature of this Honda CB150R ExMotion is it's duel channel ABS. As still there is a lower amount of Anti-lock braking system bike available in Bangladesh that's this naked sports bike of Honda get huge concentration to the bikers. This 149cc fuel injection, water cooled engine isn't officially launched in yet in Bangladesh by BHL. But some other importers selling this bike in Dhaka city and importing very few amount.
Honda is the oldest motorcycle company in the world which is originated in Japan. Now, it is regarded as the most reliable bike-producing brand in the world in which products are available in every corner of the world. Honda used to provide the best quality products to the customers and so, they have become the symbol of trust in the world. Honda motorcycles in Bangladesh are celebrated for their innovative designs and superior performance. Whether it's the stylish commuter bikes like Honda CB Shine or the powerful sports bikes like Honda CBR series, each model is crafted to cater to the diverse needs of riders, ensuring a smooth and thrilling experience on the roads of Bangladesh. With rising concerns about fuel efficiency and environmental impact, Honda has taken significant strides in producing motorcycles that are not only fuel-efficient but also eco-friendly. The integration of advanced engine technologies in Honda bikes ensures that riders enjoy optimum fuel efficiency without compromising on performance.
The below Price list of Honda bikes is recently updated. Sometimes it can be take bit longer to update the latest Price.
Lets find all Honda Bikes Price in Bangladesh (Official & Unofficial).
Honda Bike Price List (2023)

| | |
| --- | --- |
| HONDA MOTORCYCLES | PRICE (BDT) |
| Honda CBR 150R Tricolor Price | 600,000/- |
| Honda CBR 150R Victory Red Black Price | 600,000/- |
| Honda CBR  150R MotoGP Edition Price | 610,000/- |
| Honda CB Hornet 160R CBS Price | 212,000/- |
| Honda XBlade 160 SD Price | 192,500/- |
| Honda XBlade 160 DD (ABS) Price | 218,500/- |
| Honda Dio Price | 185,900/- |
| Honda CB Shine SP Price | 151,000/- |
| Honda SP 125 Price | 163,000/- |
| Honda Livo (Drum) Price | 121,000/- |
| Honda Livo (Disc) Price | 134,500/- |
| Honda Dream 110 Price | 111,500/- |
| Honda CB 150 Exmotion Price (Unofficial) | 700,000/- |
As far we understand, Honda Bangladesh is currently focusing in lower CC segment like Honda Livo, Dream 110, CB Shine etc. They are not promoting CB Hornet or CBR150R. May be Honda is planning for long term game. They have started deep manufacturing and that is why lower CC Honda motorcycle price in Bangladesh is comparatively low. Even the price of CB Hornet and XBlade is good enough but the Honda CBR150R Price in Bangladesh is very high because of manufacturing conditions.
Reasons to buy Honda Motorcycles

Honda may be the greatest investment of your money if you want to buy a bike or car by Japanese Honda. A personal vehicle is no less than a white elephant but Honda cares about customers' money. Since 1946 Honda has been offering fuel economy, better performing, reliability, and quality workmanship vehicles all over the world. Another citable aspect is Honda's easily accessible parts and spares, customers don't go through difficulties to get any parts and spares for Honda's bike and car. Honda motorcycles and cars price is quite reasonable that others contenders. Honda has acquired a reputation in the world for industry-leading technology and latest innovations. Whether buying a brand new or used motorcycle or car manufactured by the world's largest Honda, you can be assured that you never be regretted. Honda is always the best and front-line brand in the automotive industry in the world. On the other hand, Honda bike price in Bangladesh is little bit affordable compare to other brands like Yamaha and Suzuki. Specially the price of lower CC bikes are reasonable.
Most Popular Honda Motorcycles in Bangladesh
Honda CBR 150R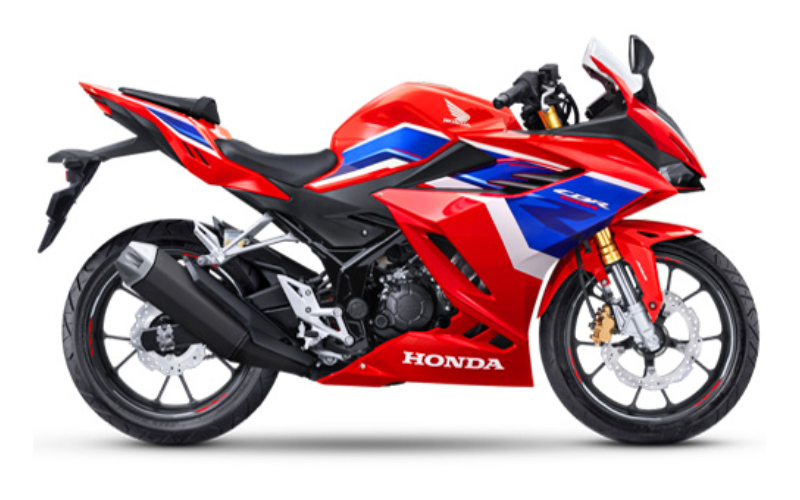 Honda CBR 150R is the first ever sports motorcycle by the Japanese brand Honda, currently comes with MotoGP Edition (Repsol). Like other sports bike the CBR 150R is also designed with a sporty and aggressive design and graphics. It mechanical and cosmetic improvement undoubtedly deserved great appreciation and it got that. The super bike is powered by Single-cylinder, Liquid-cooled, fuel injection, DOHC, 4-Stroke 149.1 cc engine which makes  17.1 Hp @ 9000 rpm max power and 14.4 Nm @ 7000 rpm torque. Moreover an experienced rider can reach 145 km/h top speed in better road surface, it can be considered that Honda CBR 150R is quite enough for stylish and best ever riding experience. Honda CBR150R latest version Price in Bangladesh (BD) is little bit high.
Honda CB150R ExMotion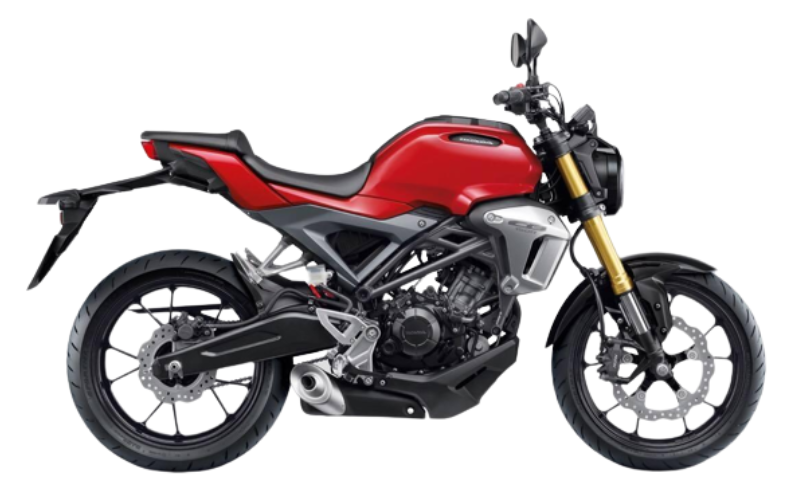 Honda CB150R ExMotion is a heart-throb in design having a splitted seat and round shape premium headlamp like cafe racer. It has alloy wheels but the tires are wide enough. The bike is power by one cylinder, liquid-cooled, four-valve and DOHC 149 cc engine with an expected max power of 20 Hp. Honda ExMotion has hydraulic discs where the front brake is 296 mm and the rear brake is 220 mm having anti braking system (ABS) and softer suspension. Honda ExMotion is able to provide approximately 40 km/l mileage, depends on road condition. Honda CB150R ExMotion has been launched in Bangladesh in fantastic four colors variant Asteroid Black Metallic, Matt Laurel Green Metallic, Pearl Cadet Gray and Millennium Red. Bangladesh Honda Pvt Ltd. do not officially sale this model and you can buy from unofficial importers. This bike bring in CBU condition and that is why this Honda naked bike price in Bangladesh (BD) is very high.
Honda XBlade 160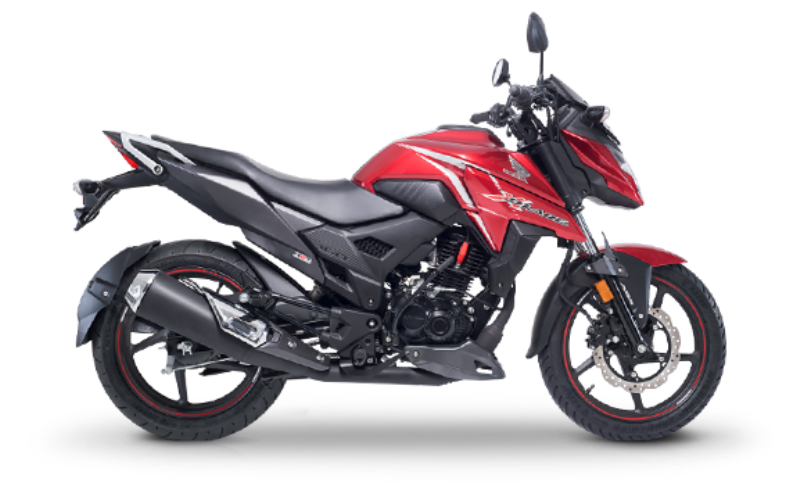 Honda has unleashed XBlade 160 in multiple color variations Peart Spartan red, Pearl Igneous Black, Matte Marshal Green Merallic & Matte Marvel Blue Metallic. Honda XBlade available in Bangladesh both single disc and dual disc ABS. This bike has been designed as full faired naked sports bike with aggrisive design and well dimension. Its dual tone graphic coated muscular fuel tank and headlamp chamber add agile sporty vibe. This machine is powered by 162.71 cc air-cooled engine to produce 8500 rpm max power and 13.90 Nm in 6000 rpm max torque, also produces 120 KM/H top speed due to perfect combinations of max power and torque. With a view to reducing fuel consumption Honda has adopted BS4 engine for the XBlade, you may get better mileage more than 45 km/l. Honda XBlade is the most targeted product for Honda Bangladesh in 150cc segment and this Honda Bike Price is comparatively reasonable.
Honda CB Hornet 160R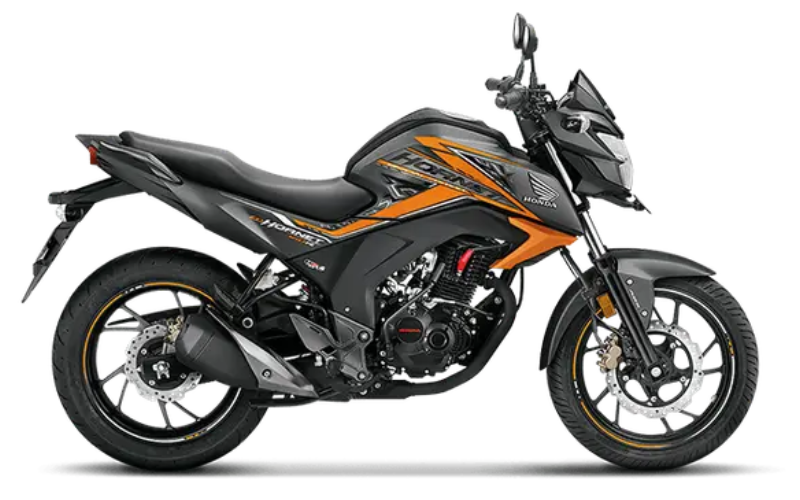 One of the key features of the Honda Hornet is its 162.71 cc 4 valve  powerful engine, which provides impressive acceleration and 122 km/h top speed, making it suitable for city and highway rides. The powerful engine provides 15.04 BHP @ 8500 rpm max power and 14.76 NM @ 6500 rpm max torque. In terms of design, Honda Hornet 160R comes with sporty and aggressive look, with sharp lines and attractive color schemes. Additionally, Honda Hornet motorcycles are known for their fuel efficiency, allowing riders to cover long distances without frequent re fueling. Its huge fuel tank contains 12 liters petrol or ocean and provide maximum 45 km/l mileage. Overall, Honda Hornet 160R is a celebrated bike for its combination of performance, style, and practicality, making it a popular choice for riders looking for a versatile and reliable motorcycle for daily commuting and weekend adventures. This naked sports model can be the trump card for Honda but BHL is not doing enough effort for this model. This naked sports Honda Bike Price is reasonable in this segment but still they are not offering FI and ABS. Though Price of Honda CB Hornet 160R is good in competition but Suzuki Gixxer and Yamaha FZs is highly dominating this product of Honda.
Honda Livo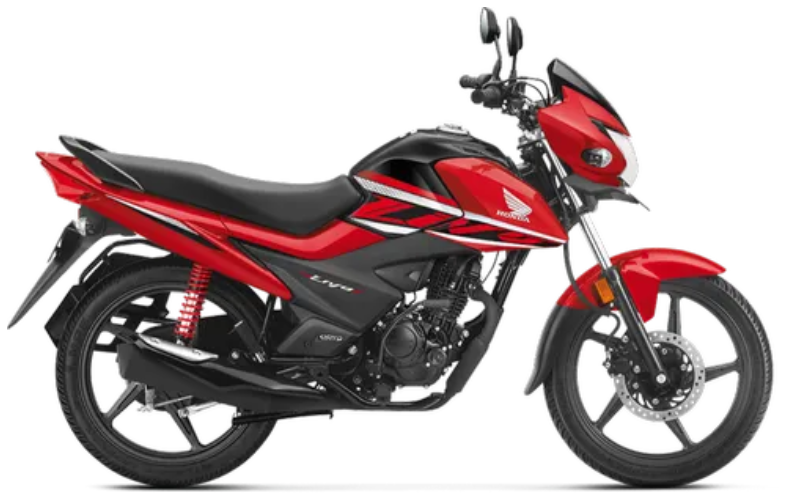 Honda Live is one of the most reliable and efficient commuter bikes by world largest motorcycle brand Honda. Live is designed for the regular office goer or daily commuting riders. The most remarkable part is its gorgeous fuel tank which has an extended cowl. Its excellent body shepe with color combination graphic is eye catchy. Although its engie is bared, black color coated exhust looks pretty. Honda Livo is powered by 110 cc single cylinder 4 valve engine which is able to generate  8.25 Bhp @ 7500 rpm maximum power, 8.63 Nm @ 5500 rpm max torque and 90 km/h top speed. It has been mentioned before that Live is another fuel-efficient commuter motorcycle which provide minimum 60 km/l mileage. Honda Live is available in Bangladesh in three amazing color variants they are: Athletic Blue Metallic, Imperial Red Matallic and Matte Axis Grey. This Honda commuter bike price in Bangladesh is very affordable and they are selling good numbers.
Honda CB Shine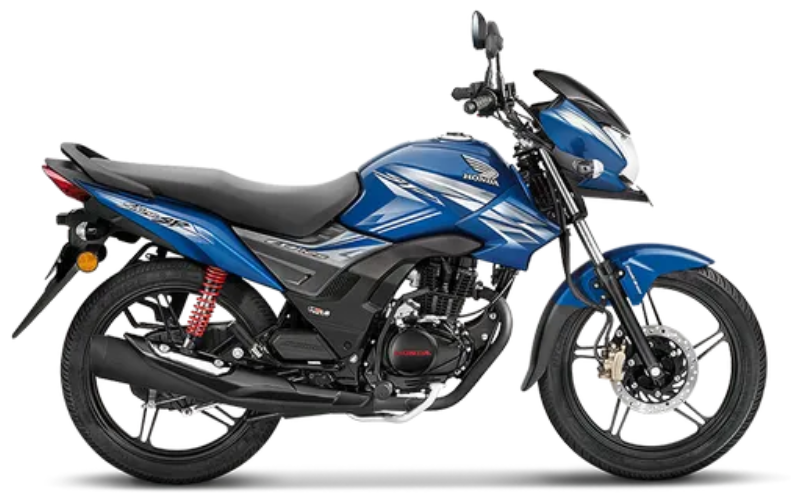 Honda CB Shine is considered one of the most economic commuter motorcycle  in Bangladesh. As a commuter bike the CB Shine has been infised with classic feel it has well sized fuel tank along with aggressive kits on the both side. Despite of no engine guard, it sparply designed with black color alloy wheels are placed.The bike is powered by 124.73 cc two valve, single cylinder engine generates 10.57 bhp @ 7,500 rpm max power and 10.3 Nm @ 5,500 rpm max torque. There are three colors: Imperial REed Metallic, Black and Athletic Blue Matallic available in Bangladesh. Honda CB Shine has reputation for providing hight 62 km/l mileage. Honda CB Shine SP Price in Bangladesh (BD) is very affordable.
Upcoming Honda Bikes in Bangladesh (With Estimated Price)

Recently, Government approved up to 375 cc motorcycles for the market of Bangladesh, generally tremendous changes would happen in Bangladesh's motorcycle industry. Meanwhile, all available brands are about to import higher cc motorcycles in Bangladesh. Some popular brands like Royal Enfield, Ducati, Kawasaki, and so on are about to enter in Bangladesh market, relevant industries are working on it. As as most popular and reliable brand Honda will also import their higher cc motorcycle in Bangladesh, perhaps they will import motorcycles, or locally manufactured in Honda's dedicated industry plant. Honda has a prolific higher cc motorcycle lineup just peeping at Bangladesh gateway.
Honda CBR250RR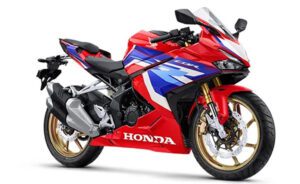 Honda CBR250RR is the most anticipated motorcycle from the world's largest Honda, the extreme combination of beauty and brawn that rules all over the world. Honda has updated this beat with the sharpest and most aerodynamic design as well as unleashed engine of 249.7 cm³ Liquid-Cooled, 4-Stroke, 8-Valve, DOHV which provides 30 kW @ 13,000rpm max power and 25 N.m @ 11,000rpm max torque. Its cutting-edge muscular fuel tank contains highest 14 litter fuel, really tremendous. Honda adopted an Inverted Telescopic Front Fork in front and Aluminum Swing Arm (5 Adjustable Monoshock with Pro-Link System) in rear to ensure softer and smoother suspension system. Honda CBR 250RR is equipped with Hydraulic Disc Dual Piston, ABS brake in font and Hydraulic Disc Single Piston, ABS in rear marged with grippy tires for immediate braking. Honda CBR 250RR is has been launched in India, Indonesia and other countries in TRICO EDITON and MAT GUNPOWDER BLACK METALLIC color variants. Bangladesh Honda Private Limited will debut this monster in Bangladesh very soon. Honda CBR250RR will be the most premium and powerful bike in Bangladesh. But the price could be very high. Honda CBR250RR estimated Price in Bangladesh is 900,000 BDT.

Honda CB Hornet 2.0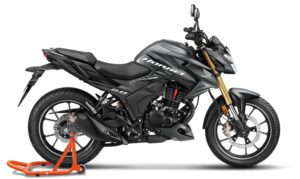 Already Honda CB Hornet 160r is already available in Bangladesh, after having legal approval for 350 cc motorcycle; Honda CB Hornet 2.0 is about to be unveiled in the Bangladesh market. Hornet CB Hornet 2.0 has similarities with the previous Honda CB Hornet 160r but has notable improvements. Honda CB Hornet 2.0 is powered by vigorous 184.4CC air-cooled BSVI HET engine which produces aggressive accelarations of 12.7 kW @ 8500 rpm power and 16.1 N-m @ 6000 rpm torque. Its diamond type body shape, USD upside down front and monoshoc rear suspension made this bike more agile and sporty. Its well proportioned body dimension, splited seat, catchy graphic coated bulky tank and headlamp are quite unparalle. Honda has used single channel ABS in twin disc brake section for on spot braking to avoid unexpected sitiuation. Honda CB Hornet 2.0 is available in India, Nepal, Indonesia, Maldives in Matte Axis Grey Metallic, Matte Marvel Blue Metallic, Matte Sangria Red Metallic & Pearl Igneous Black color variants. Honda CB Hornet 180R 2.0 estimated price in Bangladesh is 300,000 BDT.

Honda CB200X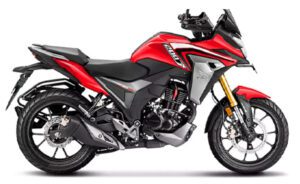 Honda CB200X is a fantastic street bike by Honda, although the bike is branded as 200X but it is powered by a 184.4 cc 4 Stroke, SI Engine, BS-VI engine. Honda CB200X has been designed inspired by CB500X, Africa Twin by the mother company. Honda CB200X is the most stylish ans best selling touring bike in Indai. It has been designed with the concept of uber explorer and adventure, its semi-fairing with a beaky nose handle mounted winkers and tall-tinted visor reflects the adventurous vibe. Its lower portion uncovered engine and bare exhaust pipe remedies Honda CB Hornet 2.0 but upper portion and headlamp chamber quite different than others. Its powerful engine generates 12.7 kW @ 8500 rpm max power and 15.9 N-m @ 6000 rpm max torque. We are hopping that in near future Honda CB200X will be  available in Bangladesh in Sport Red, Pearl Nightstar Black, Decent Blue Matallic and Matte Selene Silver Metallic colors. Most probably BHL will not bring this adventure bike anymore but some grey importers may import this motorcycle in Bangladesh. Honda CB200X estimated Price in Bangladesh 800,000 BDT.

Honda CB300R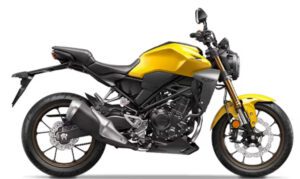 Honda CB300R is an excellent blend of style and thrill which makes you feel cafe racer upright seating street motorcycle. The naked sports Honda CB300R is inspired by its sibling CB1000R, renowned street motorcycle by Honda. The CB300R is powered by a compact single-cylinder 286cc liquid-cooled engine, the powerful engine makes 30.7 Hp max power and 27.5 Nm of torque, the engine is coupled with 6-speed gearbox and sleeper asist clutch. Honda CB300X also features upside-down (USD) font  and adjustable mono-shock suspension. Honda CB300X is boasted 296mm disc in front and  220mm disc in rear, powered by dual-channel ABS braking system for comfortable and instant braking. Honda CB300R can be held in twin color variants as Pearl Dusk Yellow and Matte Black Metallic, both colors will be seen in the streets. This naked sports bike estimated price in Bangladesh is 900,000 BDT.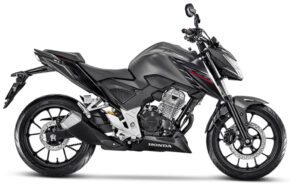 Honda CB300F
Honda CB300F, the title may suggest the cefe-racer Honda CB300X but the CB300F is naked sports motorcycle of outstanding design and performance. Honda has designed this bike from regular compact and long-riding aspect. Honda CB300F is powered by  293 cc single-cylinder engine to pu out 24.1 bhp at 7,500 rpm and 25.6 Nm torque at 5,500 rpm. Honda CB300F features USD forks up front and 5 steps adjustable mono-shock suspension in rear, in terms of brakes it is equipped with 276 mm disc at the front and 220 mm at the rear supported by dual-channel ABS braking system. This streekfighter has debuted in many countries in Mat Axis Grey Metallic, Mat Marvel Blue Metallic, & Sports Red Mat colors. Definitely Bangladesh Honda Private Limited will release this speed machine in Bangladesh.  Honda CB300F estimated price in Bangladesh is around 350,000 BDT.

Bangladesh Honda Private Limited (BHL)
Honda conducts business in Bangladesh under the joint venture between Honda Motor Company Limited, Japan and Bangladesh Steel and Engineering Corporation,  Bangladesh Honda Private Limited (BHL) permitted by the Ministry of Industry, The People's Republic of Bangladesh. As a private limited company (BHL) debuted on December 04, 2012, and signed a joint venture agreement on September 27, 2012. The company went for commercial manufacturer on 01 November 2013 with Honda Two Wheeler logo Wing engraved. BHL intended to manufacture and assemble motorcycles, scooters,s, and other vehicles and accessories. BHL's activities also in different areas including distribution, sales, marketing, promotion, and ensuing after-sale service of the brand Honda and other subsidiaries of Honda Motor Company Limited.
Though initially, Honda established two sales points, one in Tangail and the rest in Jamalpur,  Honda successfully has woven a strong network of authorized sales points of more than 125 throughout Bangladesh. The company works relentlessly with the vision to manufacture the best motorcycles and scooters in its own segment and provide among the motorcycle enthusiasts people of Bangladesh.
Bangladesh Honda Private Limited registered office at Abdul Monem Economic Zone, Char Baushia, Gazaria, Munshiganj and the corporate office at Monem Business District, East Tower (10th floor), 111, Bir Uttam C. R. Dutta Road, Karwanbazar, Dhaka – 1205.
Honda Motorcycle Market Share in Bangladesh
Bangladesh motorcycle share market scenario is quite different in global sense, Indian brands Hero, Bajaj, TVS hold strong position in Bangladesh due to affordability but still Japanese brands Yamaha, Suzuki and Honda has notable portion 13% motorcycle share market with 61,859 unit sales in 2022-23. We've published a survey on motorcycle share market in Bangladesh you may check it out.
Honda is offering good products with good price tag but we didn't see enough marketing from BHL in the last year. Honda lower CC bike price is reasonable but still the sports segment price is high. Price is a big matter for Bangladesh but Honda can not leading because of advanced features and marketing.
Honda Motorcycles Global Market Share
According to 2021 report, global motorcycle market size is $119.33 USD and it expected to exceed to 223 billion by 2028. In a long journey of Honda, the brand loved by the people of around the world. Honda formed 33 motorcycle manufacturing plants in 22 countries (2014). Despite of several crisis like socio-political fluctuation and economical imbalance Honda 50% of global market share in therm of sales of 2.30 million unite followed by domestic Yamaha and Suzuki. In 2023 Honda's sales increase slightly 7.9% in the first half of the year. In Asian couriers Honda's motorcycles and scooters has tremendous popularity because regional sales increase 21.8% in this year.
History Of Honda
Initially, Soichiro Honda and Takeo Fujisawa started "Honda Technical Research Institute" in 1946 by producing a motorized bicycle engine as the first product of the company. In 1949, Honda launched first full-fledged motorcycle Dream Type D. Throughout the 1950s and 1960s, Honda expanded its offerings and became a leading motorcycle manufacturer. In 1963, they entered the automobile market with the T360 mini-truck and the S500 sports car. Honda gained international recognition with the introduction of the Civic in 1972, a fuel-efficient and reliable car that appealed to a broad audience. In the 1980s, Honda expanded globally, establishing manufacturing plants in various countries. Honda continued to innovate and introduced the first-generation Accord, which became a best-seller in the USA. In the 1990s, Honda focused on research and development of environmentally friendly technologies. They introduced the Insight in 1999, one of the first hybrid cars available in the market. Honda remains a prominent brand in the automotive industry, known for its reliability and innovation in both motorcycles and cars.
Vision Of Honda Motor Co Ltd.
Honda Motor Co Ltd's vision revolves around innovation, safety, and environmental consciousness vehicles. Japanese Honda produces advanced, efficient, and environmentally friendly motorcycles, scooter and other forms of vehicles to meet various needs and preferences of riders worldwide. Honda is also known for its commitment to research and development, aiming to enhance the overall riding experience while focusing on sustainability and technological advancements. Honda used to manufacture more than three million motorcycles in a year but in recent times it reduced to approximately 550,000 which is still higher than three competitors. The company is determined to create the "Universal Passion of Honda" and the "Strengths of Honda." they summarized that as their 2030 Vision. In order to having detailed information about Honda, I recommend visiting their official website or following their latest announcements.
FAQs
Why Honda bikes are best?
Honda is the world largest and most renowned motorcycle brand in the world, Honda's bikes world famous because of their reliability, versatility, and comfortness. Meanwhile Honda focus on stylish looks, design and affordability. As Honda manufactures all segment bikes with all latest mechanical and cosmetical features so Honda's bikes are always best for all.
Who is the Honda's distributor in Bangladesh?
Bangladesh Honda Private Limited (BHL) is the join venture between Honda Motor Company Limited, Japan and Bangladesh Steel and Engineering Corporation. BHL distributes Honda motorcycles throughout Bangladesh, manufacture and assemble motorcycles, scooters, and other vehicles and accessories.
What was the first motorcycle of Honda?
In 1949 Honda launched their first full-flagged motorcycle Honda D-Type also known as Type-D or Model-D which continued until 1951. Later the D series entitled Dream and still Honda manufactures the Dream.
What is the mileage of Honda motorcycle?
Honda is the world largest motorcycle manufacturer company and offers all segments of motorcycles Scooter, Commuter, Sport-commuter, Sports and Super-sports. Simultaneously, Honda offers the best fuel-efficiency engine to reduce fuel consumption and make it affordable to customers. Honda's commuter bike like Honda Dream, CB Shine and Livo bound to provide maximum 70-75 km/l millage.
Is Honda showroom available in entire Bangladesh?
More than 125 Honda showrooms are scattered in Bangladesh, so must have Honda showroom in your town. And you can buy any Honda motorcycle at the same price anywhere in Bangladesh.
What about Honda motorcycles after sales service in Bangladesh?
Honda provides the best support to the customers regarding after-sales service. Honda provides a maximum 5 times service with any bikes of Honda and of course free of charge. You'll get all essential parts and spares in Honda authorities dealer-point and local market, so don't sleep over this issue.
Why Honda Bike Price is high in Bangladesh compare to India?
Because of high percentage VAT & TAX. Not only Honda but also every bikes price is high in Bangladesh (BD) compare to most other countries. Motorcycle manufacturer/importers need to provide 90 – 250% VAT & TAX to the government (up to 375cc motorbike). On the other hand, Bangladesh motorcycle industry is totally depends on India and China. But Bangladesh Honda Private Ltd. is started deep manufacturing and that is why Honda bike price in Bangladesh is slightly reasonable compare to other Japanese brands.
Is Honda a reliable motorcycle?
Definitely, Honda motorcycle is a reliable one because you'll get the best performance, fuel-efficiency and durability at affordable budget. As a Japanese brand Honda holds a brand value which helps to get a good revenue in re-selling and others way. All Honda showrooms are offering sales, service and spare (3S) which is just another big reason to buy Honda. Spare parts Price of Honda bikes are comparatively affordable as well. Even, you can find a lot of after market spare parts to properly service your Honda 2 wheeler.
Honda always gives the best quality motorcycle and their motorbike are pretty popular here in Bangladesh. they are the oldest motorcycle company in the world which is originated in Japan. They have exported their products to most of the nations in the world where the Indian subcontinent is regarded as one of the best market places of the company.
However, currently, some products of Honda are assembled in India but the main and valuable products are still assembled in Japan, Thailand, and Indonesia. Due to displacement cc limits by the government of Bangladesh, more than 155 cc bikes could not be imported in Bangladesh. Honda has been doing business here in Bangladesh for a long time and became one of the favorite and popular brands. They produce from higher to lower segment bikes as per demand of the bikers. Currently The Honda CBR 160R and ExMotion is their top tier bikes that are available here in Bangladesh. They are one of the best motorcycles on the segment. They are producing more than 14 million internal combustion engines each year. Honda became the second-largest Japanese automobile manufacturer in 2001. Honda's presence in Bangladesh goes beyond just selling motorcycles. The brand actively engages with local communities, organizing events, safety workshops, and social initiatives. These efforts not only create awareness about responsible riding but also foster a sense of belonging among Honda motorcycle enthusiasts.
Don't forget to bookmark this page if you are a Honda lover. You will find the latest update, current Honda Bike Price in BD, one by one Honda bikes full specification, real user review from the audiences, opinion from the experts etc.
In conclusion, Honda motorcycles have become an integral part of the rural to urban bike rides of Bangladesh, offering not just vehicles, but a lifestyle. Honda continues to shape the motorcycle culture in Bangladesh, riding the road to success one satisfied customer at a time.
11Products found
Filter
Sort by price: high to low
Honda CB150R Exmotion Price in Bangladesh is 700,000 BDT (Unofficial). The most exclusive feature of this Honda CB150R ExMotion is it's duel channel ABS. As still there is a lower amount of Anti-lock braking system bike available in Bangladesh that's this naked sports bike of Honda get huge concentration to the bikers. This 149cc fuel injection, water cooled engine isn't officially launched in yet in Bangladesh by BHL. But some other importers selling this bike in Dhaka city and importing very few amount.

Honda CBR150R current market price in Bangladesh is 600,000 (Triocolor and Victory Black Red) and 610,000/- (MotoGP Edition) The new version of Honda CBR 150R looks completely different from the previous version. The design and graphics concept were taken from the CBR 250RR motorcycle. It also gets some advanced features like Slipper and assists clutch, Golden USD suspension, unique headlight settings and more. But the engine capacity and powertrain remain the same as the previous edition.

Honda is one of the most reputed brands available here in Bangladesh. The new CB150X is an adventure turer bike with all the mordern features. Plus it got a Honda water-cooled engine which will be perfect long travels. The Seating position and dimensions are right on the spot. It offers extensive range of street adventure features and ergonomics which makes it look more gorgeous. This design of this bike is inspired by the bigger model the Honda CB500X.

The new Honda ADV 150, a futuristic and well-engineered scooter armed with latest features of smart technology. With a 149 cc single-cylinder, liquid-cooled, SOHC 4-stroke 2-valve engine, this bike use a Continuously Variable Transmission Gear (CVT).

Honda CBR 150R is one of the top looking sports bike in Bangladesh which is also known as Honda CBR 150R Indonesia. It is also the most expensive 150 cc premium sports bike which has dual pit LED sharp eye. The bike is the most rival of Yamaha R15 V3 and Suzuki GSX-R150 in Bangladesh.

Honda CB Hornet 160R double-disc CBS edition is now available those current price in Bangladesh is 212,000/- BDT respectively. Hornet is especially better for its braking and it has the best braking system in this segment. It has 3 different colors available in Bangladesh those are red, green, and blue. Though it have lacking in built-in quality over all it's a good quality bike within budget.

Honda XBlade price in Bangladesh is 192,500/- for single disc and its double disc ABS version price is 218,500/- taka. Honda XBlade is a 160 cc upcoming sports bike in Bangladesh. The bike is a naked sports which consists of 162.71 cc engine that can release 13.93 Bhp max power in 8500 rpm. Though it is a Japanese brand but the bike Honda XBlade used to assemble in India. It has air cooling system included which has only electric starting system.

Honda Dio would be latest addition to the Honda family in Bangladesh which is basically 110 cc scooter. Honda Dio's price in Bangladesh is 185,900/-, yet to be revealed in Bangladesh which generates 8 Bhp max power. TVS Jupiter would be the main competitor of Honda Dio in Bangladesh.

Honda CB Shine SP 125 price in Bangladesh is 151,000/- taka, this bike is recently launched with new paint scheme and slightly changed design. But the engine power will be remain same like previous version. Honda tried to make it premium commuter bike and they are succeed. You will get all the features what a premium commuter bike need.

Honda Livo 110 price in Bangladesh is BDT 121,000 (Drum) and 134,500 (Disc). Honda Livo is a premium standard commuter which is from the Dream series of great Honda company. Though, it is a 110 cc bike but due to sporty design, it still carries higher price tag than the rest same segment bikes. Considering the cc, it would be the rival of Suzuki Hayate, Hero Splendor series and some other 100 to 100 cc bikes but considering the price range, it would be the rival of TVS Phoenix, Honda CB Shine etc.

Honda Dream 110 is a standard commuter motorcycle from the Japanese brand. This bike gets a 110cc BS-IV-approved engine that can burn out 8.2 Bhp maximum power and 9.1 Nm of torque. It large pillion grabrail and twin shock absorber will help to carry luggage. Honda Dream 110 price in Bangladesh is 111,500/- BDT.  Honda made this bike mainly for daily commuting and rural riding.