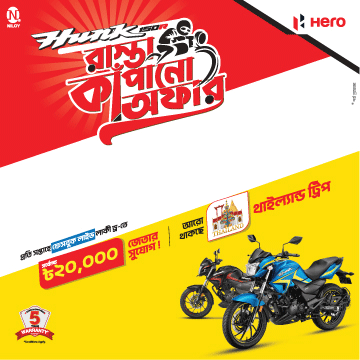 Taro GP 1 and Lifan KPR 165 FI are both full faired sports bikes and couple of things are common about this two products. Both are from Chinese assembled. Lifan is very reliable Chinese brand where in KPR 165 FI, Lifan engine is used and in Taro GP 1, there is also custom made Lifan engine is used. Besides, Lifan has recently released their upgrade version of KPR with 165 FI engine in Bangladesh where in Taro GP 1 Valerio, the engine displacement is 150 cc. Features of the both bikes are fully updated. However, Both bikes are from different price range but as same segmented sports bikes, here we can compare them and let's see which one would be better for you.
Lifan KPR 165 Fi Vs Taro GP 1 Valerio
| | | |
| --- | --- | --- |
| COMPARE | Lifan KPR 165 Fi | Taro GP-1 Valerio |
| Type | Sports | Sports |
| Origin | China | Italy |
| Engine | One Cylinder, Four Stroke | Single Cylinder, 4-Stroke, Water Cooled, Chamshift Overhead |
| Displacement | 165 cc | 149.9 cc |
| Maximum Power | 17 PS | 16 Bhp @ 8500 rpm |
| Maximum Torque | 17 Nm | 14.5 Nm @ 7000 rpm |
| No. of Cylinders | 1 | 1 |
| Cooling | Liquid Cooled | Water Cooled |
| No. of Gear | 6 | 6 |
| Starting system | Self Start | Electric |
| Clutch | Multi-plate | Wet Type |
| Kerb Weight | 150 kg | 155 kg |
| Length | 2060 mm | 2050 mm |
| Width | 760 mm | 720 mm |
| Height | 1105 mm | 1155 mm |
| Seat Height | 775 mm | 800 mm |
| Wheelbase | 1330 mm | 1422 mm |
| Fuel Tank Capacity | 16.6 liters | 13.5 liters |
| Top Speed | 150 kmph | 135 kmph |
| Mileage | 45 kmpl | 40+ kmpl |
| Front Tyre | 90/90-17 | 110/70-17 |
| Rear Tyre | 120/80-17 | 150/70-17 |
| Price | 225,000 BDT | 299,000 BDT |
| More Details | KPR 165 Fi Full Specification | Taro GP-1 Valerio Specification |
# Looks: Now, if we consider the looks of two bikes KPR and GP 1, we must admit that Taro GP 1 Valerio has more muscular and sporty looks than KPR 165 FI. The new KPR 165 FI has same looks like the old one but it has more attractive shades and some features are fully updated. It has eye catchy front end and headlamp with stylish exhaust. The tyres are wide with sporty fuel tank and handlebar. But, Taro GP 1 has fully aerodynamic looks with dual pit headlamp. It has also muscular fuel tank with aerodynamic kits. The handlebar is also sporty. At the same time, GP 1 seems aggressive, sharp and pretty wide front end. So, we can keep ahead GP 1 than KPR 165 FI considering the looks. # Engine Performance: Due to be 165 cc engine, KPR engine is more powerful than GP 1 no doubt. With 17 PS max power and 17 NM max torque, KPR has four stroke, one cylinder and water cooled engine. On the other side, GP 1 is 150 cc bike with 16 Bhp max power and 14.5 NM max torque. The engine is four stroke, camshaft overhead with water cooled engine. GP 1 is used custom made Lifan engine which is fully an upgrade version of Lifan. Both are not same as you think. Both bikes have only self starting system where kickstarter is avoided.
# Suspension & Brake: Suspensions quality of Lifan is almost good. In front company has used telescopic suspension where same telescopic suspension is used at the front in Taro GP 1. Besides, Lifan has rear mono shock like the older version but considering the previous experiences, the rear suspension of Lifan is not much comfortable. It is pretty hard. But Taro GP 1 is used single gas absorber in the rear and hopefully it would provide satisfying comfort to the riders and pillion. There is also one thing that is common between two bikes. Both bikes have used front and rear hydraulic disc brake. But in Taro GP 1 Valerio, there is dual front disc which is 300 mm and rear disc is 240 mm. We yet to receive the disc details of KPR 165 FI because it is just released. Soon we will update the disc details here. But obviously dual front disc will provide better security to the riders.
# Comfort & Control: Comfort is one of the main priority in bikes. So, let's see which bike is more comfortable. Lifan KPR 165 Fi has less sporty seating position which is also less higher. But the rear end of GP 1 is bit higher than KPR. So, male and female pillion can comfortably ride on KPR than GP 1. But it is yet to prove. It seems that before making any ride on GP 1, we can not make any final comment. But here we can considering the seating position. Besides, both bikes have splitted seat instead of single plate. Though, GP 1 would be less comfortable for female but it will provide better controlling than KPR. It has more wide tyres than KPR and has also dual front disc. So, it has not chance to skid on wet roads.
# Fuel Consumption: We can not consider both Lifan KPR 165 Fi and Taro GP 1 Valerio a fuel efficient bike. Both are Chinese assembled and from the experience, we all know that Chinese assembled sports bike would provide low mileage. Besides, both are no BS4 approved. However, older version of KPR 150 used to provide 35 to 38 km mileage average and in the case of 165 cc KPR, the mileage would be much poorer. Taro GP 1 is also the same. It would provide 35 km mileage average reportedly.
# Top Speed: However, speed defines the winners in all cases. In the case of bikes, Lifan KPR 165 FI would provide more than 150 kmph top speed reportedly. It would less somewhat. But, Taro GP 1 would provide more than 140 kmph top speed, as stated by their official website. For speed lovers, both bikes are very good but first we must consider the better controlling.
# Price: Lifan KPR 165 FI and Taro GP 1 Valerio are two different bikes considering the price range. KPR 165 FI is available with a little more than 2 lakhs but Taro GP 1 will be available with BDT 2,99,000. So, prices of the bikes are far different than each other. So, budget would be main fact in that case. Those who has 2 lakhs budget can go for KPR 165 FI but those who has 3 lakhs budget can go for the newborn bike Taro GP 1. But, in that case GP 1 would provide better service hopefully.
Here comes the decision to make which one is better. Above listed data we have presented for you to decide your best choice. Now, it's up to you to select. Both are Chinese assembled though Taro is the Italian origin brand where Lifan was born in China. If brand would satisfy you, then you can surely go for a new test that no one ever make.